An Interview with Susan Gilmour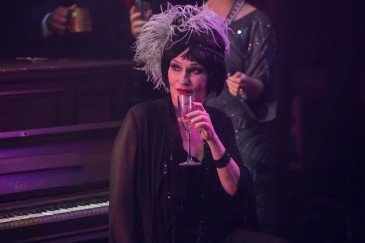 Interview by Carly Maga
You might remember that The Wild Party opened during the coldest week of this past winter – but everyone who caught the show knew that this was one hot cast. Now that awards season is upon us, we've had the great fortune to celebrate two Toronto Theatre Critics Awards and eight Dora Award nominations – all but three of them specifically honouring those talented performers.
Susan Gilmour, who captivated audiences as the powerful former prima donna Dolores Montoya, received a couple of special shout-outs; she won the 2015 TTCA for Best Supporting Actress in a Musical and received a Dora nomination for Outstanding Performance by a Female, Musical Theatre Division (alongside her cast-mate Cara Ricketts, who played Queenie), and shares the nomination for Outstanding Ensemble with her fellow 14 costars (Daren A. Herbert and Dan Chameroy also received individual nominations for their performances).
We asked Susan about her experience during The Wild Party and what it feels like to be acknowledged by the Toronto theatre community.  
Carly Maga: What did you love about playing the diva Dolores Montoya?
Susan Gilmour: Dolores was a wonderful challenge and stretch for me to play, in her huge aura, her physical stillness, her vocal range, and emotional journey. I love a juicy, fun, edgy role and I'm so thankful to Mitchell Marcus, Robert McQueen, and Bob Foster for giving me this opportunity to play Dolores!
CM: What was your favourite moment in the show?
SG: The show was FULL of favourite moments for me! I think if I had to choose only one, it would be the moment at the very end of the show when we are all standing together and Queenie (Cara Ricketts) is singing her final realization and walks through that door, full of light, and the door quietly closes leaving us in the dark…
CM: The whole ensemble is also being recognized at the Doras, what was it like working with this cast?
SG: It's absolutely thrilling that our whole show and everyone involved in The Wild Party is being recognized! Robert McQueen, Mitchell Marcus, Bob Foster and Stephanie Graham picked our amazing cast beautifully. A better or more talented cast I cannot imagine. Right from day one we ALL clicked, bonded, and supported one another on that wonderful journey into The Wild Party every day.  Performing each show and telling our story with everyone was exciting and such a joy! This is truly an ensemble show and we were all equally in it and for each other. All for one and one for all!
CM: What do you remember most about the whole Wild Party experience?
SG: I will always remember our brilliant director Robert McQueen and his clear detailed vision and thoughtful exploration and direction every day of The Wild Party.
I will never forget the thrill of meeting the co-writer and composer of The Wild Party Michael John LaChuisa. And I will never forget and will always carry with me every moment shared with each of my fellow colleagues… every look, every note, every kiss, dance and innuendo, every note sung and story told together. I hold so much love and respect for them all. Congratulations everyone!
The Dora Mavor Moore Awards will be presented on Monday, June 22, 2015.