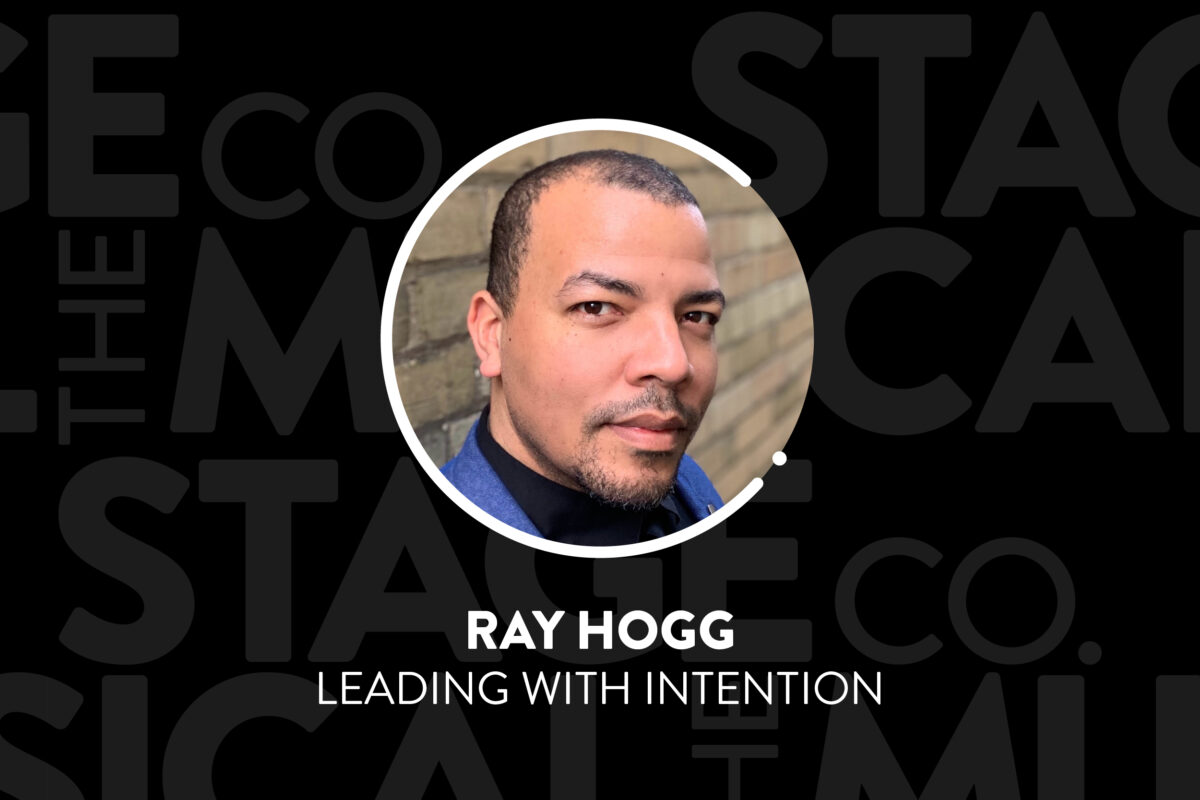 Ray Hogg on Leading with Intention
Over the past six months, it has been my privilege to serve as Artistic Director at The Musical Stage Company. I have had the opportunity to be in close contact with the incredible spectrum of artists, artisans, craftspeople, and tradespeople that make up the theatre community and whose work I am driven to champion. Their incredible commitment to making art through a global pandemic has been inspiring!
The compulsion to explore the human condition, to create, to share, and to enlighten collectively form the engine that propels so many within our community. The work we do is challenging, fiendishly difficult, emotionally laden, and complex – frankly, the task is impossible without some external thing guiding you. The same holds true for me in my stewardship role as artistic director.
Through these early months of my tenure, the thing that drives me, or more eloquently put my guiding principles, have been: Leading with Intention; Bridging our Past with our Imagined Future; and Getting to the Heart of our Art.
In future blog posts, I'll unpack 'Bridging our Past with our Imagined Future' and 'Getting to the Heart of our Art'.  Today I'd like to take a deeper dive into what I mean by 'Leading with Intention.' In the time that I spend in proximity to the theatre community I try to bring forward the following five intentions for our gathering:
CURIOSITY
This is a challenge, no, a dare, that I put forward. I dare myself, and I dare the folks that I interact with to purposefully and intentionally find something to be curious about in our gatherings. I suggest that wandering attention is a clue that the individual has lost curiosity. By actively tapping into our instinctive curiosity, we can powerfully bring our attention back to the conversation at hand. Try it – I dare you!
BRAVERY
All gatherings come with built-in power imbalances. Inevitably someone has a fancier job title than me, more strength, more leverage, more social capital, and on and on and on. This relative weakness can be paralyzing in a gathering and lead to stasis (which serves no one). So, I have to bring bravery to the table by embracing my vulnerability and reminding myself of the power that I do bring with me. A warning though – we have to be brave in stretching, but not tearing – no damage shall be done! It's a theatre for pete's sake. No one's life or limbs should be on the line here.
SUPPORT
When I think of community, I think of an arched stone structure – every stone serves to hold up another. The community I am fostering at the Musical Stage Company is here to buttress and hold one another up. Others' successes are my successes and vice versa. We are not here to tear one another down. We are not in competition. We are supporting one another by creating a Safe Enough space to stretch (but not tear).
NON-CLOSURE
We are collectively in search of answers, but we won't arrive at answers every single day. Is this not the definition of artistic pursuit? Continuously finding new questions to ask, and those new questions beget more new questions ad infinitum? Our curiosity, willingness to be brave, dedication to support, and commitment to searching for more questions feel to me a lot like some of the ingredients of good art-making…
DARE TO BE DREADFUL
Full disclosure, this is perhaps my favourite of all of these intentions. It first came onto my radar thanks to my friend and colleague, Kevin Wong. In his words, "We don't have to be excellent at all times; allow yourself space to do something wrong, silly, or whimsical…" I mean, come on! How wonderful is that? I love the notion that being dreadful also requires bravery. It requires us to extend grace and forgiveness to ourselves, and in turn, frees us up to be truly imaginative!
---
These intentions form the spine of my approach as Artistic Director at The Musical Stage Company. They are the values with which I interact with our community and the starting point for any gathering and decision-making that I do. I encourage you to examine these intentions and if any of them resonate with you, try to incorporate them into your practice too.
All my best,
Ray