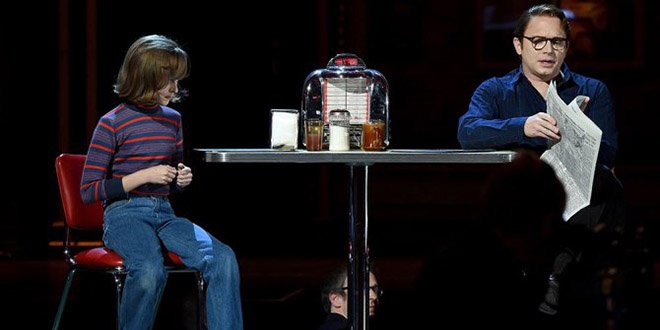 The Return of the "Serious Musical"?
With less than 10 days to go until the big holidays, Christmas came early for two of my favourite musicals this week.
As avid blog readers will know, Fun Home by Lisa Kron and Jeanine Tesori (who was the composer on Caroline, or Change) is one of my favourite new musicals to come along in a very long time. On Sunday, the producers announced that it has recouped its $5.25 million investment in just eight months. For those of you who don't speak Broadway, the show raised $5.25 million dollars from investors in order to pay for all of its pre-production costs and to help subsidize the early parts of the run until weekly sales were covering weekly operating expenses. When a show recoups, the investors have all been paid back their investment and they will start to profit from further net revenues. Given that only 21% of musicals recoup, this is always celebratory. But it's perhaps even more exciting when the recouped musical is one about a lesbian cartoonist whose gay father (who ran a funeral parlour) killed himself. This is not the sort of material that typical tourist audiences are attracted to (i.e. there are no Abba songs nor tap dancing). In fact, when it was announced that Fun Home would transfer to Broadway, the producers were constantly called "insane" and "crazy". But the musical walked away with the Tony Award for "Best Musical" and has consistently sold well week after week.
The next morning, there was another exciting announcement. Dave Malloy's innovative and electrifying Natasha, Pierre & The Great Comet of 1812 announced that it is headed to Broadway in September (starring Josh Groban). Based on an excerpt of War & Peace, and featuring an entirely sung through "electro-opera" score, this is another show that I wouldn't have pegged for Broadway. And yet, delightfully, large numbers of audiences will have a chance to catch this imaginative and unusual musical next season in New York.
Anyone who knows my taste will recognize that these musicals are very "Acting Up Stage-esque" in their aesthetic. So I am beyond delighted that these two boundary-pushing, fascinating works are taking over the great White Way along with another musical about the first Secretary of the Treasury of the United States that is set to sweep every award imaginable this year.
It seems that the "serious musical" is back in fashion. And for the Artistic Director of a contemporary, thought-provoking musical theatre company, that is good news indeed!