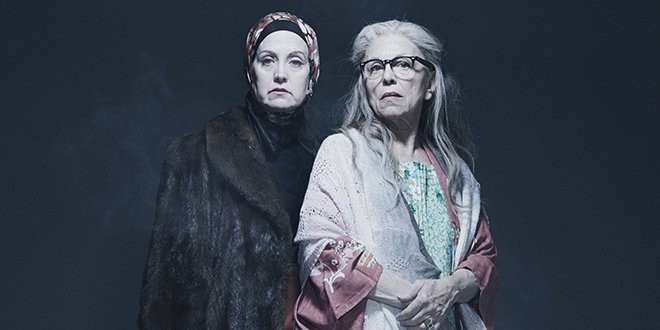 Why I programmed Grey Gardens
Now that UnCovered has come to an end, we are turning our attention to our next production – the Toronto premiere of Grey Gardens.
Plans for Grey Gardens have been in the works for nearly a year already and so it's a great delight (and relief) that we can let the cat out of the bag officially.
While the 1976 documentary following two women living in squalor may not instinctively seem like the stuff that musicals are made of, I have been thoroughly fascinated with the Grey Gardens musical since it premiered in New York in 2006 and I'm thrilled that we can finally bring it to the stage in Toronto with an all Canadian cast.
So why now?
Here are some reasons that Grey Gardens rose to the top of the pile when we were planning our winter 2016 musical:
1. 40 years is something to celebrate!
The Grey Gardens documentary had its release on February 19, 1976. Our first preview will be February 19, 2016 – exactly 40 years to the day that the iconic documentary first premiered. Coincidence or fate?
2. Grey Gardens – the first reality show?
Flipping through TV on a Saturday afternoon reveals shows like Hoarders and Here Comes Honey Boo Boo. Our society is fascinated by reality TV and – in particular – the realities of those who have found celebrity through their eccentricities. In many ways Grey Gardens paved the way – a documentary that depicts two utterly unusual women simply living their lives. What makes their antics in the documentary so extraordinary – whether feeding the raccoons in their attic, eating cat food or sleeping on a bed that doubles as a kitchen table that hasn't been cleared in months – is the desired stardom of both Little and Big Edie. Are they genius performance artists? Are they mad reclusives? The lines are very blurry.
3. Telling the story of two icons.
What brought attention to Big Edie and Little Edie at first was their connection to Jacqueline Kennedy Onassis (Big Edie is her aunt and Little Edie is her cousin). However, their legacy far surpasses their First Lady link. Little Edie wore the most outlandish clothing: sweaters and scarves to hide her baldness from alopecia, tablecloths for skirts, and cashmere skirts upside down. While her outfits in the documentary are both fascinating and grotesque, she has remained a fashion icon to this day.
And really, could there be a show more fun to costume?
Similarly, both Edies loudly and dramatically rejected all the social imperatives of their time and – as such – they continue to be cultural icons for the LGBT community, hipsters and others who seek icons who reject social expectations.
4. Two words: Lisa. Horner.
I always thought Lisa Horner would be spectacular as Little Edie. And the stars finally aligned!
5. It's ripe with humanity.
In programming Acting Up Stage Company productions, I always look for work that allows us to explore the depths of contemporary humanity through characters in extraordinary situations. Whether that is Caroline in 1963 Louisiana, or Queenie in 1920s Vaudeville, or Margaret in Italy of the 1950s, these characters go to emotionally complex and rich places (with the help of terrific music) that illuminate something about the timeless human condition. Grey Gardens – while specific to a particular American family – is as universal as it gets. What is our obligation to our parents? Where do you draw the line between care and dependence? How do you distinguish between madness and genius? How do we reconcile the regrets of a life unlived with the choices we make? I challenge you to come to Grey Gardens and not find your laughter transformed into tears of empathy.