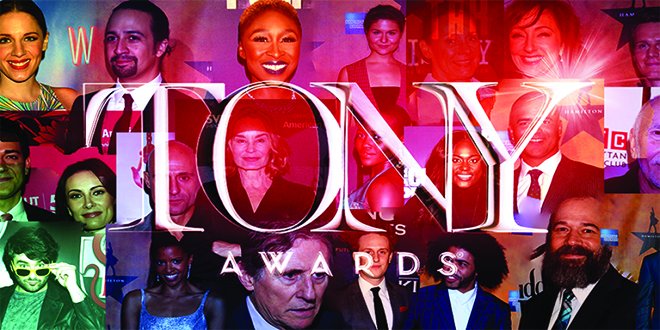 Tony Tuesday: Thoughts From Mitchell
The Tony Awards are just a little over two weeks away!
I love Tony night. It's my Super Bowl or Stanley Cup or whatever other kinds of sporting events make straight men slap each other on the back and yell expletives at the top of their lungs. 
I normally like to watch the Tony Awards alone so that I don't miss anything. My husband will recount many stories of being shushed during big production numbers or acceptance speeches when he asked something like: "Who is that person again?" (Answer: It's Patti LuPone! How could you not know that?!)
My favourite group Tony watching experience took place one year when I was working at Luminato and Lance Horne (who was the musical director on this year's Alan Cumming Sings Sappy Songs) was in town doing a show with us. Lance's boyfriend was at the Tony's as Liza Minelli's date and we got together at Chris Lorway's apartment (the Artistic Director of Luminato) to watch. Lance's commentary and firsthand knowledge of the "who" and the "what" made me absolutely tolerant of all interjections and asides.
This year Acting Up Stage Company is hosting a Tony Party (do you have your free tickets yet? I think we are almost at capacity!). While I'm excited to see all of you, I am a little bit nervous about trying to being a gracious host, while stifling my desire to yell "shut up!" every time someone clinks their glass by accident. I will do my best. I promise.
So as we gear up for this year's Tony Awards, here are my five top hopes:
We all know Hamilton will win Best Musical. But what are they going to perform? Since the opening number was already well documented on the Grammy's, and since I'm not a huge fan of "My Shot", I'm hoping we'll get something different. I'd be pretty happy with "The Room Where It Happens", and I'd be over the moon with anything that features The Schuyler Sisters.
While I would love to see Hamilton break a new record in terms of number of Tony wins, I am rooting for Cynthia Erivo. Every time I see her performing something from The Color Purple, the tears start to flow. And I love a good Kleenex moment during the Tony's.
I don't know anything about Bright Star. But I'm hoping that their performance features Paul Nolan. We miss him in Toronto and it's always a thrill to see the Canadians on the telecast.
I know that Lin-Manuel Miranda deserves all of the awards, but – for me – Leslie Odom Jr. was the true Best Performance by an Actor in a Leading Role in a Musical. I would like to see him win.
I hope they find a way to feature the plays. I'm always disappointed to see great new plays get the short end of the stick on the telecast after rousing, live musical numbers. I hope that this might be the year where the producers have come up with something interesting!
Finally, since I am used to ending my Jewish traditions thinking about "next year" (usually followed by the words "in Jerusalem"), my sadness in seeing the 2016 Tony's come to an end will be buoyed by the idea that the 2017 telecast may feature Come From Away, Dear Evan Hansen and Natasha, Pierre & The Great Comet of 1812. June 11, 2017 can't come soon enough.