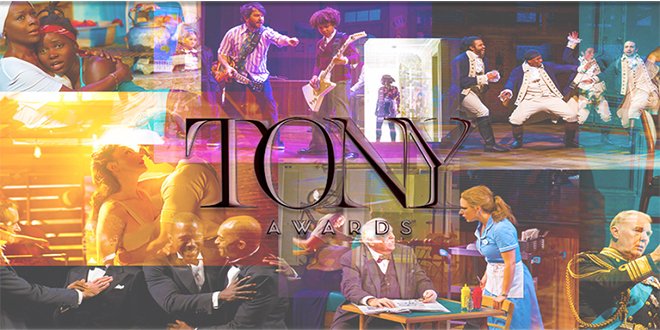 Tony Tuesday: 2016 Best Musical
We can barely hold in our excitement as the 2016 Tony Awards approach. On May 3rd the American Theatre Wing announced the nominations of the lucky few nominated for the most coveted theatre awards for the 2016 season (check a complete list out here).  To prepare us for the best night of the year, we're taking an in depth look at the different musicals that were nominated for Best New Musical.
Don't forget – We're hosting our own Tony Awards Party on June 12th! Watch the awards with Toronto's theatre community, Reserve your FREE tickets now!
SCHOOL OF ROCK
About The Show:  Based on the hit film, this hilarious new musical follows Dewey Finn, a failed, wannabe rock star who decides to earn a few extra bucks by posing as a substitute teacher at a prestigious prep school.  There he turns a class of straight-A students into a guitar-shredding, bass-slapping, mind-blowing rock band. While teaching these pint-sized prodigies what it means to truly rock, Dewey falls for the school's beautiful, but uptight headmistress, helping her rediscover the wild child within.
Trivia:
School of Rock is the first Andrew Lloyd Webber musical to receive its world premiere on Broadway rather than in London's West End since Jesus Christ Superstar opened on Broadway in 1971.
One of the original inspirations for the story of School of Rock was the Langley Schools Music Project, a 1976-77 collection of recordings of children's choruses from British Columbia singing pop hits by the Beach Boys, Paul McCartney, David Bowie and others.
History: This is a world-premiere production. It is based on the 2003 film of the same title.
HAMILTON
About the Show: George Washington, Thomas Jefferson, Eliza Hamilton, and lifelong Hamilton friend and foe Aaron Burr all attend this revolutionary tale of America's fiery past, told through the sounds of the ever-changing nation we've become. This new musical written by and starring past Tony Award-winner Lin-Manuel Miranda is about taking your shot, speaking your mind, and turning the world upside down.
Trivia:
New York Stage and Film presented a workshop of the musical in 2013, under the title The Hamilton Mixtape. Hamilton premiered Off Broadway at the Public Theater in January 2015 before transferring to Broadway.
History:
BRIGHT STAR
About the Show: Inspired by a real event, this original musical tells a sweeping tale of love and redemption set against the rich backdrop of the American South in the 1920s and '40s. Literary editor Alice Murphy, whose relationship with a young soldier just home from World War II awakens her longing for the child she once lost. Haunted by their unique connection, Alice sets out on a journey to understand her past — and what she finds has the power to transform both of their lives. From Grammy winners  Steve Martin and Edie Brickell.
Trivia:
Steve Martin and Edie Brickell previously collaborated on the bluegrass album Love Has Come for You.
Mr. Martin is best known as a comedian and film actor, but he is also an accomplished writer, and the author of several plays including the frequently-performed Picasso at the Lapin Agile.
History: The musical's world premiere took place at the Old Globe Theatre in San Diego, CA, in the fall of 2014. The show played a pre-Broadway engagement at the Kennedy Center in Washington, DC in the winter of 2015-16.
SHUFFLE ALONG
About the Show: By the time Shuffle Along stumbled into town in 1921 after a back-breaking pre-Broadway tour, it was deeply in debt and set to open at a remote Broadway house on West 63rd Street. But with an infectious jazz score and exuberant dancing,Shuffle Along ignited not just Broadway but all of New York City. George Gershwin, Fanny Brice, Al Jolson, Langston Hughes, and famed critic George Jean Nathan were among the many fans who repeatedly flocked to West 63rd Street to see a cast which – during its run of 504 performances – featured such incipient luminaries as Josephine Baker, Paul Robeson, Florence Mills, Fredi Washington, and Adelaide Hall.
Trivia:
The original production of Shuffle Along is considered the first financially successful Broadway show with African American writers and an all African American cast.
The jazz-inflected score with songs by Eubie Blake and Noble Sissle includes "I'm Just Wild About Harry," which became a campaign song for Harry Truman in his successful 1948 White House bid.
History: Shuffle Along premiered on Broadway in 1921 and was revived in 1932 and 1952. This version features a new libretto by George C. Wolfe.
WAITRESS
About the Show: Tony winner Jessie Mueller (Beautiful) is Jenna, a waitress and expert pie maker in a small town who dreams of a way out of her loveless marriage. A baking contest in a nearby county and the town's new doctor may offer her a chance at a fresh start, while her fellow waitresses offer their own recipes for happiness. But Jenna must summon the strength and courage to rebuild her own life.
Trivia:
With past Tony-winner Diane Paulus directing and Lorin Latarro as the choreographer, Waitress is said to be the first musical in Broadway history where the top creative slots (writer, composer, director, choreographer) are filled by four women.
Composer Sara Bareilles first achieved mainstream success with the hit single "Love Song," which reached number four on the Billboard Hot 100 chart in 2007—the same year that the film of Waitress was released.
History: Waitress premiered at the American Repertory Theatre in Cambridge, MA in the summer of 2015. The musical is based on the 2007 film of the same title.