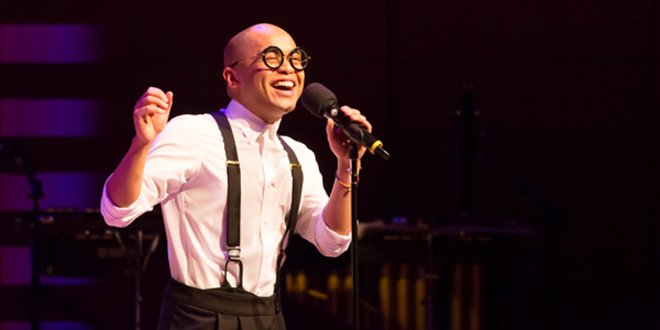 Triple Threat: Jeigh Madjus
Get to know some of our favourite artists! Triple Threat is a regular feature that reveals which musicals left indelible impressions on the performers, musicians, and actors involved in Acting Up Stage productions. Up next is Jeigh Madjus!
Jeigh's a Toronto-born grad of Etobicoke School of the Arts and Sheridan College for Music Theatre – Performance, who has appeared in musicals all over Canada and the United States, most recently in David Byrne's Here Lies Love in New York City.  He's also an annual feature at our UnCovered concerts, and returns once again for UnCovered: Simon & Garfunkel  this November 3-5. (Until then, we suggest you check out his amazing YouTube channel!)
1. What musical's score will you always remember?
RENT. I was a "RENThead" as they called it, back in the day. I was fourteen years old and would get my parents to drive me to the Royal Alex at 4 a.m. so that I could then wait in the freezing cold, in a sleeping bag, to get a front row seat ticket when the box office opened later that evening, ugh. I did this many times. I was obsessed. Miss Saigon is a close second. But I mostly know the girl's songs, lol. It was also the first musical I ever saw. When I realized a Filipino was the lead of a hit musical, I thought that there might be hope for me in the future.
2. What performance will you always remember?
Of my own? I'll always remember my Toronto "debut" in Talk Is Free Theater's production of Myths and Hymns. I had been singing on ships for the past two and a half years- after graduating from Sheridan College- and even though I'm from Toronto, nobody in the city really knew who I was. I didn't have an agent and really didn't really know if I had made the right decision to stay "on land," but that performance at the Bathurst Street Theater gave me the confidence to stay and see what could happen.
Of someone else? I will never forget seeing Miss Saigon at the Princess of Wales. I was in fourth grade and it was my first time seeing a musical. I also remember that I wore a silk shirt, black dress pants and loafers. It was the 90's!! That was also the day I got my first cast recording album.
3. What were some of the roles you played in musicals in High School?
Moonface Martin in Anything Goes. My High School (at that time) did a lot of theatre review shows, so that was the only true book show I did. And I don't count "pit choir member" in Children of Eden :/
4. What is your dream role that you'll (probably) never get to play?
Kim in Miss Saigon. Then Eponine in Les Mis. Pretty much anything Lea Salonga has played in the past 😉
5. What's your guiltiest pleasure musical?
RENT. I feel like it's outdated, but it's SOO GOOD. If ever I want to dance around my room and feel like a music theater obsessed teenager again, I listen to it and sing along to EVERY word.
6. What movie or book would you love to see musicalized?
It's my dream to sing and voice a Disney character. So I always think of what Disney movie musical I'd want to be in or see. Hercules, then Pocahontas.
7. What band or singer would you love to tackle in an UnCovered concert?
Whitney Houston and Mariah Carey. Both have incredible song selections. Mariah is an underplayed songwriter. And then Beyonce. And then Britney?
8. Do you have any pre-performance rituals?
I have this 45-minute vocal warm up that I pretty much do every day. Other than that, before a performance, I pray, I pee a million times, I burp as many times as I can, say my lyrics as fast as I can over and over, and THEN sing the song I'm performing a semitone or two higher than my performance key – just so I know the notes are there for the stage. Also, depending on what I'm performing, some type of fried chicken with multiple dipping sauces may be involved.