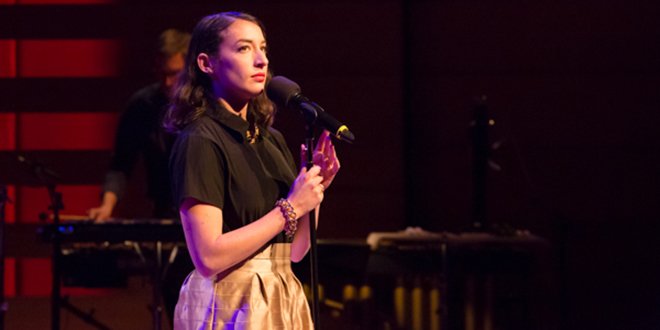 Triple Threat: Sara Farb
Get to know some of our favourite artists! Triple Threat is a regular feature that reveals which musicals left indelible impressions on the performers, musicians, and actors involved in Acting Up Stage productions. Up next is Sara Farb!
Sara has a long history with Acting Up Stage Company, starring in our production of Edges in 2008 and appearing in our annual UnCovered concert for many years. Now she's a favourite at the Stratford Shakespeare Festival, playing Anne in The Diary of Anne Frank, Constance in She Stoops to Conquer and Mary in the world premiere of The Last Wife in this year's festival. She's also a writer, and premiered her first solo show R-E-B-E-C-C-A at Theatre Passe Muraille, and she's also graduated from Acting Up Stage's NoteWorthy program for emerging composers, lyricists, and book writers. You can catch Sara in UnCovered: Simon & Garfunkel, coming up November 3-5!
1. What musical's score will you always remember?
Joseph and the Amazing Technicolor Dreamcoat. First show I listened to and learned by heart.
2. What performance will you always remember?
When I saw the original Broadway cast of Spring Awakening perform on my 20th birthday, and I buzzed for the rest of my trip to New York and back home.
3. What were some of the roles you played in musicals in High School?
One year it was Mrs. Paroo in The Music Man, and then the next year it was Sally Bowles in Cabaret.
4.  What is your dream role that you'll (probably) never get to play?
I had delusions of playing Elphaba in Wicked when I was younger, but I don't think it's feasible. I'm comfortable keeping that a dream.
5. What's your guiltiest pleasure musical?
I think it's Mamma Mia.
6. What movie or book would you love to see musicalized?
For a movie, A League of Their Own. I don't know about a book. Like, every book. Atonement by Ian McEwan comes to mind. This book of short stories by George Saunders called Tenth of December has great things. I'm at a point where every book seems adaptable in some way.
7. What band or singer would you love to tackle in an UnCovered concert?
David Bowie; Bob Dylan; Rolling Stones.
8. Do you have any pre-performance rituals?
Make perfectly certain my bladder is empty, and then empty it again.