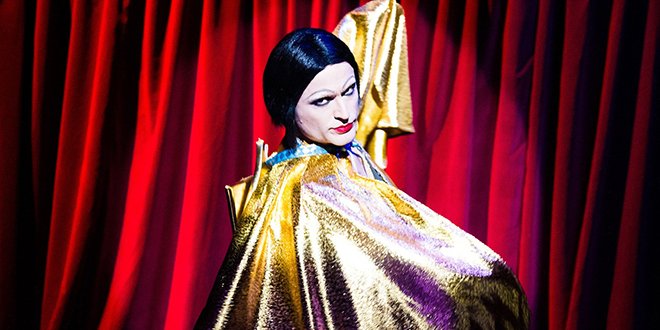 What to Expect from Ballad of the Burning Star
With opening night just around the corner, the city is about to be taken by storm with music, dance, drag, and passion – and no we don't mean Kinky Boots! (But we're excited about that too – it's starring Banks Prize winner Graham Scott Fleming and past stars of The Wild Party, David Lopez and Lisa Horner!)
Join us for the North American premiere of Ballad of the Burning Star, an explosive musical from the UK-based powerhouse theatre company Theatre Ad Infinitum. 
To get an idea of what you're in for, check out the show's trailer below.
 Running May 19-24 at the Theatre Center (1115 Queen St. West).
Ballad of the Burning Star began life as Nir Paldi's idea for a semi-autobiographical play that examined the ongoing war between Israel and Palestine through family stories. Surrounded by an international all-female ensemble of performers who embody various characters in the story, Paldi and the cast executes a story of victimhood, persecution, aggression and love in a cabaret style extravaganza.
Here's Nir Paldi himself on the creation of Ballad of the Burning Star.
Ballad of the Burning Star was originally seen at the 2013 Edinburgh Fringe Festival to sold out audiences and rave reviews across the board. This production is not to be missed and is sure to leave you craving for more.
"This is powerful, daring theatre that will haunt you. A true original, it's possible there's never been anything quite like it."

– A Younger Theatre 4 STARS
"Clever… unsettling… audacious and invigorating."

– The Guardian
"Exposing, raw and emotionally loaded"

– The Stage "MUST SEE"
"Taking marvellous creative liberties with the forms of theatre, cabaret, musical and storytelling, the narrative leaps from the trains to the camps of the Second World War to the polarised conflict in the present, this organised chaos is achieved through designed, stellar conception and performance."

– Fringe Review
"Political vaudeville with a vengeance."

– The Independence
See what audiences thought of Ballad of the Burning Star when it was produced at the Battersea Arts Centre in London.
Presented by Acting Up Stage Company and Why Not Theatre, in association with Koffler Centre of the Arts.
For Tickets:
In person: The Theatre Centre, 1115 Queen St. West
Online: Click here
Over the phone: 416-538-0988
Student groups can receive special rates.