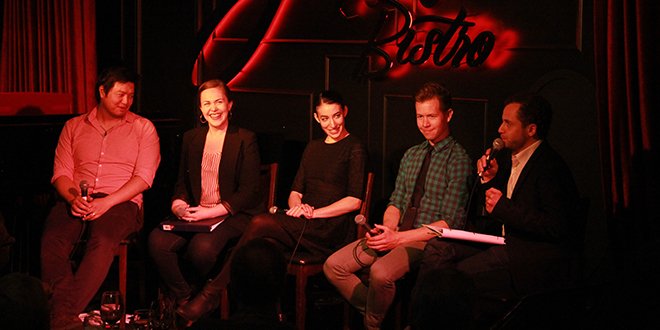 An Evening with the NoteWorthy Program
Many people know Acting Up Stage from the musical productions we stage every year – which is something we happen to enjoy very much. But another part of what we do at Acting Up Stage goes beyond promoting the art of musical theatre as it is today, and instead looks at the musical theatre creators of the future – especially those in Canada. It's a void we've noticed in today's artistic landscape, and one we're very excited to help fill.
Our major initiative in this area is our annual NoteWorthy program, which has taught and trained 25 emerging composers and lyricists/book writers from across the country in its history. The focus of NoteWorthy is to allow possible partnerships to form between composers and lyricists, or as Mitchell Marcus explained to a crowd of Acting Up Stage friends and supporters on Monday, June 1, "for Rodgers to find his Hammerstein."
The NoteWorthy program was the centrepoint for  the latest Ambassador event – one of three held for Ambassadors, who are patrons who see at least two Acting Up productions in a year – which featured interviews between Mitchell and four recent NoteWorthy grads: composers Kevin Wong and Britta Johnson and writers Matt Murray and Sara Farb. Joined by performers Alexis Gordon (The Straford Festival's Carousel), Rielle Braid (Ride the Cyclone), and Colin Simmons (Brantwood), the event featured some Broadway-worthy songs developed out of their NoteWorthy sessions, and the four artists shared their experiences and thoughts on the lack of opportunities in Canada to develop new musicals.
Check out the photos below for a look at what happened.