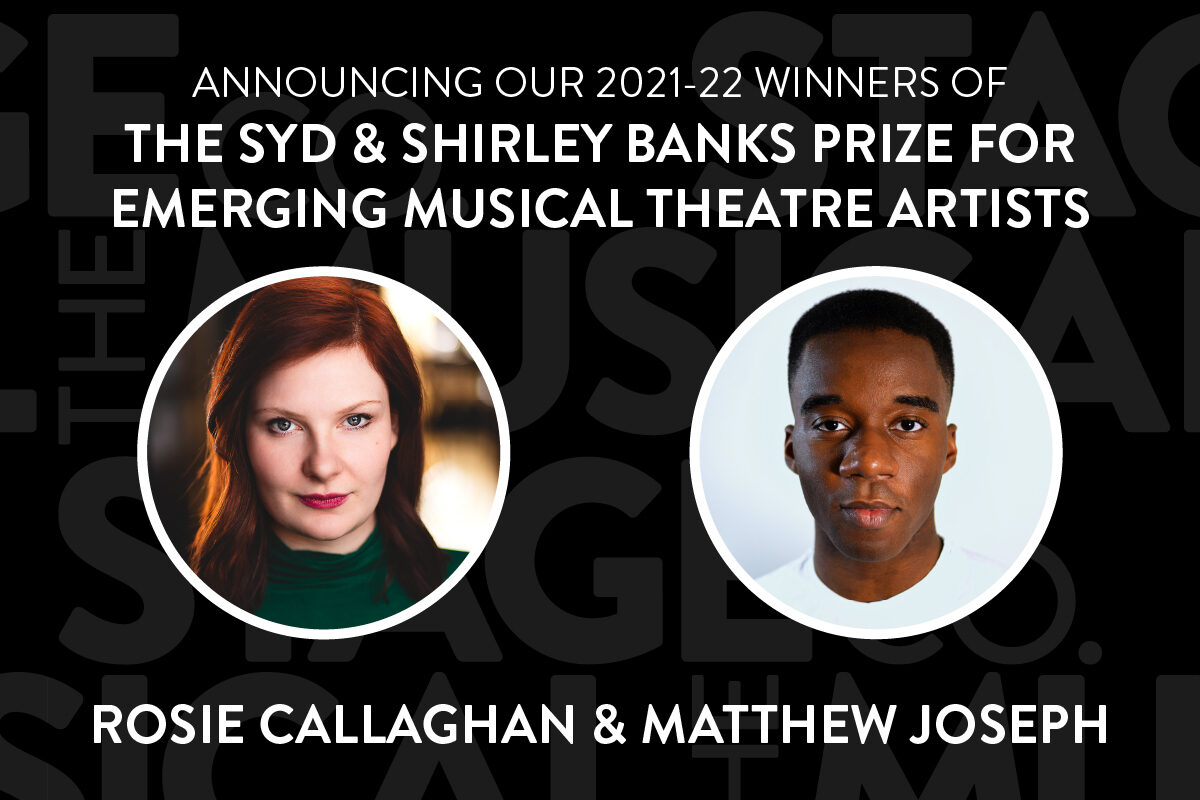 Announcing The 2021-22 Banks Prize Winners
Meet Rosie Callaghan and Matthew Joseph, our 2021-22 winners of The Syd & Shirley Banks Prize For Emerging Musical Theatre Artists!
The Banks Prize will provide Rosie and Matthew with the opportunity to advance their careers through financial assistance, mentorship and increased exposure, thanks to the incredible support of The Banks Family and the RBC Foundation.
This week we sat down with these artists and asked if they could share more about themselves, and what this opportunity represents for them.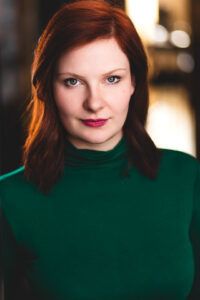 Rosie Callaghan
(she/her)
Rosie Callaghan is an award-winning performer originally hailing from Tiohtià:ke (Montreal, Quebec). She is a proud graduate of both Dawson College's Professional Theatre program and Randolph College for the Performing Arts. Since graduating, she has been part of the development of many new theatre pieces, including THE HOCKEY SWEATER (Segal Centre), FRANKENSTEIN (Kidoons/Geordie), THE CAPTAIN AURORA SAGA (Kaleidoscope/Montreal Fringe), and several pieces for Playwright's Workshop Montreal.
Selected Credits include: LAST NIGHT AT THE GAYETY (Centaur Theatre), IT SHOULDA BEEN YOU (Segal Centre/DWYT), OMEN: THE MUSICAL (Creation Coffin/Toronto Fringe), SPRING AWAKENING (Persephone Productions), HEATHERS: THE MUSICAL (We Are Here Prod.), TICK TICK … BOOM! (Rentrobuff), and HAIR (In The Wings). She was also selected as a participant in Eclipse Theatre Company's inaugural Emerging Artists Showcase. Most recently, she spent the summer in Mi'kma'ki (Antigonish, Nova Scotia), working with Festival Antigonish on their immersive show, ROBIN HOOD: THE GREAT ESCAPE. Rosie is extremely passionate about immersive and site-specific theatre and hopes to be able to continue to create theatre pieces in those genres.
What are you most looking forward to learning or discovering during your apprenticeship year with The Musical Stage Company? What does this opportunity represent to you?
I am beyond humbled that the team at The Musical Stage Company believes in me, and I cannot wait to begin learning with them! Receiving the Banks Prize is truly a culmination of hard work, perseverance, and continually refining my craft. I am so excited to be able to work under Canada's leading artists and learn more about myself, my craft, and how I fit into the Canadian musical theatre landscape.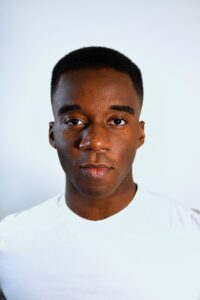 Matthew Joseph
(he/they)
Matthew "Nova" Joseph, is a non-binary singer/songwriter, actor, mover, and recording artist with Haitian roots and life experience across Turtle Island. They also hold citizenship between the US and Canada. They are incredibly passionate about using storytelling as a vehicle for authentic expression, connection, and healing, and are specifically focused on deconstructing the conventional parameters of 'Manhood'. They are also a neurodiverse artist and welcome further specific questioning for those that they come in contact with.
Matthew attended Sheridan College for the Honours Bachelor of Music Theatre from 2017 – 2021. While he was pursuing his degree, he was part of the Charlottetown Festival's, Young Company (2018 & 2019). There he made lifelong friendships, learned valuable industry lessons and became invested in bolstering and supporting the voices of indigenous creators. In 2019 Matthew and two friends formed the singing trio 'CZN'. They have since released 12 singles and a 4 song EP on all major platforms, and recently appeared on America's Got Talent, getting all 4 yes' from the judges. CZN was also the winner of the 2020 Canadian Families Got Talent competition, where they were hand-picked out of thousands of submissions across Canada, by Simon Cowell.
In their free time, Matthew loves learning new skills (like the guitar), lifting up unheard voices, writing music and playing video games like League of Legends! They hope that by living a fully authentic life and creating exciting art that others will be inspired to do the same, and they are committed to providing that space for others whenever possible! Currently they are performing in two shows at StageWest Calgary, FEELIN' GROOVY – THE BEST OF FOLK ROCK & CANADIAN SUPERSTARS – FROM THE NINETIES TO NOW.
What are you most looking forward to learning or discovering during your apprenticeship year with The Musical Stage Company? What does this opportunity represent to you?
My goal in life is to create art with inspiring individuals for as long as possible, and this opportunity with The Musical Stage Company is an incredible affirmation of that goal. I am consistently amazed by the minds that are part of [The Musical Stage Company's] projects and am honoured to begin this exciting journey of collaboration! I can't wait to learn all I can from this experience! Stay blessed.
---
To learn more about The Syd & Shirley Banks Prize For Emerging Musical Theatre Artists, click here.