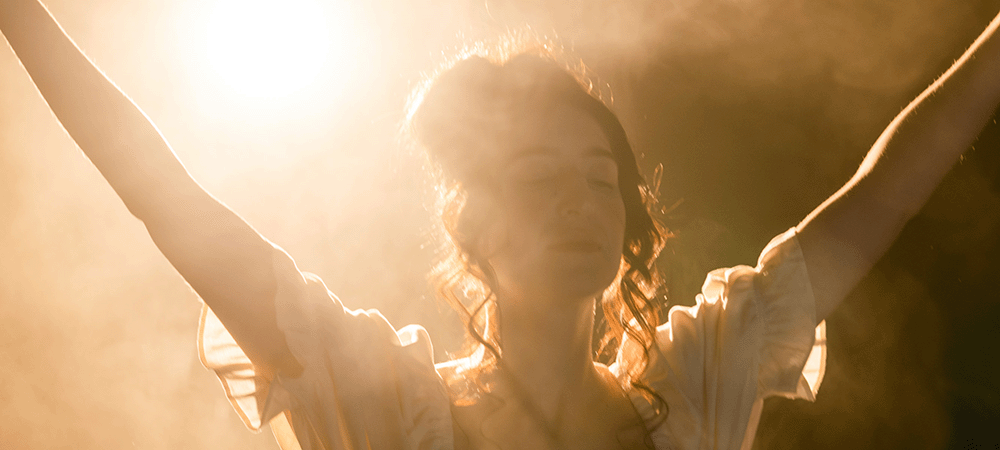 ANNOUNCING THE CAST OF NATASHA, PIERRE & THE GREAT COMET OF 1812
The long-awaited Canadian premiere of the Broadway phenomenon NATASHA, PIERRE & THE GREAT COMET OF 1812 by Dave Malloy is set to begin this December & today we're THRILLED to reveal our stellar cast!
This 12-time Tony-nominated musical delivers a radically contemporary and moving take on Tolstoy's War and Peace with its audacious storytelling and groundbreaking score that mixes indie rock, pop, folk, electronic dance, and classic Broadway music.
Created by Dave Malloy who was first introduced to Toronto audiences with his haunted and whisky-fuelled song cycle Ghost Quartet at Crow's Theatre, NATASHA, PIERRE & THE GREAT COMET OF 1812 is directed by Crow's Theatre artistic director Chris Abraham with choreography by Ray Hogg, the critically acclaimed artistic director of The Musical Stage Company, and featuring music direction by Ryan deSouza, Associate Music Director at the Shaw Festival.
NATASHA, PIERRE & THE GREAT COMET OF 1812 will take over the Guloien Theatre at Streetcar Crowsnest from December 5, 2023 – January 7, 2024. Book your tickets below!
"the most innovative and the best new musical to open on Broadway since Hamilton"
The New York Times
"Inventive, ravishing and full-on romantic!"
The New York Post
"Feels like a party from start to end, lively, intelligent and utterly engrossing."
Time Out NY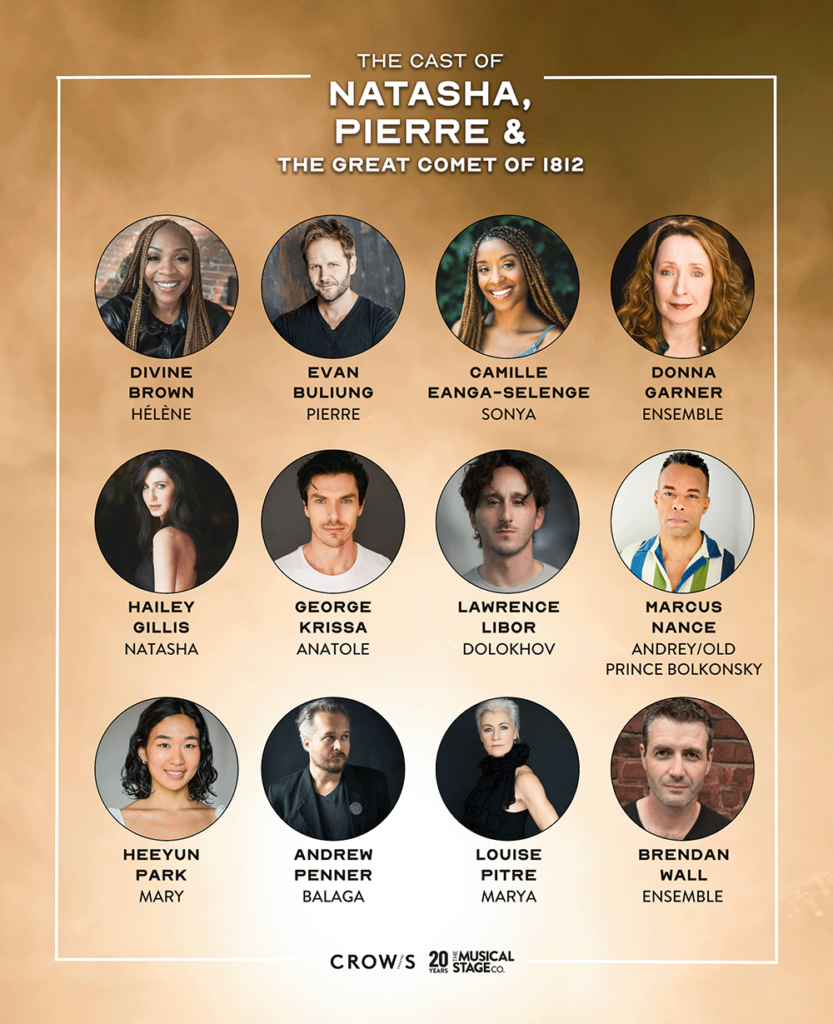 LEARN MORE ABOUT OUR CAST & CREATIVE TEAM
DIVINE BROWN – HÉLÈNE
A rare gift to have, Divine Brown's five-octave vocal range makes everybody stand up and pay attention. Her versatility as a performer both musically and vocally has found her manifesting success in the musical theatre space, as well as radio. Divine has starred in several musical plays such as Rent (Mirvish Productions), Life, Death, and the Blues (Theatre Passe Muraille), Father Come Home From The Wars (Soul Pepper Theatre) and Passing Strange (Obsidian Theatre/Musical Stage Company). Divine earned a Certified Gold Album for her debut self-titled project in 2005 (Universal Music), and a Juno Award her sophomore project The Love Chronicles which won R&B Album of the Year in 2009. Divine's most recent single entitled Digital Love was released on August 26th, 2022, and is available on all digital platforms. Divine's most recent endeavour, Billie, Sarah, and Ella; Revolutionary Women in Jazz was the first docu/concert of the 2023 season presented at Soulpepper Theatre. Having sung at many concerts there, this is the first time she has performed at one as a creator. Divine is looking forward to creating much more within this space, as well as creating more music.
EVAN BULIUNG – PIERRE
Evan is thrilled to be making his Crow's Theatre debut with such a tremendous show, cast and creative team. He resides in Toronto, but his career has taken him across Canada and throughout the states. Some highlights include Lord of the Rings (Aragorn), We Will Rock You (Khashoggi), Fun Home (Bruce), Dear Evan Hansen (Larry)for Mirvish Productions. His extensive film and TV career includes Holly Hobbie, Under the Banner of Heaven, Suits, Bitten, Hudson and Rex, Transplant, and Departure for which he was nominated for a Canadian Screen actors award. Guys and Dolls (Sky Masterson), Carousel (Jigger), King Lear (Edgar) Pericles (Pericles), and Romeo and Juliet (Mercutio) at the Stratford Festival. Man and Superman, Importance of Being Earnest, Journey's End at the Shaw Festival. He won a Dora for his performance in the Musical Stage Company of Fun Home. Enjoy!
CAMILLE EANGA-SELENGE – SONYA
Broadway: The Book of Mormon (u/s Nabalungi), Paradise Square (u/s Angelina Baker). National Tour: The Lion King (Rafiki Tour u/s Nala). Selected Regional: Radio in Caroline, or Change (Musical Stage /Obsidian Theatre Company); Dorothy in The Wizard of Oz (Ross Petty Productions); The Book of Mormon (Chicago, Melbourne). Stratford Festival: Chiffon in Little Shop of Horrors, Billy Elliot the Musical, singer in Freedom Cabaret. Film/TV: The Boys (Amazon/Sony Pictures TV). Training: Bachelor of Music Theatre Performance from Sheridan College. Online @camilove90. Et cetera: Love to mom, Michael, family and friends, and The Talent House for their incredible support.
DONNA GARNER – ENSEMBLE /MUSICIAN www.garnertheatreproductions.com
Donna has performed as an Actor-Musician in theatres across Canada, the U.S., Austria, and Japan. Select credits include The Sound of Music (U.S. First National Tour); Once (U.S. First National Tour, Mirvish productions, Neptune Theatre); Two Pianos, Four Hands (across Canada and the U.S.). TV/Film credits include Mr. Monk's Last Case (Peacock/NBCUniversal); Dare Me (USA Network); Spinning Out (SVOD Series); Private Eyes (Global); Handmaid's Tale (Hulu); Anne (Netflix/CBC); Designated Surviver (ABC). Offstage, Donna works with talented singers in her private voice studio, at Sheridan College, and in her role as an adjudicator and Royal Conservatory Examiner. Donna's love of Actor-Musicianship has led most recently to the establishment of Garner Theatre Productions – Canada's first theatre company dedicated to Actor-Musician theatre works. Most importantly, she shares her life with her talented Actor-Muso husband Rick Hughes and their stoic mini-schnauzer Gustav Mahler.
HAILEY GILLIS – NATASHA
Hailey Gillis is an award-winning actress who has performed across Canada, as well as off-Broadway. Hailey won a 2023 Dora Mavor Moore Award for her work in The Shape of Home, Songs in Search of Al Purdy and is also a New York Times 'Critics Pick' award winner. Recent theatre credits include: The Seagull (Soulpepper); The Shape of Home, Songs in Search of Al Purdy (County Stage Company/Crow's Theatre); Ghost Quartet (Crow's Theatre); Jane Eyre (Citadel Theatre); Onegin (National Arts Centre/ The Arts Club/ The Musical Stage Company); Hedda Gabbler (Necessary Angel/Canadian Stage); Romeo and Juliet, The Merry Wives of Windsor (Bard on the Beach); The Seagull, Rose, Steinbeck Through Song, The Dybbuk, Marat/Sade, Blood Wedding (Soulpepper Theatre); and Uncovered: The Music of Abba, Uncovered: The Music of Dolly Parton (The Musical Stage Company).
GEORGE KRISSA – ANATOLE
George was most recently seen as the lead of Hallmark Channels' The Holiday Sitter which was the networks first ever romcom centered around an LGBTQ+ couple. Select theatre credits include Tommy Albright in Brigadoon, The Horse and His Boy (Shaw Festival) Rocky in The Rocky Horror Show, Music Man (Stratford Festival), UnCovered Dylan/Springsteen (Musical Stage Company), Million Dollar Quartet (Segal Centre), West Side Story (Citadel Theatre). Select TV credits: Roadtrip Romance (Hallmark), Trapped with my Husband (Liftime Network), Coroner, Murdoch Mysteries (CBC TV).
LAWRENCE LIBOR – DOLOKHOV
Lawrence, originally from the UK, has been working and exploring as an actor in Canada for the past six years.
His credits include Maggie and The Play That Goes Wrong (Charlottetown Festival), Once (Citadel Theatre), Cabaret (The Grand Theatre), The Great Divide (Harold Green Jewish Theatre Company), American idiot (West End). Screen credits include Star Trek (paramount), Take note (NBC), Frankie Drake (CBC). Lawrence is overjoyed to be back working in Toronto with such incredible people, on such a thrilling piece! He would like to give a shout out to all the family, friends and loved ones that have supported him up to this point.
MARCUS NANCE – ANDREY / OLD PRINCE BOLKONSKY
Marcus Nance's performance credits include Broadway Productions of Jesus Christ Superstar and Baz Luhrmann's La Boheme; Murdoch Mysteries, Good Sam, Departure, Mayday, the film The Producers; Vancouver Opera, Theatre Calgary, Koerner Hall, NY City Centre Encores!, Chicago Opera Theatre, New York City Opera, Charlottetown Festival, NAC, Luminato, The Grand Theatre, Toronto Jazz Festival; eleven seasons at the Stratford Festival and two seasons at the Shaw Festival. He has been nominated for a Dora Award for best performer in a musical for Atom Egoyan's Elsewhereless and a Juno Award for Classical Album of the Year for Dark Star Requiem.
HEEYUN PARK 박희윤 – MARY
Heeyun Park 박희윤 is an actor, singer and creator based in Toronto. She is a recent acting graduate from the National Theatre School of Canada and also holds a Bachelor of Music in voice performance from the University of Alberta. Select credits: 5 in Morning After (a front company), Madeleine Bejart in La Bête (TIFT), Emily Brontë in Brontë (Timms), Sally Bowles in Cabaret (NTS), Pamina in Die Zauberflöte (UAlberta Opera). Film: things that make me happy (short). She is thrilled to be in one of her favourite musicals!
ANDREW PENNER – BALAGA https://www.andrewpenner.ca
Andrew is an award-winning artist who can be heard on over 50 albums and has performed extensively throughout North America and Europe. In theatre, Andrew has worked for Soulpepper, Crow's Theatre, Stratford Festival, Canadian Stage, Musical Stage Company, Native Earth, The Theatre Centre, and many others. Andrew has created music for Film/TV including, One Week, Small Town Murder Songs, Cooking with Stella, This Beautiful City, Eadweard, and Lost Girl. He is a founding member of the award-winning, multidisciplinary collective, Kitchenband who create stories inspired by obscure history, geography, and people. Andrew is a Slaight Music Associate at Soulpepper Theatre. Andrew lives in Toronto, Canada with his wife and 3 sons.
LOUISE PITRE – MARYA http://www.louisepitre.com
Louise played Donna in the original Toronto, US touring, and Broadway companies of Mamma Mia! (Tony nomination); Piaf, Piaf/Dietrich; Dr. Madden, Next To Normal; Snake, The Little Prince, Fantine, Les Misérables; Piaf; Company; Gypsy; Mame; A Year With Frog and Toad, Annie; The Toxic Avenger; Sweeney Todd; Annie Get Your Gun; Blood Brothers; Marie – Dancing Still; Could You Wait?; The Times They Are A'Changin'. TV: Pretty Hard Cases, Over The Rainbow, Merry Matrimony, A Christmas Wedding, Recipe for a Perfect Christmas, MVP, Flashpoint, Céline, Star Portraits! Louise is the recipient of four Dora Mavor Moore awards and has recorded five solo CDs.
BRENDAN WALL – ENSEMBLE / MUSICIAN
Brendan Wall has been making music and theatre for almost 30 years. He is an Irish Canadian actor and musician; husband to the remarkable Mary Francis Moore and Dad to amazing Finbar and Kilian. He is thrilled to be making music and theatre with the Crow's Theatre and Musical Stage Company teams. For Crow's Theatre: The 20th anniversary production of Unidentified Human Remains and the True Nature of Love. For Mirvish Productions: Harry Potter and the Cursed Child, Warhorse, Once. For Soulpepper: Seven seasons over 10 years including Soulpepper on 42nd Street (Off-Broadway). For The Confederation Centre for the Arts: Six seasons including Jesus Christ Superstar, Kronborg, A Misfortune. Brendan has also appeared on screen in numerous films and TV shows as a cop, soldier, lawyer, executive, president, colonizer, and other exemplars of societal oppression. It's a living. Peace.
DAVE MALLOY – BOOKWRITER, COMPOSER, & LYRICIST www.davemalloy.com
Dave Malloyis a composer/writer/performer/orchestrator. He has written fourteen musicals, including Moby-Dick, a four-part musical reckoning with Melville's classic novel; Octet, a chamber choir musical about internet addiction; Natasha, Pierre & The Great Comet of 1812, an electropop opera based on a slice of Tolstoy's War & Peace (12 Tony nominations, including Best Musical, Score, Book, and Orchestrations); Ghost Quartet, a song cycle about love, death, and whiskey; Preludes, a musical fantasia set in the hypnotized mind of Sergei Rachmaninoff; Little Bunny Foo Foo, a forest entertainment for small people; Three Pianos, a drunken romp through Schubert's "Winterreise"; Black Wizard/Blue Wizard, an escapist RPG fantasy; Beowulf—A Thousand Years of Baggage, an anti-academia rock opera; Beardo, a reinterpretation of the Rasputin myth; Sandwich, a musical about killing animals; and Clown Bible, Genesis to Revelation told through clowns. He has won two Obie Awards, a Smithsonian Ingenuity Award, a Theater World Award, the Richard Rodgers Award, an ASCAP New Horizons Award, and a Jonathan Larson Grant, and has been a MacDowell fellow and Composer-in-Residence at Ars Nova and the Signature Theatre. He lives in Brooklyn.
CHRIS ABRAHAM – DIRECTOR
Crow's Theatre Artistic and General Director, Chris Abraham has been the driving force of Crow's Theatre since the 2008.09 season. He has successfully led the company through several major milestones: the 25th, 35th, and this season's 40th anniversaries as well as building Streetcar Crowsnest in the east end of Toronto. Chris launched the Crow's Theatre 2022.23 season with his production of Uncle Vanya and the 2021.22 season withWilliam Shakespeare's As You Like It, A Radical Retelling by Cliff Cardinal. Chris has directed numerous award-winning plays for Crow's including Julius Caesar, Stars: Together, The Wedding Party, True Crime, Boy in the Moon, The Assembly, The Watershed, The Seagull, Winners & Losers, Someone Else, Eternal Hydra, and I, Claudia. In 2013, Chris was awarded the Siminovitch Prize in Theatre for Directing. This spring, and currently running, Chris directed a critically acclaimed production of Much Ado About Nothing at the Stratford Festival. Chris will also open Crows Theatre 40th anniversary season directing the world premiere of Michael Healey's The Master Plan.
RAY HOGG – CHOREOGRAPHER
Ray Hogg is the Artistic Director of The Musical Stage Company in Toronto, Canada. He is an award-winning Black theatre artist known for creating and presenting virtuosic, visually stunning, viscerally moving theatre and live performance. He has over 20 years of artistic, educational and leadership experience in the most celebrated opera, dance, and theatre companies around the world. His work as a dancer, actor, master teacher, producer, director, and choreographer has taken him across Europe, The United States, and Canada. He has created for stages as diverse as Neptune Theatre in the east, The Arts Club Theatre Company in the west and many others in between. From 2012-2017 Ray served as Artistic Director of Rainbow Stage. In addition to his work at The Musical Stage Company, he is also an Associate Artistic Director at Halifax's Neptune Theatre, and the founder of Prime Mover Theatre Company, which is dedicated to the advancement of marginalized artists and their work on Canada's most prestigious stages from coast to coast. His work as a director and choreographer includes Controlled Damage (The Grand Theatre, London), Da Kink In My Hair (Arts Club Theatre Co); Lady Day At Emerson's Bar And Grill (Theatre Calgary); Billy Elliot, Mama Mia (Neptune Theatre), Cats, The Producers, Sister Act, Shrek, Little Shop Of Horrors (Rainbow Stage); Love and Information, An Enemy Of The People, Damn Yankees, Chicago (Sheridan College). He has choreographed for the Shaw Festival, the Winnipeg Symphony Orchestra, Neptune Theatre, the Segal Centre in Montreal, and more.
RYAN DESOUZA – MUSIC DIRECTOR
Ryan deSouza is currently in his 23rd season as the Associate Music Director at the Shaw Festival where he has music directed shows including A Christmas Carol, Peter and the Starcatcher, The Russian Play, and One Touch of Venus. He has also composed for several productions including The Apple Cart, Chitra, An Octoroon, Engaged, and Hotel Peccadillo. Ryan has had the pleasure of working on shows across the country with companies that include the Citadel Theatre, the Stratford Festival, the Grand Theatre, Canadian Stage Company, Talk is Free Theatre, Mirvish Productions, Ross Petty Productions and Stage West Calgary. He has shared the stage with international recording artists Andrea Bocelli, Jennifer Hudson, and The Tenors, and has worked as the audition pianist on several Toronto productions including We Will Rock You, Lord of the Rings, Dirty Dancing, and Hairspray.