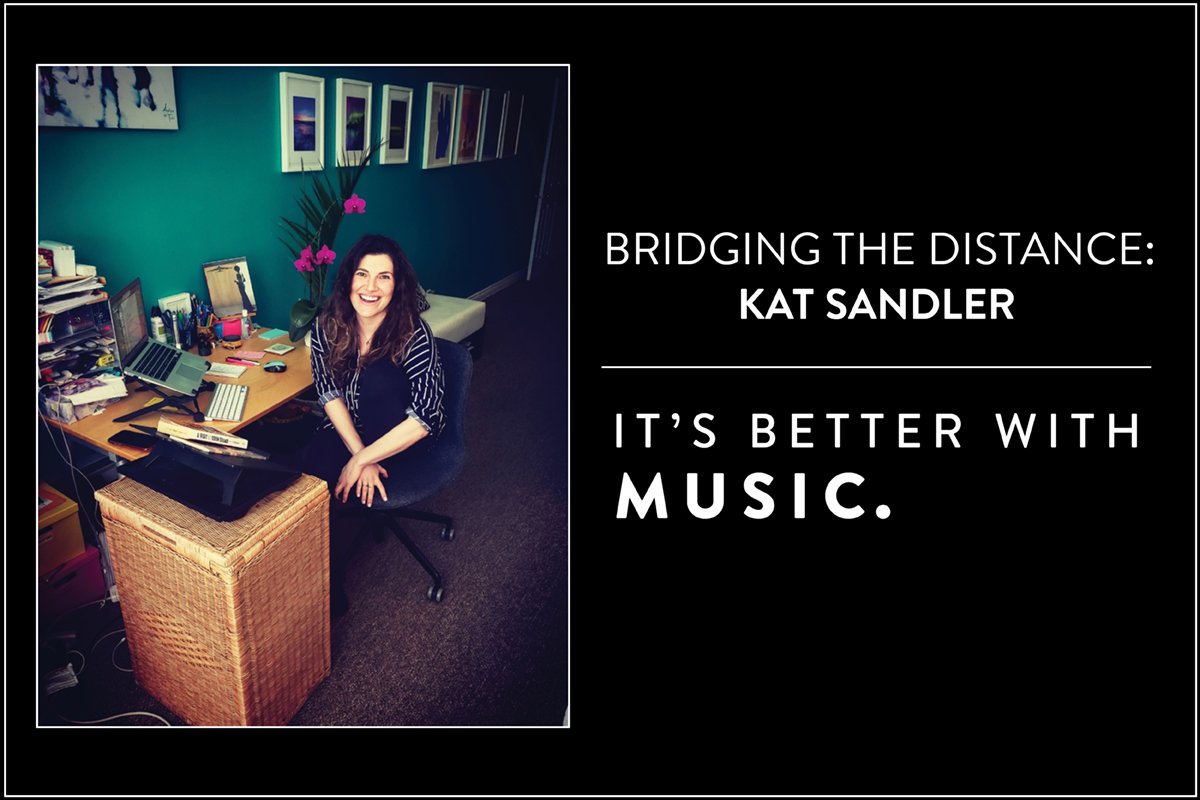 BRIDGING THE DISTANCE: KAT SANDLER – IT'S BETTER WITH MUSIC
The Musical Stage Company is driven by musical storytelling. We are inspired by music's unique ability to viscerally affect people and are committed to cultivating experiences – onstage and off – that transform lives, build empathy and create community through musical theatre. Over the next few weeks, we will be sharing the stories of our musical community through our latest blog series, 'BRIDGING THE DISTANCE: IT'S BETTER WITH MUSIC'.
We've given each artist a writing prompt and have asked them to share a story, an image and a piece of music that depicts their current outlook and artistic practice while social isolating. This week we are excited to profile Artistic Director of Theatre Brouhaha, Dora Mavor Moore Award-winning playwright, and LAUNCH PAD 2020 bookwriter, Kat Sandler.
KAT SANDLER – FINDING COMFORT IN THE MUSIC THAT SURROUNDS ME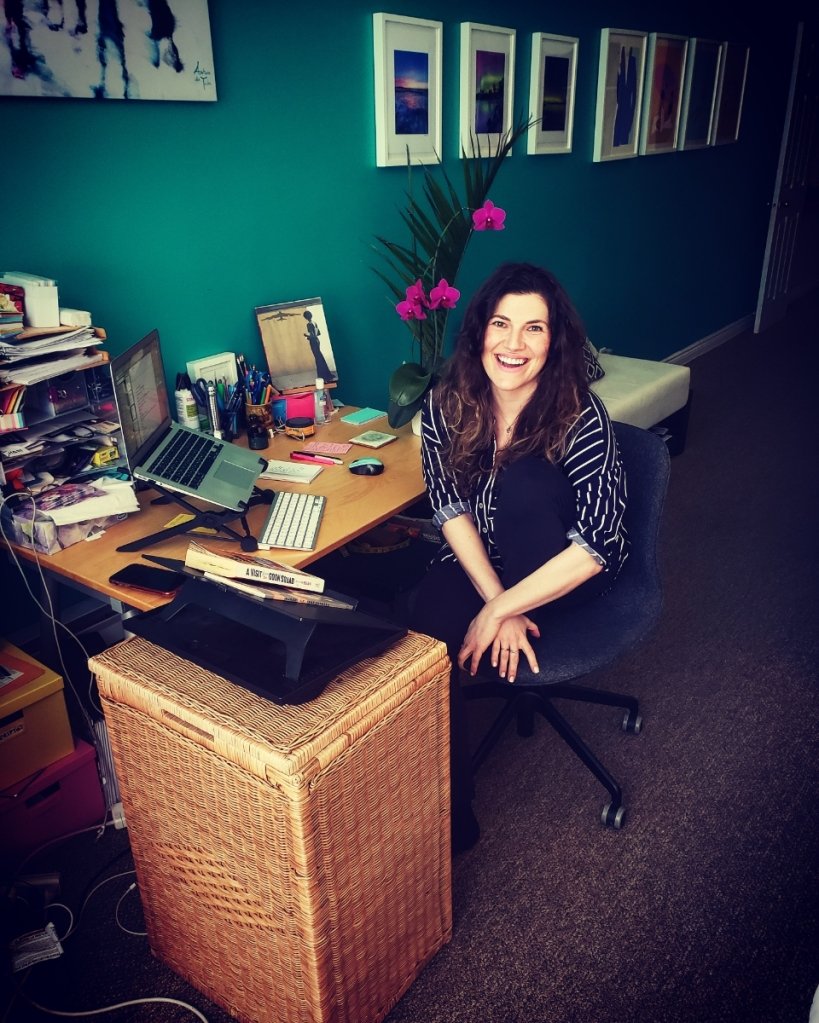 So…I'm self-isolating in my smallish apartment complex in Leslieville. This is my first year without roommates, and I guess that timing is both great and terrible, as I have the space to myself but also have way too much time alone with my thoughts, and my wonderful parents have refused outright to loan me the family dog ("for her safety"…).

I have been shocked to find that in this crazy time (at least for the moment) I am lucky enough to be busier than ever with projects, while simultaneously being at the mercy of a COMPLETE AND UTTER lack of focus. Phone call? I'll take it! Bake bread, why not? See something shiny, better look at it for a while, and figure out what it might be before I pick it up! I write a lot and I write quickly, but most people would be surprised to learn that I actually despise the physical process of writing, for the very fact that I don't like working alone and I hate silence.

I write quickly so I can get to the part where other humans join in the process faster – a first read or workshop, or rehearsal, and I write in coffee shops or bars, so as to be distracted by other humans; eavesdropping snippets of their conversations, running into people I know, or just letting myself stare into space surrounded by the hum of other people working and whatever playlist that establishment has chosen. I NEVER work at home. And now I work at home exclusively. And the thing that surprises me the most is that one of the things I'm most grateful for is has become the thinness of my walls and the variety of weird noises my neighbours make.
Lemme break it down for you…Outside my office/bedroom window (which overlooks a busy street) I can hear the streetcars as they rumble by, people as they greet each other and sometimes, a lone busker with a saxophone, who plays jazz standards. He's been gone for a few weeks but I hope he'll be back. Our front door (despite the large sign that reads: DO NOT SLAM) slams constantly as people come in and out, talking loudly on their phones. The neighbours to the right of me have two rescue dogs, who are very adorable, and very loud, and have a lot to say to each other. They (neighbours, not dogs) have bought me groceries several times, and also made me cookies, and in a few weeks, we'll work on our fire escape gardens together (FROM A DISTANCE).

One of my upstairs neighbours seem to have taken up the ukulele (she's getting pretty good!), and the very tall gentleman with his tiny (also adorable) dog play some kind of game in which he chases said tiny dog from one end of the apartment to the other – I hear her tiny dog pitter-patter then his big dude thumping steps – and then laughs uproariously for several minutes. The one directly above must have an alarm set to vibrate on their cell phone, since I can hear it reverberating through the floor, as well as their smoker's cough, first thing in the morning. Another has a workout regimen that involves simply jumping up and down repeatedly on the creakiest spot on the floor (then laughing uproariously for several minutes). There's a lot of laughter from upstairs, actually, and this guy has one of those perfect laughs that is both hearty and joyous and comes in bright bursts – the definitive "peal" of laughter – we're all familiar with it in the theatre, the kind of laugh that annoys some people onstage and that other people live for because it's SO PURE. I happen to love it.
I used to find all of this kind of annoying, but now I find the "music" of our building and neighbourhood oddly comforting. It's nice to know that these people, who are so much a part of my life, and so separate from me at the same time, are all surviving, playing, laughing and waking up and getting on with their days. These continuing sounds are a big part of my day and let me know everyone in the building is still doing pretty okay, somehow. And that makes me feel nice.
IT'S BETTER WITH MUSIC SELECTION:
Sam and Dave – "Hold On, I'm Coming"
I've been listening to a TON of classic soul and R&B. I find it's familiar enough to have on in the background while I work, and upbeat enough to help me pretend I'm getting ready for a big night out. This song, in particular, is like being wrapped in a bear hug of cool. They way they sing it makes me feel like they really might be coming! And, cheesy as it is, it's nice to be reminded to hold on, just a little longer. This live performance is a masterclass in crowd work, and makes me so excited for when (one day) we can all leap to our feet again together and dance and sing and lick each others faces. 🙂