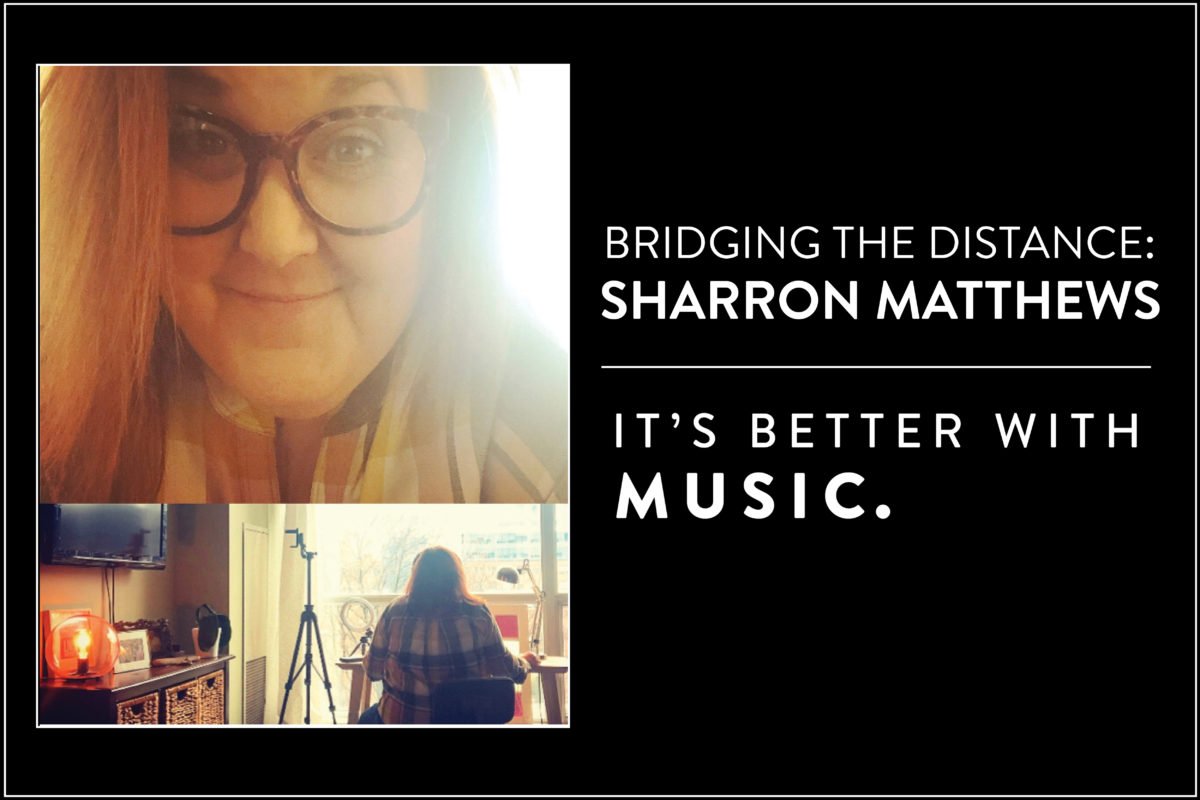 BRIDGING THE DISTANCE: SHARRON MATTHEWS – IT'S BETTER WITH MUSIC
The Musical Stage Company is driven by musical storytelling. We are inspired by music's unique ability to viscerally affect people and are committed to cultivating experiences – onstage and off – that transform lives, build empathy and create community through musical theatre. Over the next few weeks, we will be sharing the stories of our musical community through our latest blog series, 'BRIDGING THE DISTANCE: IT'S BETTER WITH MUSIC'.
We've given each artist a writing prompt and have asked them to share a story, an image and a piece of music that depicts their current outlook and artistic practice while social isolating. This week we are thrilled to profile the award-winning Canadian actress, singer, comedian, writer, and producer, Sharron Matthews. Best known as one of the stars of CBC's new hit period detective drama Frankie Drake Mysteries, her portrayal of "Joan The Secretary" in Tina Fey's iconic Mean Girls and her ever-expansive canon of work as a cabaret performer! We were lucky enough to present Sharron's Cabaret GIRL CRUSH in July 2017 at the High Park Amphitheatre and we're overjoyed to catch up and see how she's been doing.
SHARRON MATTHEWS – A SONG THAT GIVES ME HOPE
One evening about a week ago I was sitting at my computer…much like I am in my picture…alone in my mandatory travel quarantine. I sat there for a very long time looking out the window at the view of the buildings all around me, hearing the empty streetcars stop again and again at my corner. I must have heard at least twenty go by, that is how long I was sitting there. My apartment was quiet, there was no music playing, which is odd for me. I am going to be totally honest, at that very moment, the world felt like a very lonely place… a scary and hopeless place. I looked down at my computer and went to Spotify. In the music application's search bar I typed in the words "Beautiful City Godspell".
Hunter Parrish sings such a simple and lovely expression of this song, doesn't he? I put it on repeat. I must have listened to it as many times as I heard streetcars go by earlier. And quite honestly, as I sat there, the city grew brighter and had more texture. I could see people in their apartment windows going on about their lives… in hope and in worry… unknowingly together, though separate. And I felt hopeful. Truly, and a bit sadly, hopeful. That song became a soundtrack for my emotional regroup.
Music is a real game-changer. Art is vital to our well being, and there has never been a time that I can remember that demonstrates that more than right now. Be well, humans.
IT'S BETTER WITH MUSIC SELECTION:
BEAUTIFUL CITY
by John-Michael Tebelak and Stephen Schwartz

Out of the ruins and rubble
Out of the smoke
Out of our night of struggle
Can we see a ray of hope?
One pale thin ray reaching for the day
We can build a beautiful city
Yes, we can, yes, we can
We can build a beautiful city
Not a city of angels
But we can build a city of men
We may not reach the ending
But we can start
Slowly but truly mending
Brick by brick
Heart by heart
Now, maybe now
We start learning how
We can build a beautiful city
Yes we can, yes, we can
We can build a beautiful city
Not a city of angels
But we can build a city of men
When your trust is all but shattered
When your faith is all but killed
You can give up bitter and battered
Or you can slowly start to build!
A beautiful city
Yes, we can, yes, we can
We can build a beautiful city
Not a city of angels
But finally a city of men
A city of men