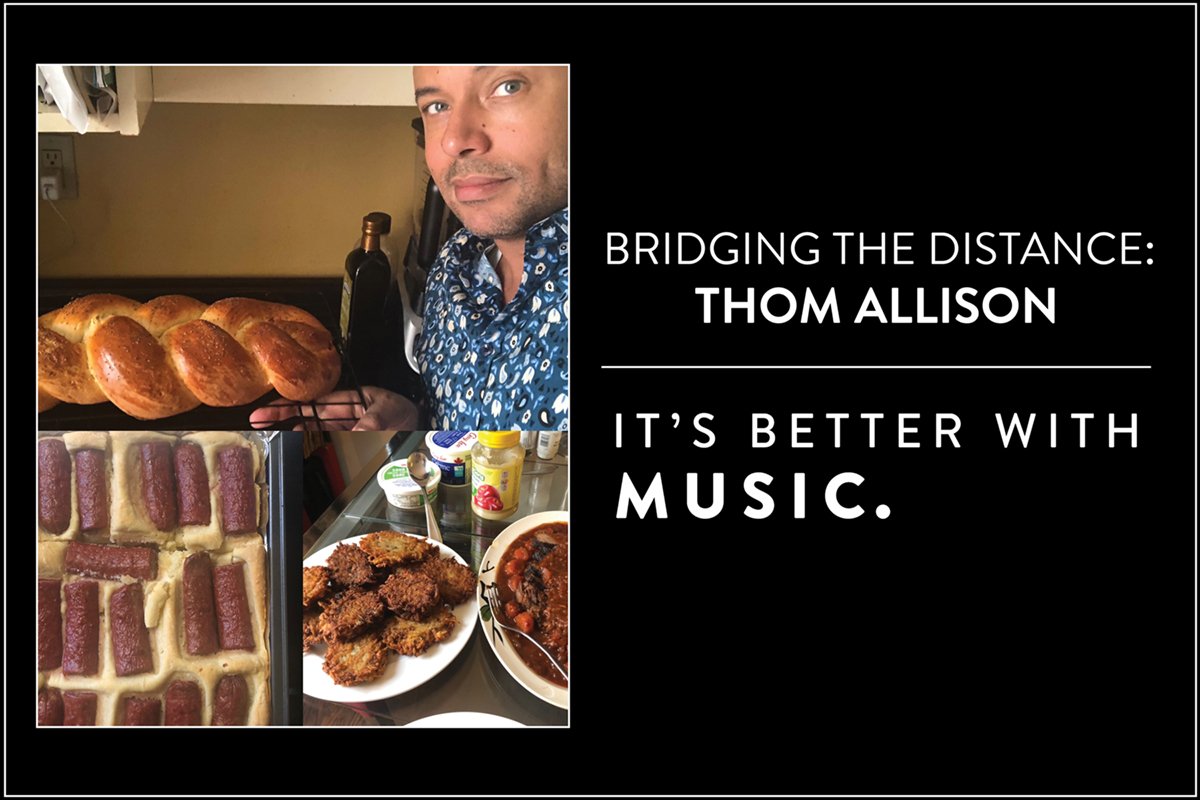 BRIDGING THE DISTANCE: THOM ALLISON – IT'S BETTER WITH MUSIC
The Musical Stage Company is driven by musical storytelling. We are inspired by music's unique ability to viscerally affect people and are committed to cultivating experiences – onstage and off – that transform lives, build empathy and create community through musical theatre. Over the next few weeks, we will be sharing the stories of our musical community through our latest blog series, 'BRIDGING THE DISTANCE: IT'S BETTER WITH MUSIC'.
We've given each artist a writing prompt and have asked them to share a story, an image and a piece of music that depicts their current outlook and artistic practice while social isolating. This week we are excited to profile Broadway actor, three-time Dora Award nominee, UnCovered favourite and member of The Musical Stage Company Board of Directors, the remarkably talented, Thom Allison!
THOM ALLISON – FINDING TRUE JOY AMIDST ISOLATION
When I was in the acting program at Ryerson Theatre school about 157 years ago, I also wanted to direct. In fact, I directed an extracurricular show each year while there. But when my career as an actor took off – that became the path I was on.
I needed acting as a child. I was shy but creative, and I was savvy enough to know that if I let my insecurities lead the way, I'd end up a 500 lb. hermit in a basement apartment, eating icing out of a can with my hands. But out of theatre school, I was the right thing at the right time, so I was one of the fortunate ones who most always had work of some kind.
But for the last 10-15 years or so, something was missing; there has been a longing inside me. I've been transitioning to directing, in small bits. And though I still enjoy concert work, because I can be in charge of the whole story, I have been less happy acting in shows where I can't be in charge of the bigger picture. Everyone has a different point of view but not everyone wants to expand that into a whole production.
I have felt such rumblings and yearning to share my sense of the world in a larger way with my work. I spent a lot of my life feeling like I didn't have much to say and that all I could do was act (not that that was a small thing). But as some of you know, I lost my father, brother, and mother to cancer in a 2 1/2 year span ending with my mother about 10 months ago. That's my whole immediate family. And since then the world has felt different to me. We don't know how much time we may have, at the best of times. And now, here we are in a pandemic. The message here is not one of gloom and doom, but of movement, connection and passion.
What this isolation has made clear to me is, I can't spend any more time doing what no longer fills me with joy. I have something to offer the world of entertainment and the world at large; something bigger than I thought, bigger than an individual. I want to direct musicals, to guide/help create the magic that changes lives and brings hope through musical theatre.
I'm not one to let "challenging" events take me down. My mother used to say, "There's no such thing as can't". Her personal mantra was: there is always a way – just figure out what that is. And my father was a man of such unshakable optimism, he always had his face to the sun. He would say, "Things always work out. Just do your best and trust." These were two amazing individuals, and with my family gone and the world-changing, what has become clear to me is I want to be a force of joy and elevation that can help transcend world plagues, negativity, and darkness. Through this pandemic and after, I intend to bring big picture magic to a world that sorely needs it.
IT'S BETTER WITH MUSIC SELECTION:
Open a New Window – MAME The Musical
" I've always loved this song – and at this moment, it's never been more poignant."