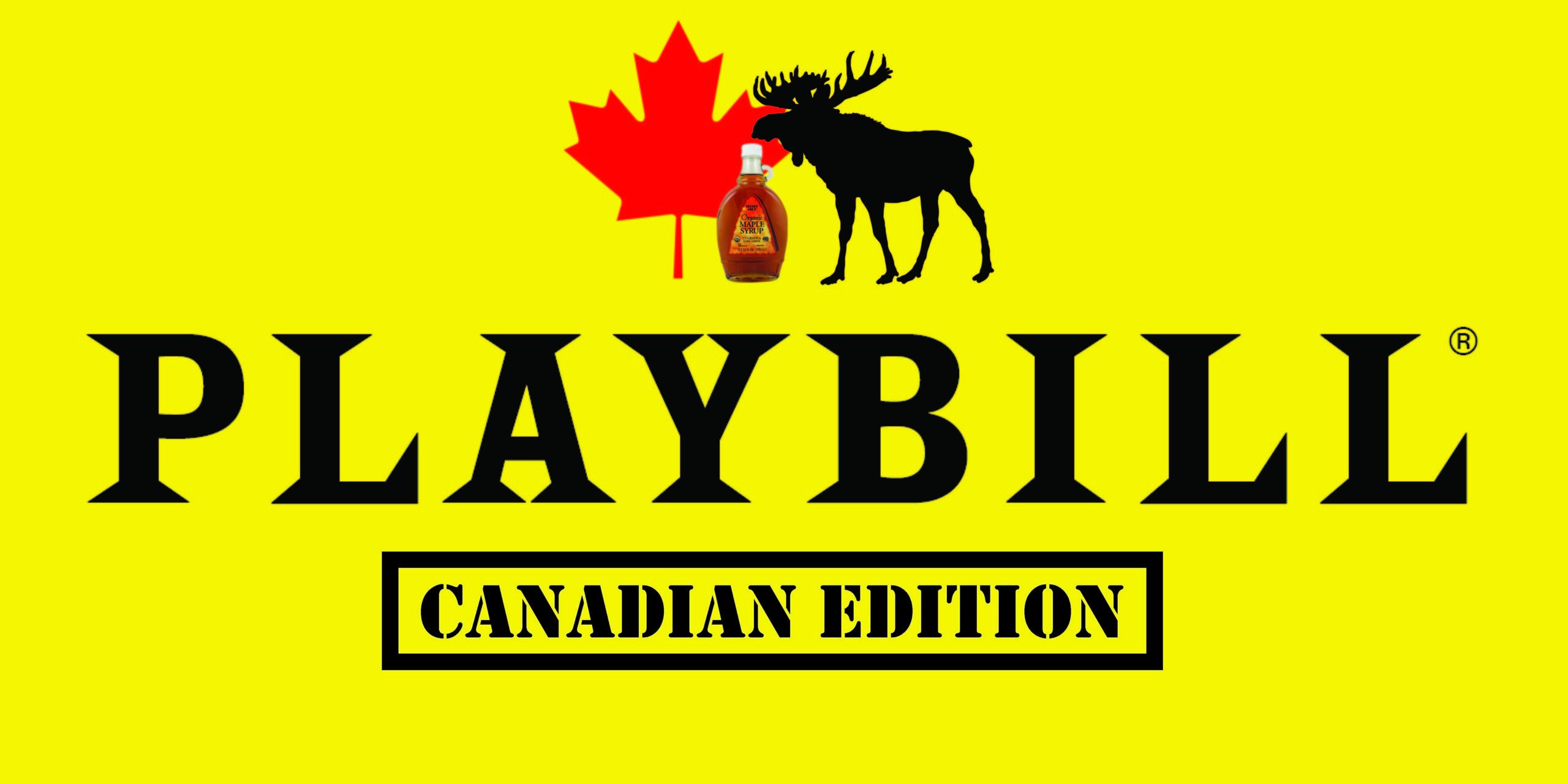 A Canadian Broadway Snapshot
In anticipation for our 2nd Annual Tony Awards Viewing Party on June 11th, we are thrilled to cheer for a new Canadian musical, Come From Away, which is up for seven awards!
Canadian musical theatre has often been overshadowed by our larger, flashier, more affluent American neighbour. Though we may accredit many of the big name musical hits to USA, Canadian musicals are beginning to make their mark on 42nd street. While many popular Canadian cities are stomping grounds for touring productions and pre-Broadway runs, we have a few original titles that have made a name for Canadians on Broadway. 
Check them out below! 
Come From Away
Toronto 2012 | Broadway 2017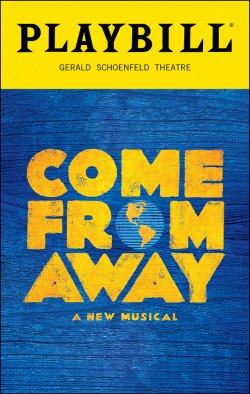 Set in the week following the September 11, 2001 terrorist attacks, Come From Away tells the true story of community and hope when 38 planes were ordered to unexpectedly land in the small town of Gander, Newfoundland. Conceived by Toronto's Michael Rubinoff and written by Irene Sankoff and David Hein (writers of My Mother's Lesbian Jewish Wiccan Wedding), this musical blossomed out of original stories and experiences of Gander locals. The show was originally brought forward as a 45-minute workshop version with the Canadian Music Theatre Project, a part of Sheridan College Music Theatre Performance Program in 2012. After teaming up with Goodspeed Musicals for development and quickly building momentum at La Jolla Playhouse and Seattle Repertory Theatre in 2015, in 2016 it went to Ford's Theatre in Washington. After its pre-broadway sold out run at Toronto's Royal Alexandra Theatre, Come From Away opened at the Gerald Schoenfeld Theatre on March 12th 2017 and is currently playing to sold-out crowds. This year, it is nominated for 7 Tonys including Best Musical, Best Book of a Musical, and Best Original Score.  
The Drowsy Chaperone
Toronto 1997 | Broadway 2006

"Mishaps, mayhem, and a gay wedding!" With book by Bob Martin and Don McKellar & music and lyrics by Lisa Lambert and Greg Morrison, The Drowsy Chaperone is a parody of American musical comedy from the 1920's that comes to life in the living room of our narrator, Man in Chair, as he wryly comments on the music, story, and actors. Originally mounted as a spoof of old musicals for a stag party at the Rivoli for Bob Martin and Janet van de Graaf (simultaneously the two lead characters), the production evolved and grew into something much bigger over the next nine years. Mounted for the Toronto Fringe, then financed by David Mirvish for an expanded production at Theatre Passe Muraille in 1999 and the Winter Gardens in 2001, after further development it made it to Broadway by May 2006. It played at the Marquis Theatre and closed in December of 2007 after 32 previews and 674 performances. It was nominated for 13 Tony's in 2006 and won 5, including Best Book of a Musical and Best Original Score.
The Story of my Life
Toronto 2006 | Broadway 2009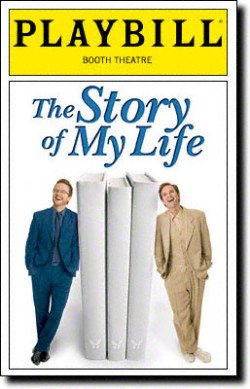 The Story of My Life, originally debuted with Canadian Stage, follows a lifelong friendship between two men who candidly explore the simplicity of human need and the complexity of emotions friendship can bring. With Music and Lyrics by Neil Bartram (who we also know from emerging Canadian musical The Theory of Relativity) and based on Brian Hill's original book, this delightful Canadian production premiered on Broadway at the Booth Theatre early winter of 2009. It had 18 previews and 5 performances. The production received four 2009 Drama Desk Award nominations, including Outstanding Music, Outstanding Lyrics, Outstanding Book, and Outstanding Musical. Bartram & Hill also collaborated on the one-woman musical You Are Here that premiered at the 1000 Island Playhouse in 2016 (and in association with The Musical Stage Company!). Who knows what Canadian hit may come next from this duo!
Billy Bishop Goes to War
Vancouver 1978 | Broadway 1980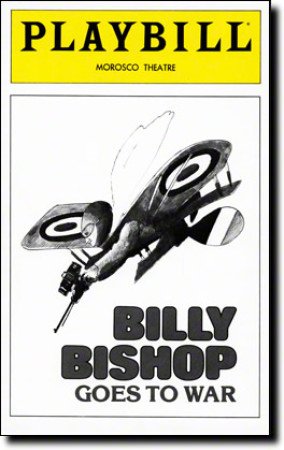 Following the dramatized life of Canadian World War I fighter pilot Billy Bishop, this great Canadian musical ran for 7 previews and 12 performances on Broadway in the Spring of 1980. Canadian actor Eric Peterson – who we now know dominantly for the CTV show Corner Gas – played the 18 different characters telling the story of Billy, a hapless military school student who becomes a hero. The musical is written and accompanied by John MacLachlan Gray for its cross-Canada tour and eventual Broadway run at the Morosco Theatre. The musical won the Los Angeles Drama Critics' Award in 1981, the Floyd S. Chalmers Canadian Play Award in 1982 and the Governor General's Award for English Drama in 1982. Most recently, this classic piece of Canadian theatre history was reprised by Gray and Patterson into a film that premiered at TIFF in 2010.
Rockabye Hamlet
Charlottetown 1974 | Broadway 1976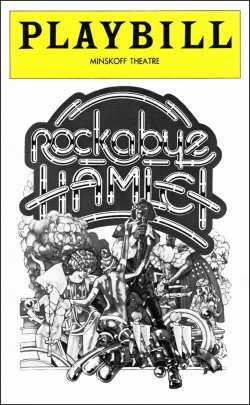 Rockabye Hamlet is a rock musical with a book, lyrics, and music by Cliff Jones. It is based on the classic tragedy by William Shakespeare and tells the story of a Danish prince who plots revenge on his uncle for killing his father. It was originally titled Kronborg: 1582 and commissioned by CBC as a radio series in 1973. It was later taken to the Charlottetown Festival stage from 1974 – 1975 and touring along the east coast before being revised and retitled Rockabye Hamlet for its Broadway debut. The show had 21 previews at the Minskoff Theatre in the early winter of 1976 and closed after 7 performances. After the Broadway run, the show once again was revised in 1981 and it was staged as Somethin' Rockin' in Denmark at the Odyssey Theatre in Los Angeles. By 2003, it was revived for a tour of schools throughout Canada.
A bonus off-Broadway Canadian gem:
Anne of Green Gables
Charlottetown Festival 1965 | Off-Broadway 1971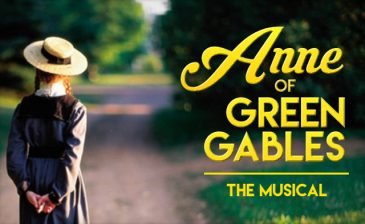 Known as the longest consecutive running musical in Canadian history, Anne of Green Gables is based on the original novel by Lucy Maud Montgomery. It tells the adventures of Anne Shirley, an 11-year-old orphan who is mistakenly sent to a family for adoption and tells of how she makes her mark with them, with her school, and within the town. Anne of Green Gables the Musical has been playing every year at the Charlottetown Festival in P.E.I and has also gone on national tours since 1967. It played off-Broadway at the New York City Center in 1971 and during the 80's and 90's it was produced in Japan. With the recent CBC TV series adaptation of Anne, we may see this musical build momentum again and perhaps it will be on Broadway sooner than we think.
Did we miss one of your favourite home-grown Canadian musicals? Tell us in the comments below!
---
Join us on June 11th for our 2nd Annual Tony Awards Viewing Party to see how our Canadian musical COME FROM AWAY makes its mark on Broadway! Reserve your free tickets here.