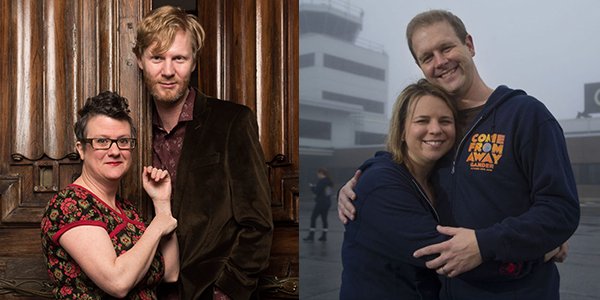 An Interview with the writers of Come From Away & Onegin
As we approach Canada's 150th celebration we are thrilled to see Canadian musical theatre front and centre on the world stage. We sat down with the writers of Come From Away (Irene Sankoff & David Hein) and Onegin (Amiel Gladstone & Veda Hille) to discuss the landscape of Canadian musical theatre and what the future may hold.
Musical theatre doesn't have a long history as a Canadian art form as opposed to the United States or the U.K. As Canadian writers, what drew you to the form?
Irene: The first real show I saw was Guys and Dolls at a local high school when I was about nine. I fell in love with Skye Masterson and wanted to be a Hot Box Dancer. I also saw "The Best of Broadway" at Canada's Wonderland. I went every weekend on a Season's Pass and memorized the choreography. Fellow Canadian Sergio Trujillo was a dancer in that show and when I first met him, I told him I still remembered the choreography and we've had some nice bonding moments over the memories of a time when "Broadway Style Shows" were appreciated alongside rollercoasters. 
David: The first musical I listened to was Chess. My Dad was a chess player and I'd got it for him as a birthday present without knowing anything about it – and we both played it nonstop. I saw Phantom and wore out the cassette – but I was mostly raised on folk rock Canadiana. My mom would take me to the Winnipeg Folk Festival, which is where I first saw Great Big Sea and fell in love with Newfoundland music. It was only later in University that Irene got me into musical theatre. She took me to RENT and we'd do the 10-hour drive down to New York listening to cast albums.
Amiel: I loved seeing Rent in its first Broadway run. Before that, I remember being struck by Fiddler on the Roof, Cabaret, and She Loves Me.
Veda:  I have never felt that being Canadian restricted me from any form.  I was drawn to musical theatre because I enjoyed the puzzle of story and drama, because I wanted to work with Ami, because of Brecht and Fosse and John Cameron Mitchell.
Does 'being Canadian' affect your writing style?
Amiel: I have only been aware of a "Canadian aesthetic" when taking work into the States. Down there they have called for more clarity, more straightforward intention. So I think maybe we are more nuanced somehow?
David: I grew up in Regina, Saskatoon, Ottawa and Toronto. In Ottawa, every July 1st, I'd wear a Canadian flag as a cape, spray a maple leaf on my face. I wear my Canadian pride on my sleeve – and the two shows we've written have been true Canadian stories, set in Canada. 
Irene: There's a lot of Canadian stories that haven't been told on a large scale in Canada which gives a lot of material to choose from! I also believe what Mike Myers says, which is that we are a culture of observers. We also don't have a long-standing tradition of musical theatre, which allows us the freedom to break the form and experiment with it off the radar.
How would you define Canadian musical theatre?
David: It's a challenge. Come From Away is a show written by Canadians, developed in Canada, set in Canada, and featuring Canadians – so it certainly ticks a lot of the right boxes. Certainly, the Prime Minister attending with 500+ diplomats helps. Irene mentioned the observer culture, and we're known for our comedy and politeness, but I'm not sure there's actually a different aesthetic, any more than there is for all "Canadian Music" or "Canadian Films." 
Veda: Hmmm.  I resist defining things by nature.  I'm certainly glad that some Canadian shows have been finding success.
Amiel: Feels too new, too early to know, for me anyway.  Drowsy Chaperone, Come From Away, etc., are there a defining elements there?  
Interestingly, both writing teams jointly write the book, lyrics and music. What does your process look like?
Veda:  Ami tells me what to do, I do it, then he tells me how to fix it.  Ok, not really.  But kind of.  We spend a good chunk of time talking about story and character, and style of the piece.  With Onegin, Ami gave me rough translations of sections of the opera, and I wrote sketches of songs to bring back to him, and then we talked about how to make them better.  By the end of the process we were writing together in the room, which was a new and wonderful thing for me.  
Amiel: We also talk a bit in terms of other artists' work too: maybe this is more like Pulp, maybe this is somehow Kendrick, what is the opposite of what we expect here? that kind of thing. 
David: We're a husband-and-wife writing team – we share everything because we can't stay out of each other's business. Working with your spouse is not for the faint-of-heart. But being married, you learn how to communicate and how to negotiate disagreements. 
Irene: We have a submission process at the start – when we write something, we send it to each other explaining "what we were trying to do" and "how it went." 
David: There are also days when we sit next to each other on the couch staring at the same computer. And then our cat sits on both of our arms, and we only have one arm each to type. It's like we're the two-headed monster from Sesame Street. At the end of the day though, it's the best thing in the world to be working with someone you love, someone who'll be completely honest with you, someone who's aimed at the same goals, and who's by your side 24/7. I wouldn't trade it for the world. 
This is both of your second, and largest pieces of musical theatre; what lessons did you learn in your first pieces that led to your success in your second?
Irene: We learned that your best work comes from collaborating with people you love – people who make you laugh. You're going to be working with them for years, and life is too short for people or stories you don't love with all your heart. We learned the power of true stories. We learned to ask a lot of questions and get a good lawyer. We learned how to work together.
Veda:  We learned how to trust each other.  I learned A LOT about theatre, having only worked in more experimental settings before that.  Personally, I continue to learn about writing for multiple voices, and really understanding the range of different kinds of singers. 
Amiel:  What kind of development we need in terms of writing time and workshops. When to trust our instincts. What battles to pick and what hills look comfy to die on.
What do you hope the future of Canadian musical theatre looks like?
Veda:  Exciting! Rich! Plentiful! Fresh! 
Amiel: Many different perspectives and music that moves. 
David: While I don't necessarily think you can draw a circle around Canadian musicals, I do think the future is brighter than ever for Canadian musical theatre writers. Companies like The Musical Stage Co. and the Canadian Music Theatre Project at Sheridan are starting to take more risks on new shows. People are recognizing that just producing a show isn't enough – it has to be developed and nurtured. And that's a learning process for audiences as well as theatres. I hope companies can encourage audiences to start to see works-in-progress as just as exciting (or more so) than full productions. I also hope that companies can see themselves as one part of a broader path for a show – working with our theatres and producers – in North America and beyond to share our stories, our talent, and our culture with the world.