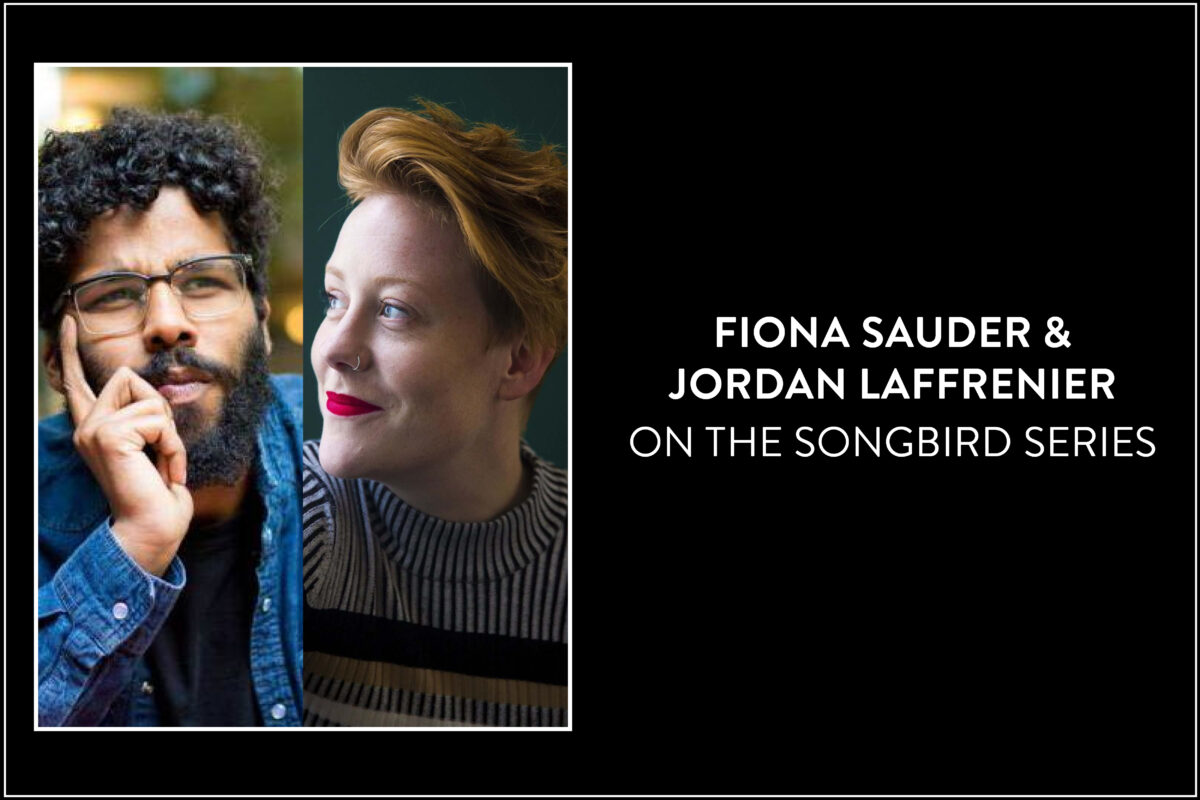 FIONA SAUDER & JORDAN LAFFRENIER ON THE POWER OF THE SONGBIRD SERIES
Earlier this summer, we introduced PORCHSIDE SONGS, our mobile concert series that travels across the City of Toronto, bringing intimate musical performances to friends, families, and neighbours. We knew we also wanted to bring the power of music to our community of musical theatre lovers who don't live in Toronto. To accomplish this, we are presenting Fiona Sauder and Jordan Laffrenier's SONGBIRD SERIES, which allows you to gift a loved one with a video message of a song they cherish, recorded by an outstanding professional artist.
This week, we sat down with Fiona and Jordan to discuss SONGBIRD SERIES and the impact it has had on people around the world.
What inspired you to create the SONGBIRD SERIES?
At the start of the pandemic, we kept thinking about the people who were alone and what we could do for them. We had a few bad ideas before we landed on SONGBIRD SERIES. We realized we had a huge network of artists with the capacity to put something they would already be doing–singing alone in their houses–on video and that this had the potential to mean a lot to an unsuspecting stranger in isolation. Once we started thinking about the mutual benefit for these mostly out-of-work artists, creating SONGBIRD SERIES was a no-brainer. We had a hunch there would be a market for this, and we were thrilled to find out how right we were when the orders started pouring in.
Can you tell us about one of your favourite videos that has been sent out?
Every time we get a commissioned video back from one of our artists, it's so special. Each is unique and personal. Our artists have such a wide array of talents, and often choose to attack each video differently depending on the song and the recipient. One of our favourite things is any video that involves more than one artist. There are several musical couples on our roster who appear in one another's videos, as well as groups of musician roommates in isolation together. Some Songbirds get their family involved. We've also seen many cameos from the artists' pets. It's always different and it's always magical.
What are some of the most interesting places that you've been able to send a video to?
We've sent videos places as far-reaching as Germany, France, New York, and Los Angeles.
How many videos have you sent out in total?
Nearly 500–and the orders are still coming in!
How have you been able to foster community and connection through the SONGBIRD SERIES?
People who order songs often re-order, and so over time we learn more about them and the people in their lives they feel compelled to reach out to. The same can be said of our roster of artists. Some of the Songbirds were well-known to us before the pandemic, and some less so. With each video, we get a window into their lives, their relationship to music, and what they've been up to during the pandemic. It feels a bit like checking in on our community. "Oh, Eva [Foote, 2019-20 Banks Prize Recipient]'s in the mountains now! Cool!"
With each video commission there's a connection that's made between the patron, the artist, and the person being nominated to receive a song. In this way, with nearly 500 videos commissioned, there have been roughly 1500 connections made through this project. And that's just…awesome.
As artists yourselves, why do you feel it's important to continue to be creative during this pandemic?
To be honest, we don't think it necessarily is. We've been trying to focus on what feels good. Some days creative output feels soothing, and some days it feels like it costs something. So far, this project has felt incredibly positive, and we think that has everything to do with the fact that it's a direct response to this moment. The creative conditions are not the same as they would be if we were not in a pandemic, and so we are not the same, and so our art will not be the same. We need to afford ourselves patience, and do what makes us feel good.