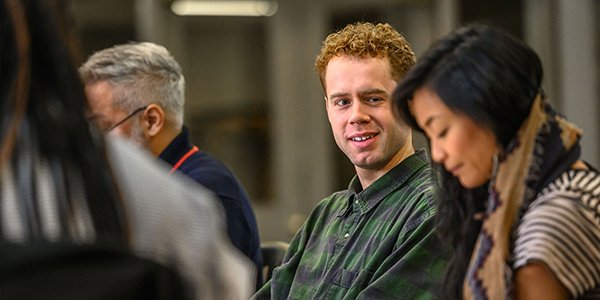 Gardeners and Flowers: Nathan Carroll on Next to Normal
By: Nathan Carroll
Nearly everyone I've ever met knows I'm obsessed with Will & Grace.
For the better part of 20 years, I've watched at least one episode a day.  The characters mean so much to me that I've got their apartment number tattooed on my skin.
In one of my favourite episodes, 'The Unsinkable Mommy Adler,' Grace brings up how Will sees people:
"Will has a theory about relationships. One person is the gardener who tends, and the other person is the flower who gets tended to."
After Will and Grace's visiting mother (played brilliantly by the late Debbie Reynolds) tell Grace they see her as a flower in her relationships, she spends the rest of the episode protesting the label, shouting back at her mom,
"Do not call me a flower!  I am not a flower. I am a gardener, damn it.  I do plenty of hoeing!"
This is one of the many ways I identify with Grace, right alongside her frugality, constant hunger, and frequent poor choices when it comes to men: I've often worried that I, too, will always be the flower in my relationships. 
And being a flower, selfish and in need of care, feels terrible.
I was feeling this way a year ago when I was first auditioning for our upcoming production of Next to Normal.  I was recovering from a mental health crisis and working on a piece Intermission would later publish as "The Problem With 'The Show Must Go On.'" 
I had wanted to be in Next to Normal for a long time.  But when I first got the call to audition for the role of Henry, Natalie's supportive boyfriend, a tiny voice in my head whispered, 
"You can't play Henry.  You're the crazy one.  You're the flower."
For me, the worst part of dealing with mental illness is the guilt that comes from how hard it is on the people around me.  The knowledge that I am burdening the people who love and support me.
Because it is hard for them.  I am a burden when I am mentally ill.  And no matter how willing someone is to shoulder the burden of a suffering friend or lover or parent or child, the weight is still heavy.
Though many people may be natural 'gardeners', few people are taught how to support the mentally ill.  Often, they learn from the examples set by the people who have helped them in their moments of need or struggle.
That's how I've learned.  From my friend Kate, I learned how to validate and affirm feelings without judgement.  From my friend Krista, the importance of asking the person if they are having thoughts of suicide or planning to hurt themselves.  From my mom, the value of simply sitting, listening and acknowledging the difficulty of the situation.
Rehearsing this show a year after my own crisis, I am feeling remarkably stable, thanks to medication, subsidized therapy, and my generous support system.  Not only am I experiencing profound joy while working with the exceptional artists involved in Next to Normal, but I am feeling an authentic capacity for providing emotional support in the way Henry does. 
But Henry is more than that.
On its surface, Next to Normal is about two people in mental health crises and the two people who are trying desperately to support and care for them, with various medical professionals guiding their paths. 
But digging deeper, it shows us a reality that is far more complicated. 
It shows us how supporting someone through a mental health crisis can have an intense impact on the supporter's own mental health.  It shows us that everyone will, at some point, be called on to care for someone in their life.  It shows us that even the most resolute of gardeners will, at some point, be in need of care.  And, most important to me, I think it shows us that flowers make the best gardeners.  That the time we spend wrestling with life, reaching our hands out to the people willing to put in the time to care for us, increases our ability to care for others. 
In my favourite part of Next to Normal, Henry sings,
"So you could go crazy, or I could go crazy, it's true."
As much as I love Will Truman, every night at the CAA Theatre, I'll get to sing these lines that reveal that his theory about flowers and gardeners is actually bullshit.
We all need tending and watering and sunlight, and people to look at us and feel joy and pride at our growth.  And, as we grow, we'll all be called upon to do some gardening of our own.  Gardening that, because we've experienced love and care and support from others, we'll inevitably be better at doing ourselves. 
My hope is when you see our show—whether you're gardening or growing, or some combination of both—you'll walk out of the theatre feeling a little more seen. 
---
Nathan Carroll plays Henry in Next to Normal, onstage April 26 – May 19 at the CAA Theatre as part of the Off-Mirvish Series.