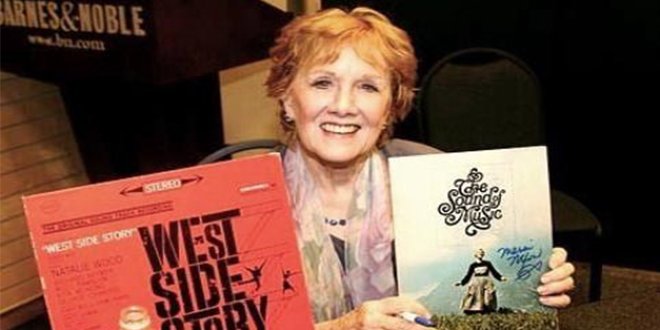 Hollywood 'Ghost Singers'
This week's sad Broadway news announced the passing of Marni Nixon at the age of 86 – a relatively unknown performer with one of the most famous voices in musical movie history.
If you grew up watching Audrey Hepburn singing "I Could Have Danced All Night", it was actually Marni Nixon. If you loved Natalie Wood's "I Feel Pretty", it was actually Marni Nixon. And the gorgeous "Getting To Know You" that you thought was performed by Deborah Kerr? Marni Nixon.
Through a contemporary lens, it's shocking to think that between 1930-1960, half of all musical films featured a singer like Nixon as the voice of the film stars they would cast in the leading roles. The singer was kept secret – unseen, and generally uncredited, even on the soundtrack (which of course featured only their performance and not that of the film star). In Nixon's obituary, the New York Times notes: "Ms. Kerr was nominated for an Academy Award in 1956 for her role as Anna in The King and I; the film's soundtrack album sold hundreds of thousands of copies. For singing Anna's part on that album, Ms. Nixon recalled, she received a total of $420." Confidentiality contracts used to be signed so that the truth was never revealed.
Here are a few of my personal favourite "ghost singers" who are really unsung (no pun intended) heroes:
Debbie Reynolds' voice in Singin' In The Rain was dubbed by Betty Noyes. This is particularly ironic as Reynolds played Kathy Selden who is hired to dub the singing voice of a famous movie star in the film's plot.
Bill Lee was the one who really made us cry singing "Edelweiss", dubbing the voice of Christopher Plummer in The Sound of Music.
Marni Nixon also had to dub Rita Moreno's singing for a section of "Tonight" in West Side Story when her vocal stand-in, Betty Wand, was out sick. This means that Nixon is actually singing a duet with herself and so she had to modify her voice so it sounded sufficiently different.
India Adams was the voice of both Cyd Charisse in The Band Wagon and Joan Crawford in Torch Song.
Rosalind Russell's Mama Rose in Gypsy was mostly sung by Lisa Kirk.
And for those who grew up on movie musicals of the 2000s, Drew Seeley is the voice of Zac Efron in much of the first High School Musical.