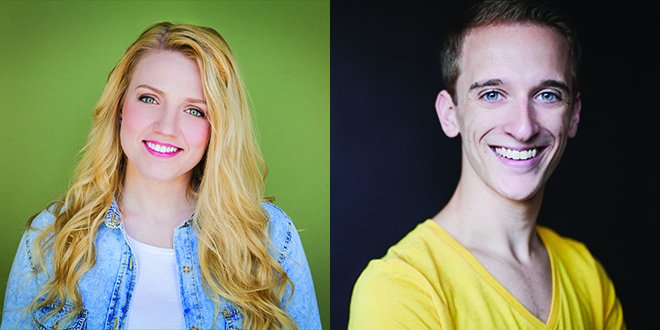 Catching up with the 2015/2016 Banks Prize Winners
The Banks Prize is an annual prize awarded to two up-and-coming Canadian musical theatre performers, one man and one woman, who receive $1,000 and a year of mentorship and performance opportunities in the Acting Up Stage Company season. We caught up with the 2015/2016 winners, Colin Simmons & Brittany Banks and chatted about their experience.
How did being a Banks Prize winner help shape your career and what are you up to now?
Brittany: The Banks Prize was HUGE in helping me transition from the student world to the professional world. I had this idea that finishing school would be the launching pad for my career and though attending Randolph was one of the best decisions I've ever made, I quickly learned there are many new challenges and other steps to take once you're out in the real world… it's not as simple as auditioning for things and just hoping for the best. I'm with a fantastic agency now (shoutout to the Newton Landry team!) and I'm happy to say that I actually love auditioning (finally). I do have a few projects on the horizon… the details of which which I can hopefully share soon!
Colin: The Banks Prize connected me with artists that I have respected for years. The masterclasses put me in a room one-on-one with three brilliant teachers. UnCovered and our Any Moment cabaret gave me two fantastic performance opportunities I would never have had otherwise. All of that combined means a lot has changed for me because of the Banks Prize.
Right now, I am stupid lucky: I am working at the Stratford Festival in Shakespeare in Love and The Lion, the Witch, and the Wardrobe.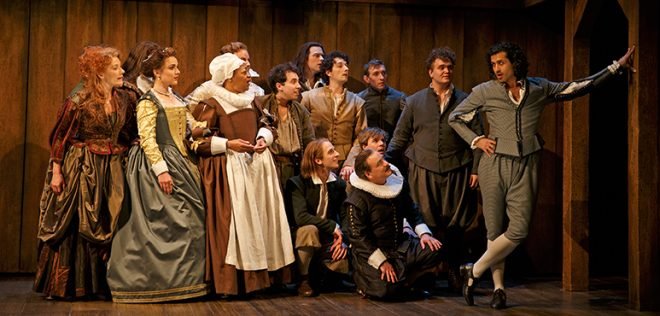 Members of the company in Shakespeare in Love. Photography by David Hou.
What's your favourite Banks Prize memory?
Brittany: Oh my goodness- there are so many, it's honestly impossible to choose just one! First, working with my co-recipient, Colin Simmons, was such a pleasure. He is incredibly talented and an even kinder human; I felt so safe and supported by him onstage and off. Another highlight was working with Reza Jacobs (who is also in the "incredibly talented and even kinder human" category) and singing in beautiful Keorner Hall for UnCovered, supported by a gorgeous band. The one-on-one workshops Colin and I received were each completely inspiring, as well as the countless insightful conversations with Colin, Lillian King and Adam White during the rehearsal process for our cabaret. One memory that was completely unexpected upon starting my Banks Prize year was working behind the scenes on Grey Gardens. Acting Up needed a Child Minder for the run and Adam emailed me wondering if I was interested. I jumped at the opportunity- assist two talented children AND be a fly on the wall while some of Canada's finest talent work in a rehearsal room? Yes please. Observing the creative team and actors do their thing was super fascinating, and hanging out with Amariah and Hannah every day totally filled my heart.
You made your Stratford Festival debut this year, what was it like?
Colin: Stratford is one continuous "wait– is this– how is this– this is actually happening right now?" moment. I have learned so much since February, both explicitly, from the two incredible directors I was lucky enough to work with, and implicitly, from watching some of the best actors in Canada in rehearsal and performances. I have been taking notes. Lots and lots of notes. I could write a compendium of essays on everything I have learned––and am still learning––or talk your ear off in a café.
Suffice to say opening night was a whirlwind. The energy surrounding the event was quite intense. To be honest, I much prefer the day-to-day magic of just telling a story and engaging with an open audience. That's the real joy.
You made your professional directing debut this year, what was it like?
Brittany: Directing Anne & Gilbert in Charlottetown this year was terribly fun. I've directed productions before, but this was indeed my first truly professional directing gig, which was eye opening on so many levels. The amount of decisions and conversations that need to take place months prior to even stepping foot in the rehearsal room is staggering. I have huge respect for anyone working behind the scenes on a musical and the level of sanity they are able to maintain, ha. Casting the show was also very interesting, especially as an actor myself. The casting process is indeed a puzzle that often times people simply don't fit, regardless of how talented they are. Experiencing this other side of the casting process is a huge reason why I now love auditioning so much, because I realize that even if I do my absolute best in that audition room, I still might not be what they're looking for or I don't quite fit into their particular casting "puzzle"- and I'm ok with that! My casting choices for Anne & Gilbert were pretty spectacular though (if I do say so myself!) which made my job incredibly easy and enjoyable in the rehearsal room. It was also lovely to be working on a show so dear to my heart, in my beautiful hometown.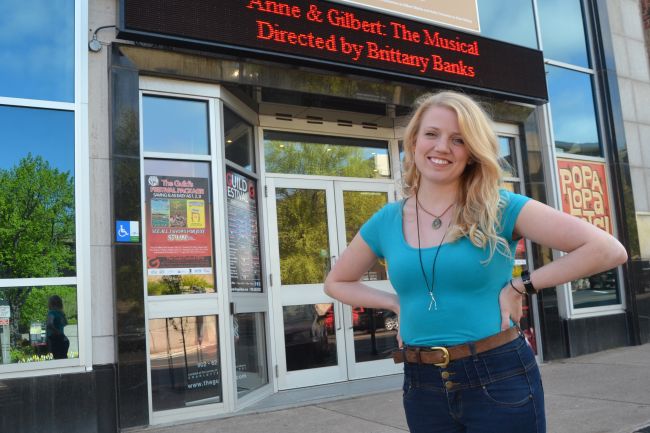 Photography Sally Cole/The Guardian
What challenges did you face this year?

Colin: Learning how to understudy was a challenge. I had to go on in previews, three days in a row. Once for Shakespeare in Love as the Boatman and twice for The Lion, the Witch and the Wardrobe as Mr. Tumnus (and Leopard). We had not had the understudy run yet, we had not rehearsed the entire second half of Lion/Witch, and I had just found out I was understudying Leopard four days earlier. I have never been so high on adrenaline. The entire cast and crew was supportive which made the experience doubly wonderful. I am lucky to work with insanely talented and generous people.
What are your goals and ambitions looking forward?
Colin: There is so much! My list of goals could fill a blue whale. Of course, I hope to be back at Stratford next year. I love this Festival and the artists who work here. Beyond that, my main goal is creating new work. I have been working on a one-man show for the past two years. I am at the beginning stages of a new musical. I would love to create another cabaret (Banks Prize cabaret was inspiring!). Creating new work has been my goal for a long time; now I need to set a deadline and book a venue. It will be thrilling. And terrifying.
Brittany:  Well, there's certainly lots of dreams and goals in my brain, places I'd like to work, people I'd like to work with… but right now I'm just open and excited for whatever comes my way! I do have a lot of creative ideas I've been keeping tucked away, so I think I'm going to start exploring some of those more fully to satisfy my creative "itch" so to speak, ha.
Anything else you'd like to add?
Colin: Just a thank-you to Mitchell, everyone at Acting Up Stage, and especially the Banks family for all of the opportunities the Banks Prize has given me. I am so grateful.
Brittany: Well, I'd definitely like to send out a massive thank you to Mitchell, everyone at Acting Up Stage and of course the Banks family! It's truly been an honour and a privilege, and I will be forever grateful.
Information & Audition dates for the 2016/2017 Banks Prize will be announced in August. Stay tuned for further details.