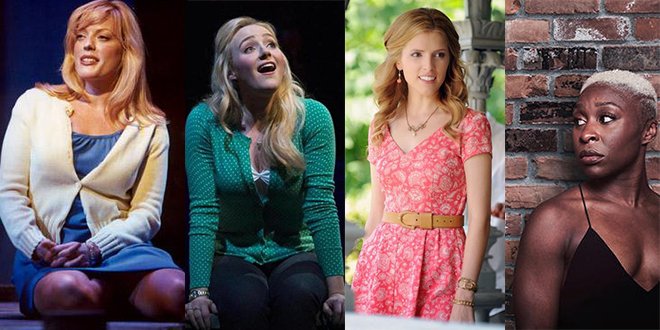 I Can Do Better Than That! The Ladies of The Last Five Years
With the huge Broadway news that Tony-Award Winner Cynthia Erivo and Tony-Award Nominee Joshua Henry will perform in a Benefit Concert of Jason Robert Brown's The Last Five Years, we decided to dive into all* the astounding Cathy Hiatts that we've seen. From Sherie to Betsy to Anna and finally to Cynthia, let's take a look at the different character choices that these ladies took to the iconic role.
The Original – Sherie Rene Scott
Sherie, my sweet Sherie – She will always be my favourite Cathy. Sherie's Cathy is so emotional and raw, listening to the album you feel for her heartbreak and devastation. I know she sometimes gets the heat as being too sappy (and borderline annoying) but I find her performance stunning. Although Sherie Rene Scott is the 'original' off-Broadway Cathy, Lauren Kennedy performed the role in the World Premiere (check out her performance here).
The Revival – Betsy Wolfe
Betsy Wolfe – what a dynamic performer. I love the comedy she added to the character. Interestingly enough, the revival was directed by Jason Robert Brown and one can assume Betsy performed his ideal representation of the character; quirky, funny & relatable.
The Movie – Anna Kendrick
The Last Five Movie is one of my favourite movie Musicals (not just because I'm in love with Jeremy Jordan), but because they stayed true to the musical itself and (dare I say) enhanced the character development of Cathy & Jamie. Anna Kendrick, although not as vocally perfect as Jeremy Jordan (but I mean is anyone as perfect as him?), Acted the hell out of the role and gave a very believable performance.
The Benefit – Cynthia Erivo
COME ON! Cynthia Erivo as Cathy, I must be dreaming. I'm so excited to see her take on the role and thrilled that Jason Robert Brown is taking a stance on gun control. There better be a recording of this because I need to have it on repeat for at least 2 months.
*Samantha Barks played Cathy in the original West-End production, unfortunately no videos or soundtrack is available.