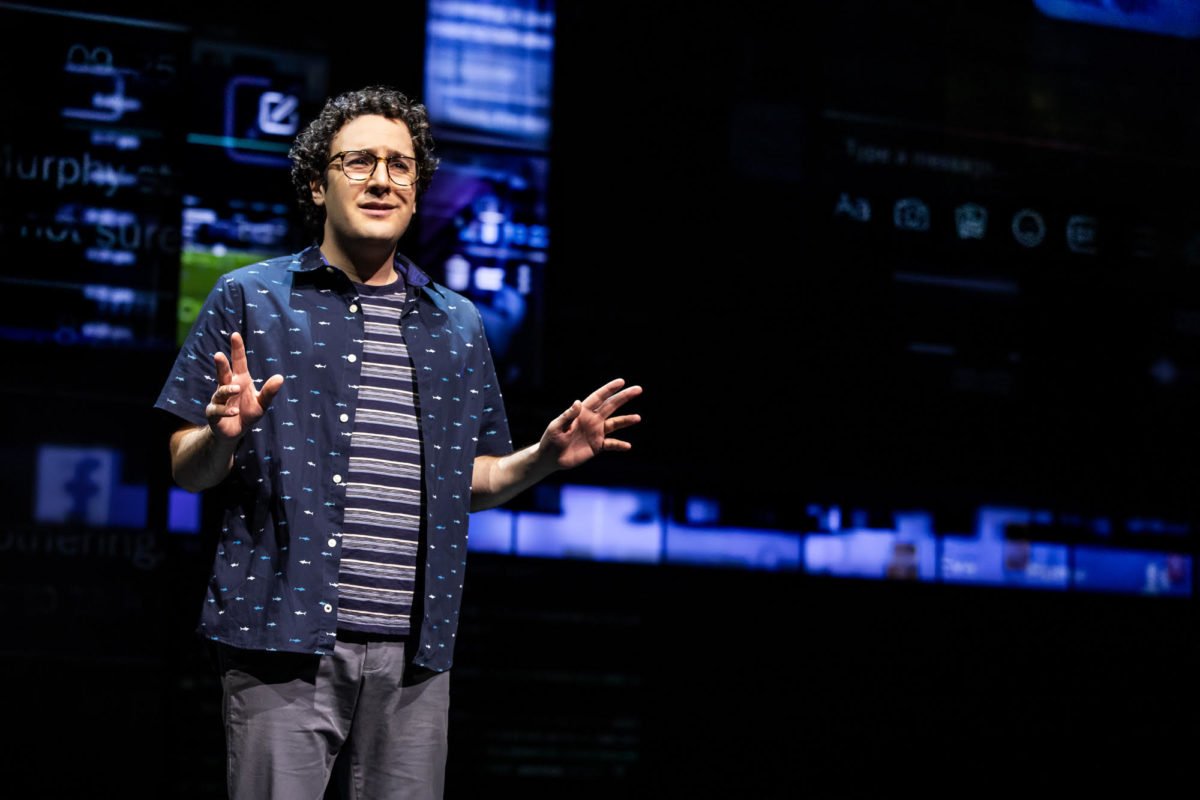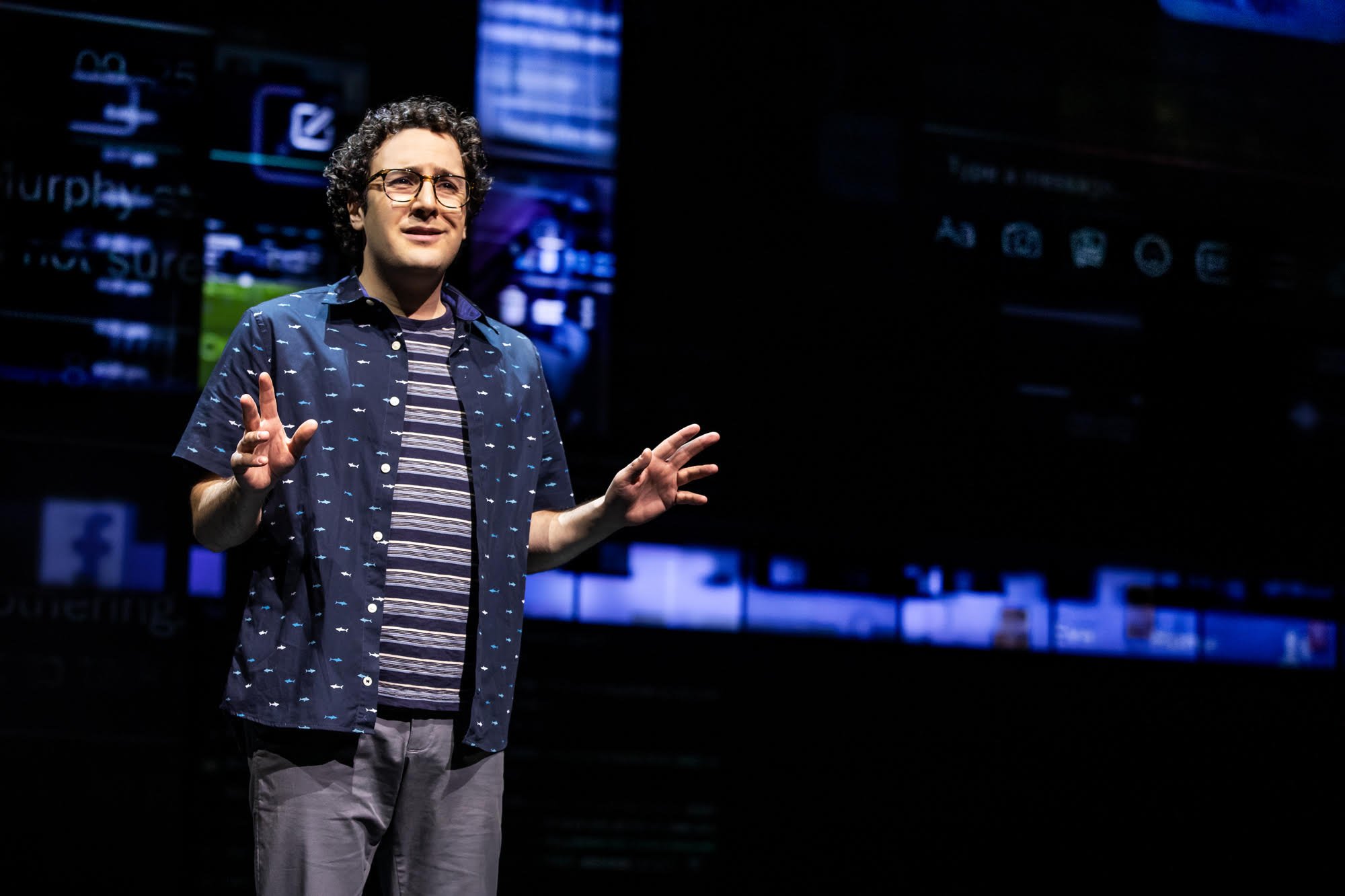 An Interview with: Alessandro Costantini, From the Canadian Company of DEAR EVAN HANSEN
Alessandro Costantini in DEAR EVAN HANSEN – Canadian Company. Photo by Matthew Murphy, 2019.
With Dear Evan Hansen, one of Toronto's biggest shows of the season, ending its run later this month, we sat down with Alessandro Costantini, who shared with us an in-depth look at his journey with this groundbreaking musical.  
Alessandro is currently playing Jared Kleinman in the Canadian production of Dear Evan Hansen.  Alessandro is the former Interim Associate Artistic Director of The Musical Stage Company and is the founder and Artistic Director of YES Theatre in Sudbury. 
---
How were you introduced to theatre, and when did you know you wanted to make it your full-time career?
Once I did my first community theatre production, I knew I wanted to be an actor. I was 11 when I did my first musical–I played Little Jake in Annie Get Your Gun. It was the most wonderful time and I was heartbroken when it was finished. I was so deeply in love with all the people I was working with, and didn't know that something like theatre existed and could bring me such bliss! Looking back on what led me to my career, I know that I felt a very deep need to connect with a group of people that were like me, and that's what drove me to continuously pursue artistic endeavours.
What was your professional acting debut?
James and the Giant Peach at the Sudbury Theatre Centre in 2006!
What was your audition process like for Dear Evan Hansen?
It was quite rigorous and intense! I had about 4 or 5 auditions total. The day of the final callback was also the day I was headed back to Sudbury to begin rehearsal for [YES Theatre's production of] Violet. I had parked outside the Elgin Theatre and had a van full of actors who were waiting to travel to Sudbury with me. I had a big box of Craig's Cookies waiting for me. I went in and auditioned for Michael Greif, which in itself was a dream come true. Before I went in the room I thought: "Well, bless. Go do the thing, then eat the cookies, and have a lovely four-hour drive home with your friends."
Then, when I got the news on casting, I was about to begin a rehearsal for Violet. I was in the hallway and the actors were all waiting in the rehearsal hall. I got the phone call and started weeping. My best friend Janie was right next to me, but I was told I couldn't say anything to anyone about getting the part yet, so I went into the rehearsal hall and said. "Can everyone take five? I need to use the bathroom." I went into the bathroom and cried, then went back to rehearsal and worked through the Violet score. It was tremendous and blissful!
Dear Evan Hansen rehearsed in New York City. What were some highlights from this rehearsal period, and what insight did you gain from working with the show's composers, Benj Pasek and Justin Paul, during this process? 
I was able to see 18 shows over the four weeks that we were there! It was really dreamy to be in the city, working on a wonderful show.  I think we all really felt like we were part of the New York City  theatre community. Everyone treated us very well, and each day was rigorous and exciting. I also ate my way through some really delicious restaurants!
Getting to meet Pasek and Paul was also a massive highlight. They are tremendously brilliant. It was wonderful working with this creative team of people I've admired for years. Our music team, made up of Ben Cohn, Liz Baird, along with Alex Lacamoire and Pasek and Paul themselves, were generous and kind through the whole process. There was a couple of sessions with Lacamoire, Pasek and Paul where I was in complete awe of their rigour and precision with the material. 
Tell us about your pre-show routine.
I like to get to the theatre super early, because I really love being there! When I arrive, I hang out in my dressing room that I share with Sean Dolan, who plays Connor. We have a little fridge and a carpet and some cool lights, so its a pretty dope room to chill in! To get ready for the show, I do a sensible stretch and about 10 minutes of vocalizing. Before I go onstage, I have to shave, every day–hey, I'm Italian, and my facial hair grows so fast!
Can you share some of your favourite memories from the last six months of working on Dear Evan Hansen?
I really love our company. They are generous, compassionate, loving artists, every single person. It's been wonderful getting to go on such a wild journey with a small group of people like this. Sometimes I forget that there are only actors on stage because the show feels like such a massive entity, so every moment building this with them has been a blessing. One of my favourite memories of this experience was from opening night. I was standing off stage before my entrance in "You Will Be Found," while Robert Markus (Evan Hansen) is being brilliant and singing the opening bars. In that song, the word "best friend" gets projected across the stage. On opening night, I had about 40 of my best friends and family in the house. It was really moving for me to see that happen onstage and then enter and sing this tune that I love so very much for the people in my life who have been the most supportive. 
Shows like Dear Evan Hansen, Fun Home and Next to Normal all center difficult questions of mental health and self-identity. What can audiences take away from these shows?
I think all of those pieces allow audiences the opportunity to be exposed to profoundly powerful questions and circumstances surrounding mental health and self-identity. Music is a powerful tool to heighten an emotional state, and the scores of these musicals amplify the visceral reaction audiences have to the content. Each of those shows has been crafted to allow us as theatregoers to peer in on beautifully complex characters and circumstances. I think when the writing is excellent, and the story compelling, everyone opens up to thinking and feeling in a way that you can only experience in the theatre: the ideas and the feelings sit differently within us. Stories like these that play on big stages for large audiences profoundly contribute to de-stigmatizing mental health issues.
With shows like these tackling big issues, contemporary musical theatre continues to evolve. What excites you most about where you see musical theatre going?
Specifically, I'm very excited about Canada's contribution to the art form. There seems to be a newly vested interest in ensuring our writers, directors, and artists are given opportunities to create and have our work represented on the world stage. With my company, YES Theatre, we have launched initiatives to contribute to that growing ecology so that we can have a rich and diverse canon of Canadian musical theatre works. But also, my motto is "Everything is a musical if you believe"–haha!
What advice do you have for other young performers who hope to follow in your footsteps one day?
I think young performers should focus on leading with bliss, love and kindness. That's what I try to do: I want the body of work I've invested my time and energy into to be a reflection of my beliefs, how I see the world, and more importantly, what I hope the world will become. This is how I ensure that on each project or collaboration, I am working from a place of love. I think any artistic process that is successful–truly successful in more than just awards or financial gain–is because there is a collective love that exists to allow all artists to do their best work. So, young artists: lead with love and you will find the goodness in every piece. 
---
Dear Evan Hansen runs until July 21, 2019 at The Royal Alexandra Theatre.