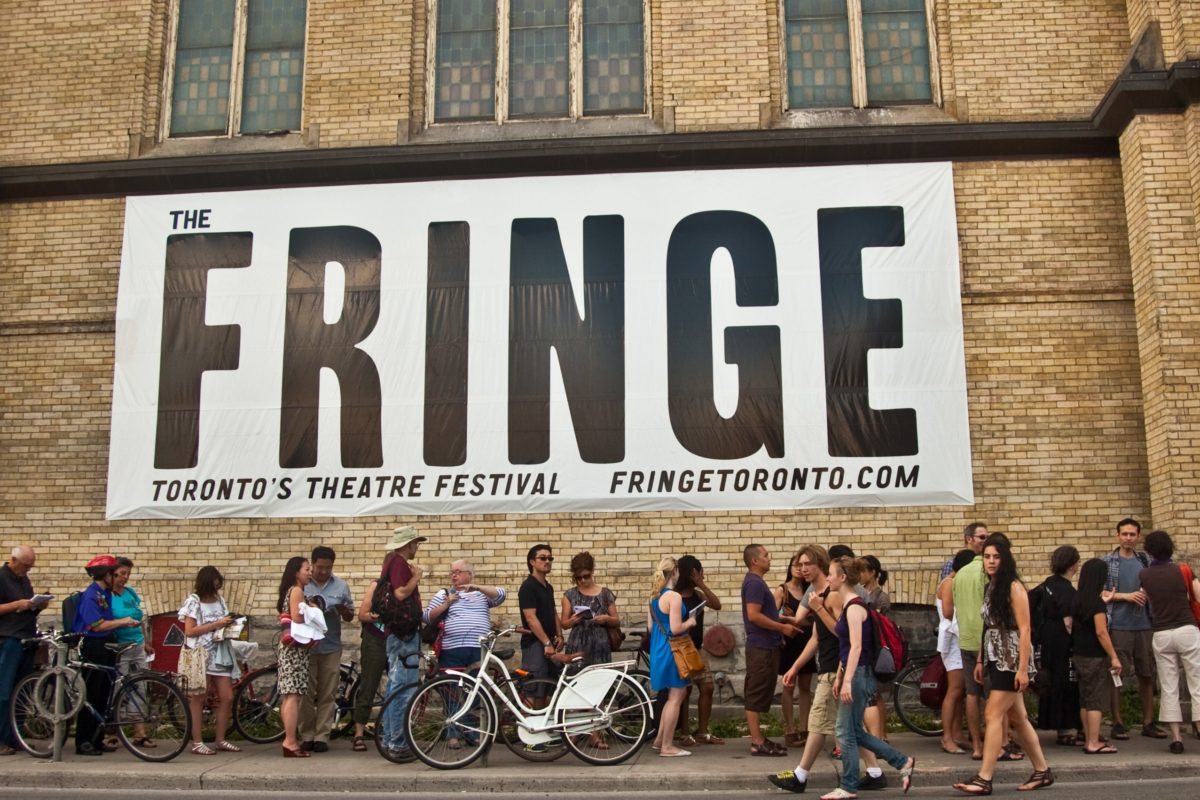 OUR TOP MUSICAL THEATRE FRINGE PICKS FOR 2019!
It's that time of the year again, everyone's favourite summer theatre festival is back! To help you sort through all 150+ shows of The Toronto Fringe Festival, we have carefully curated a must-see musical list!
Check out our top picks below and get Fringin'! 
The 2019 Toronto Fringe Festival is on from July 3 – 14, visit them online for more information and tickets.
By Stephen Gallagher and Kevin Wong.
When the students of Roselawn High School gather to celebrate the retirement of their favourite teacher, memories are shared, rivalries surface, and love blossoms. Featuring a cast of young artists ages 13-19, Drama 101 is a funny and heartwarming new musical about the joys and challenges of high school, theatre, and life. Written by Fringe Festival favourites Steven Gallagher (The Last Party) and Kevin Wong (The Preposterous Predicament of Polly Peel, Part 1) and directed by Steven Gallagher, Bravo Academy for the Performing Arts is pleased to present a new musical that is sure to ring true for theatre kids of every age.
"Drama 101 is about the joy of finally finding that place where you belong, and the astonishment that there are kids out there just like you. It's about finding your voice, finding your passion, and finding your talent. It's about the power of theatre and music and art and love and friendship and happiness. And it's about the dedicated teacher who recognizes that spark in you, and tells you that you're special."

– Steven Gallagher and Kevin Wong  
---
Directed By: Robert McQueen
He's been "that guy from Degrassi", starred in US National Tours of Spring Awakening and American Idiot, played Spider-Man on Broadway in Spider-Man: Turn Off The Dark and originated the lead role of Gerry Goffin (Carole King's husband) in Beautiful: The Carole King Musical. Not bad for a kid who dreamed about performing on Broadway in the back seat of his parents' minivan on their annual family road-trip to NYC. But the thing about dreams is, they don't always go as planned. Through a series of funny and revealing stories and songs, ranging from touring the US, to surviving Spider-Man, to enduring steroid shots and Broadway Boos, Jake Epstein shares the rejection, stage fright and heartbreak behind a seemingly successful career in this showbiz tell-all. For anyone who's ever tried to go after their dreams.
"I've spent my life going after my singular dream of performing in musicals on Broadway. And what's crazy is that I actually achieved that dream. But the reality is that going after your dreams, and even achieving them, can be complicated and filled with disappointments. This show is my attempt to turn those disappointments into theatrical moments of joy and humour. I love story-telling and I thought this was a good story to tell. And you might even laugh."

– Jake Epstein, Playwright/Creator 
By: Barbara Johnston & Suzy Wilde
Judy Blume meets High Fidelity in this funny and heart-warming coming-of-age story written by Barbara Johnston and Suzy Wilde, two of Toronto's most prolific emerging musical theatre writers. When fifteen-year-old Deirdre and her younger sister Dawn are sent to live with their cousins in Tortoiseshell Lake in the summer of 1995, Deirdre gets a job at the local video store where she finds her voice and falls in love with movies. This is a staged reading of a new musical work from the creative team that brought you Summerland and One Small Step.
"

Be

 

Kind

, Rewind shines a light on growing up in the mid-90's and pays homage to the now extinct video store. The musical will 

be

 presented by Edge of the Sky Theatre as a fully staged reading of the show's second draft (the first draft was developed at the Randolph Academy pre-college program) and will feature over 25 of some of the most talented and diverse young performers in the city with a live acoustic band made up of professionals and emerging musicians. For those who have love 90's nostalgia, original songs, movies and stories about coming of age, this show is for you!"

– Barbara Johnston 
---
By: Allison Wither
Every
Silver
 Lining follows our protagonist, Clara, navigating the complicated path laid out before her as it becomes increasingly clear that her brother, Andrew, is dying of cancer. Simultaneously, Clara is thrown into her first young romance with Ben-from-the-West-Coast, by her enthusiastic best friend, Emily, who is entirely unaware of Andrew's condition at the family's request to keep it a secret. As events unfold, we follow the stories of Clara, her family and friends, as they discover, grieve and process their loss, and attempt to find meaning in sorrow.
"When we first began down this path together almost four years ago, we had no idea where it might lead. We stumbled our way through creative decisions and roadblocks, eventually finding our footing and our stride as co-creators, standing proudly where we are today. With the guidance, belief, enthusiasm and wisdom of our many colleagues, friends and contemporaries, we have been built up by our community to create this work for you.
To all of those who were special to us in our lives, who live in our memories and in our actions, our work is for you and those who love you."

– Allison Wither, Composer
---
Directed By: Christopher Wilson

Boys Don't Cry explores what it means to be a man in our world through the story of Jayden Stone. As Jayden falls in love with outspoken feminist Roseanne, he is forced to reconcile the influence of his troubled late father on his life, and reevaluate the kind of man he wants to be. Mateo Lewis, an award-winning, young songwriter explores his complicated relationship with gender in this musical coming-of-age story.
"We raise the men in this world to be obsessed with competition and superiority.  If you look around, every issue in society is caused by insecure men feeling like they have something to prove.  This show came out of a question — "How can we raise our young men to be a focused on love and kindness, instead of selfishness and competition? And how can we be better than the men who came before us?"   As a queer man, having the opportunity to explore these themes of toxic masculinity and getting to work with this unbelievable team of artists and humans, is an absolute dream come true. Can'

t

 wait for Fringe — hope to see you all there!" 

– Mateo Lewis
By: The TITA Collective 
Meet the Spice Girls of Comedy with a Filipina Twist. They sing, they dance, and they're going to make you snort-laugh halo-halo through your nose! Join the Toronto SketchFest 2019 Producers' Pick winners, the Tita Collective, for a musical sketch comedy spectacle to remember. TITA POWER!
"As Filipinx, we grow up dancing, singing, acting, and making

jokes

with our family. A typical Famjam usually consists of gathering around the buffet table set up by your parents, exchanging stories filled with laughter and often chismis (which means gossip – now you know), with the not-so-distant sound of relatives singing along to your Tito's acoustic rendition of "My Way", and the younger cousins joining the Titas in an impromptu line-dancing battle. The celebration of life shown through these heart-filled moments is what we as the

Tita

Collective wanted to honour through our upcoming show,

Tita

Jokes

. By sharing these stories, we share our people's affection for storytelling, music and humour. By sharing these stories, we share with everyone else how our Titas and Titos show their love towards us."

– The TITA Collective
By: Greg McLeod and David Poon

Best friends Amanda and Devin are totally real adults who want to celebrate their 30th birthdays at The Most Magical Place On Earth. Only a few things stand in their way: money, jobs, partners and timing. Fuelled by boxed wine and an indie-pop soundtrack, Amanda and Devin are determined to make this trip happen. If only real life didn't have real responsibilities. Three-time Fringe Festival award winners Bad Dress Productions return with a new original musical by Greg McLeod (Good For Grapes).
"When Bad Dress Productions was drawn in the Fringe lottery, real-life BFFs David Poon (Writer/Producer) and Jessica Kostuck (Director) met in Montreal, their former university stomping grounds, to drink a box of wine and write a musical. So, naturally, BFFs has actors drinking an entire box of wine on stage throughout the course of the show – which requires quite a bit of bladder control!"

– Jessica Kostuck, Director 
By: Andrew Seok

Three of the greatest love stories of all time (Romeo & Juliet, Orpheus & Eurydice, The Gift Of The Magi) are retold and reimagined to create an entirely new and epically romantic tale.World famous musician, Orpheus and the beautiful noblewoman, Eurydice instantly fall in love and quickly marry. At their wedding, Romeo (Eurydice's brother) and Juliet (Orpheus' dear friend) see one another from across the room and cannot take their eyes off each other. Meanwhile, Della and James (from The Gift Of The Magi) desperately want to buy each other special gifts for their upcoming anniversary but neither has any money, as Della is Juliet's servant (nurse), and James is a poor apothecary who sells medicines and potions in a broken old shop. Letters are written, potions are sold, and love is abound. All three stories begin as they always have, but quickly intertwine and take a dramatic turn from how we all know them. Who lives, who dies, who finds love, and who loses everything when all is unravelled?
"I had always dreamed of writing three separate musicals of these three epic love stories as they all explore the idea of what we do for love, and what we will do for those we love. The thought of writing 'one' musical with all 'three' stories, however, never occurred to me until I sat down and started writing a completely different show. As soon as I asked, "What if Della from 'Magi' was Juliet's nurse?", everything fell into place and the story unfolded effortlessly. I was surprised by how quickly the narrative took what I had originally thought of as problem sections and turned them into opportunities to intertwine the three stories even more. It was like putting together a jigsaw puzzle with some of the greatest literary tales of all time."

– Andrew Seok