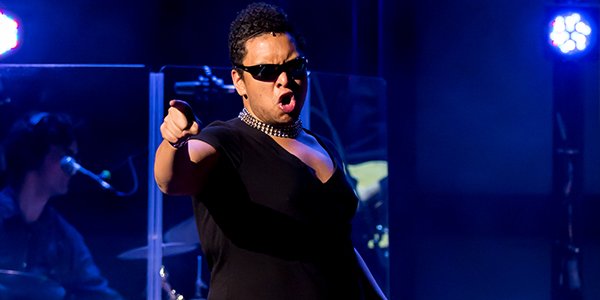 An Interview with Peter Fernandes
Did you catch #PassingStrangeTO this winter? We caught up with Peter Fernandes who will have joined us twice on stage this year (Passing Strange & Onegin) and asked about his experience, the difference between these two immersive pieces and what audiences can expect from ONEGIN.
What was working on Passing Strange like? 
Working on Passing Strange was, with no exaggeration, a dream come true. When I first saw the Broadway production back in 2008, I was extremely moved by its story, music and theatricality, and it quickly became my favourite musical.  It had a considerable effect on what I thought theatre could and should be, and continues to have an effect on me today, both as a theatre artist and young black man.
Working on the production gave me the opportunity to dive deeper into how the musical affected me and allowed me to revisit everything I loved with more maturity and understanding. Again, it affected me a great deal, and youth/Stew's journey resonated with me in new and profound ways.
I also couldn't have asked for a better group of people to work on this production with. The piece requires an open, giving and creative ensemble, both on stage and behind the scenes and this production was an embarrassment of riches. The entire team shared the sentiment that this was something special, something exciting that audiences hadn't seen before, and something we shouldn't take for granted. It was already a blessing to be involved in the show, but having such a supportive cast and crew led by Philip Akin, Bob Foster, and Kimberely Rampersad  was incredibly rewarding.
What are the differences between developing a character you know and love versus a role in a new musical?
I find that both situations provide their rewards and challenges. When developing a character you love, you've already had time to gain a respect and connection with the role, and it's exciting to see how what you bring of yourself,  adapts the part. However, because of the reverence you have for the character, it can be challenging not to compare yourself to the version of that role you love.
When creating a new role, it can be very intimidating working from a blank slate, knowing that there is so much to be discovered and that it is your job to mine, carve out, refine and polish this character. It is incredibly creatively rewarding however, to be given more freedoms to bring so much of your own interpretation into a production, and knowing that a piece of you will always be there. 
How does the rehearsal process vary to each production?
The demands of the show have a large affect on the rehearsal process, preparation, and warm up exercises required for a production. Speaking to my own experiences, Passing Strange, being a rock musical, was an opportunity to use vocal skills I have more experience and familiarity with. 
Onegin, and especially the song I get to sing, will give me the opportunity to use a newer set of skills I have developed and a vocal style that most people haven't heard me sing in. Rehearsals provide valuable time to explore this new facet of my voice and how it exists in this exciting new material. 
What similarities can audiences expect to see between Passing Strange and Onegin?
I find that both shows really rely on a strong ensemble and a creative theatricality that encourages audience engagement and imagination. Each of these shows don't fit within the box of what people usually think stereotypical musical theatre is. Though the content differs, the emotional stakes and characters' journeys hit a core truth within the audience, allowing them to fully invest in the characters and storytelling. People who enjoyed Passing Strange for its transformative cast, its moving and visceral music and its innovative direction will definitely enjoy themselves at Onegin.
---
ONEGIN runs at the Berkeley Street Theatre, Downstairs from May 13 – June 4, 2017. Tickets on sale now.