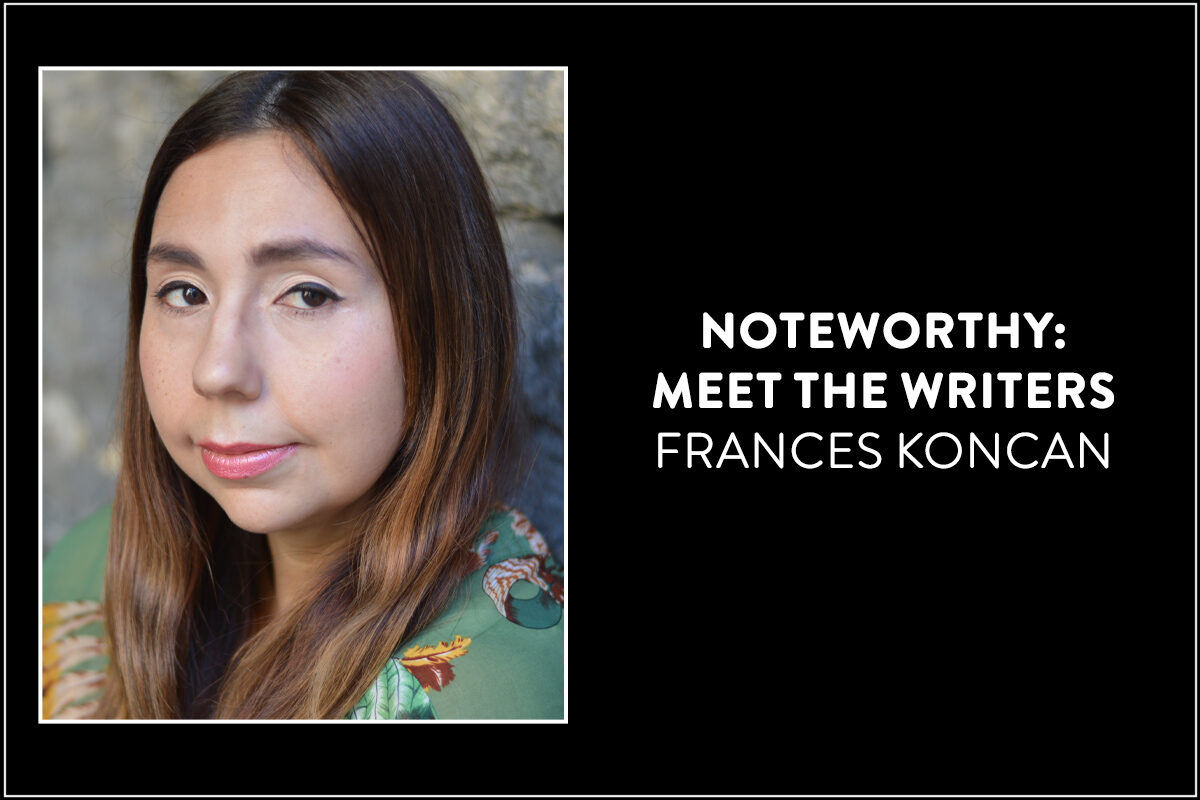 Meet the Writers: Frances Koncan
Meet our 2021 NoteWorthy Cohort! Over the next few weeks, we will be highlighting the incredible writers who are part of our paid online musical theatre development program.

Offered bi-annually, NoteWorthy allows composers, lyricists, and playwrights from across Canada to build foundational skills through master classes and guided collaborative writing assignments. To help ensure that the future of musical theatre better represents a diverse range of stories and voices, the 2020-21 NoteWorthy program will exclusively support BIPOC artists from across Canada.

First up, Frances Koncan!
---
How would you describe your main artistic discipline?
My main artistic discipline is playwrighting and directing but I have been known to dabble in sound design when I'm feeling spicy.
What excites you about mixing directing and writing for musical theatre? How do you think that discipline and writing for musical theatre can intersect?
I've always been drawn to storytelling through language, music, and dance, and musical theatre combines all of those into one really special form.
What's your favourite musical & why?
This is such a hard question! But I would say SPRING AWAKENING. It was my first Broadway musical fandom experience. I saw the show 85 times on Broadway, had a feud with Lea Michele, got career advice from Jonathan Groff, and had lots of wonderful times with cast, crew, and fans alike. It was the musical that sparked my passion for theatre. I also saw the national tour a lot at different points across the US and Canada and was featured in a documentary about it. Being apart of the fandom was how I started to realize I was "good" at writing – through blogging, reviews, etc. that would get noticed by the producers and cast.
Besides that, my intro to musical theatre was THE PHANTOM OF THE OPERA. So it will always be a favourite.
Had you ever considered working on a musical before NoteWorthy?
I've always wanted to but never had the opportunity. The most recent play I worked on was envisioned as a musical, but it got fast-tracked to production as a play and I didn't know enough about the musical theatre process to even consider trying to make it a musical! At one point in high school, I did want to write a musical called "THE ONE THAT GOT AWAY" about Ted Bundy but my friends said it was inappropriate…
Favorite aspect of the program so far?
It was so great to chat with Stew! PASSING STRANGE hit Broadway around the same time as SPRING AWAKENING, so I saw it several times – I think IN THE HEIGHTS was around this time too, so it was an amazing time for representation. I revisit PASSING STRANGE a lot – when I first saw it I was just out of high school and very naïve like the Youth character… rewatching it a decade later and realizing how much I've changed and how much I relate to Adult Stew… wow.
What does a completely BIPOC writing space mean to you?
There is an innate understanding in a completely BIPOC space. There's less explanation needed for a lot of things. There's an unspoken shorthand of emotional and lived experience. The fact that all of the above is innate takes such a weight off everyone – all that energy we would normally have to direct towards explanation, code-shifting, and masking up in different ways can be focused in on the work. All the same creative challenges are presented, but we have more spoons to work on them! It's such a gift.
We would love to hear your thoughts on Black History Month and representation. Given the context of 2020, including widespread performative allyship, what is the future of Black History Month in your opinion?
I don't know enough about the movement to comment as articulately as I would like, but lately, I've been thinking about the idea of performative allyship.
For me, performative-ness is often a step before embodiment: that idea of 'fake it until you make it', you know? In grad school, I had to learn how to pretend to be confident with sharing my writing, and now I am (lyrics… not so much yet). Right now I'm learning how to be a leader in an Artistic Director job. I'm not one yet, I'm performing the role as best I can… but maybe in a few years, I will embody it.
So my hope for performative allyship is that there is a next step: a genuine embodiment of allyships.
What are your hopes for the future of the theatre industry in Canada?
I think the theatre industry in Canada needs to change from the top-up, not from the bottom. It is not the responsibility of BIPOC artists to generate this change, beyond being present the same way as anyone else might be. Theatres need to divest from white supremacy, colonialism, and Eurocentric theatre-making practices at the institutional and administrative level so that governance is representative of community values. This is all very, very possible, and honestly… a pandemic is a perfect time to start.
---
Frances Koncan (she/they) was born many years ago and is now of a certain age. Originally from Couchiching First Nation in Treaty 3 territory, she currently lives and works in Winnipeg, Manitoba in Treaty 1 territory. She is a playwright, a director, a journalist, the Artistic Director of Sarasvati Productions, a Taurus, an INFP, an Enneagram Type 4, and mother to a dog named Tucker, a cat named Tucker, and 58 house plants who are not named Tucker. A graduate of CUNY Brooklyn College's MFA Playwriting program, her career began in 2015 and has been on a very slow but nonetheless upward trajectory ever since. Her two biggest creative dreams include writing a Hallmark movie script and a musical (not, however, a Hallmark Musical) so she is very excited about taking a step towards making at least one of those things happen.