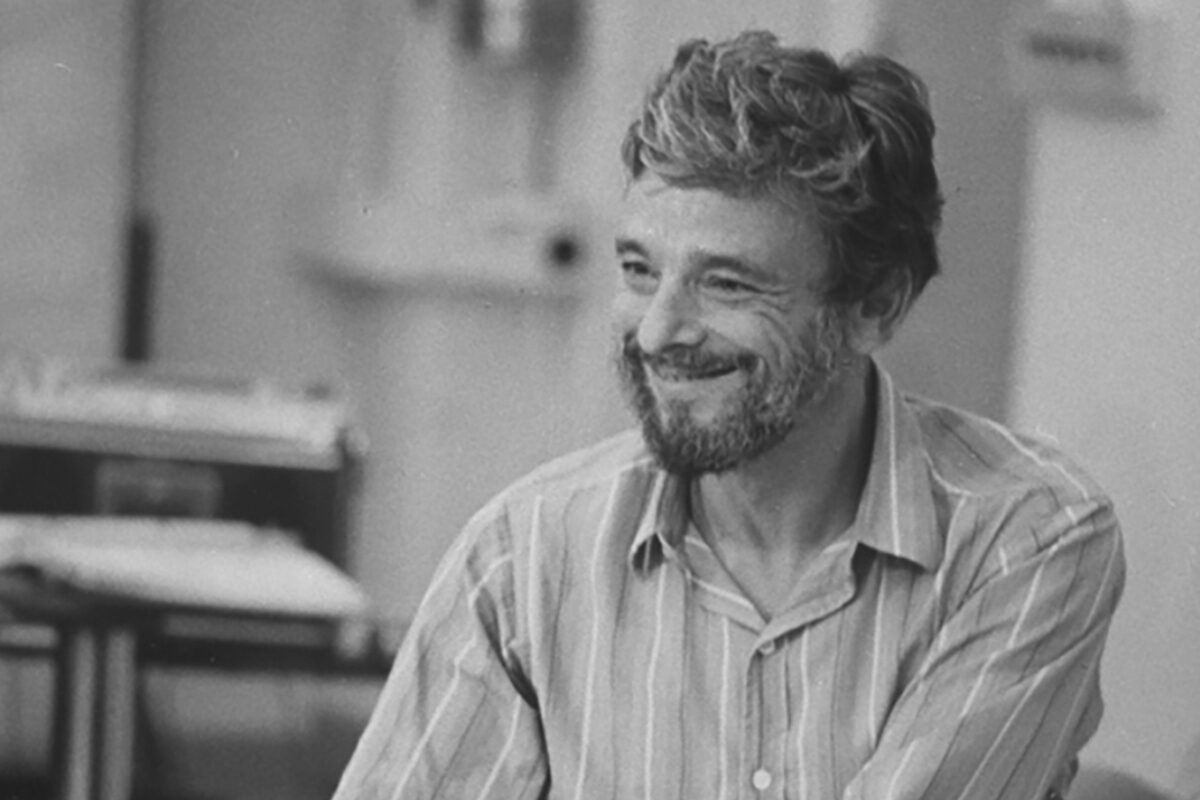 Look At All The Things You've Done For Me
I happened to glance at Twitter before leaving my desk at 5PM on Friday, November 26. And there he was. Looking all-knowing and leaning his head on his hands in a black and white photo chosen by The New York Times. And there was the headline: "Stephen Sondheim, Titan of the American Musical, Is Dead at 91." It took my breath away. I have never, ever been affected by the loss of a celebrity. But this one was different. It was personal.
It is very strange to realize you have lost your greatest teacher, even though you have never met them. It is, simultaneously, very comforting to know that thousands of friends and strangers have shared that education without ever stepping foot into a classroom.
I remember being a child and sitting in my parent's basement watching his shows on VHS endlessly. The Broadway productions of Into The Woods, Sunday In The Park With George, Sweeney Todd, and Passion. Bootleg copies of the Donmar production of Company and New York City Opera's A Little Night Music. Lying under my covers with headphones devouring the cast recordings of A Funny Thing Happened On The Way To The Forum, Anyone Can Whistle, Follies, Pacific Overtures, Merrily We Roll Along, and Assassins. It was perhaps unusual for a child to be obsessed with Stephen Sondheim, but there I was, getting a first-rate education in life. Through George I learned the dangers of "always looking back too late from the grass or the stick or the dog or the light." Through The Baker I learned that "witches can be right, giants can be good." Through Bobby I realized that "alone is alone not alive." Through The Proprietor, I discovered that "there's another national anthem, folks, for those who never win." Through Fosca I knew that "love within reason, that isn't love." And on and on and on and on. His music and lyrics transported me to the centre of humanity, preparing me emotionally for what would lie ahead. Love, loss, conflict, regret, artmaking, choices, rebellion, community. It was all there, on a glistening CD, with perfect words and music that pierced my heart in a way that showed me how life would feel.
But his biggest influence came years later when I started The Musical Stage Company (then Acting Up Stage). It is ironic that over 18 years we have never produced a work by Stephen Sondheim, and yet, we are only here thanks to him. It is his contribution to the musical theatre that made it possible to dream of a company dedicated to musicals that mean something and crack open hearts. His fingerprints and teachings are all over Caroline, or Change, The Light In The Piazza, Life After, Falsettos, Passing Strange, Grey Gardens and Fun Home. Without him, there would be no Jeanine Tesori. Or Britta Johnson. Or William Finn. Or Kevin Wong. Or Adam Guettel. Or Anton Lipovestsky. Or Jason Robert Brown. Or Fatuma Adar. And so on and so on and so on.
It is somehow fitting that only weeks before his death, he appeared as a central character in the hit Netflix film tick, tick…BOOM! (which – incidentally – is the show that launched The Musical Stage Company). In the musical, Sondheim is idolized by Jonathan Larson – an aspiring writer who would later go on to write Rent. It lovingly portrays the influence that Sondheim had on a whole generous of famous and unknown musical theatre makers. And it also reflects the generosity of spirit with which he held his role as teacher and mentor to those he knew personally, and those that he knew were out there in their basements, community theatres, schools and start-up theatre companies, taking their guidance from him. "Children and art", indeed.
As the entire musical theatre world mourns his loss and wonders what happens next without him, the answer – of course – lives within his words:
Anything you do
Let it come from you
Then it will be new
Give us more to see
He unlocked the door. Now our job is to keep seeing the "many possibilities in every blank page or canvas".
May his memory be a blessing.