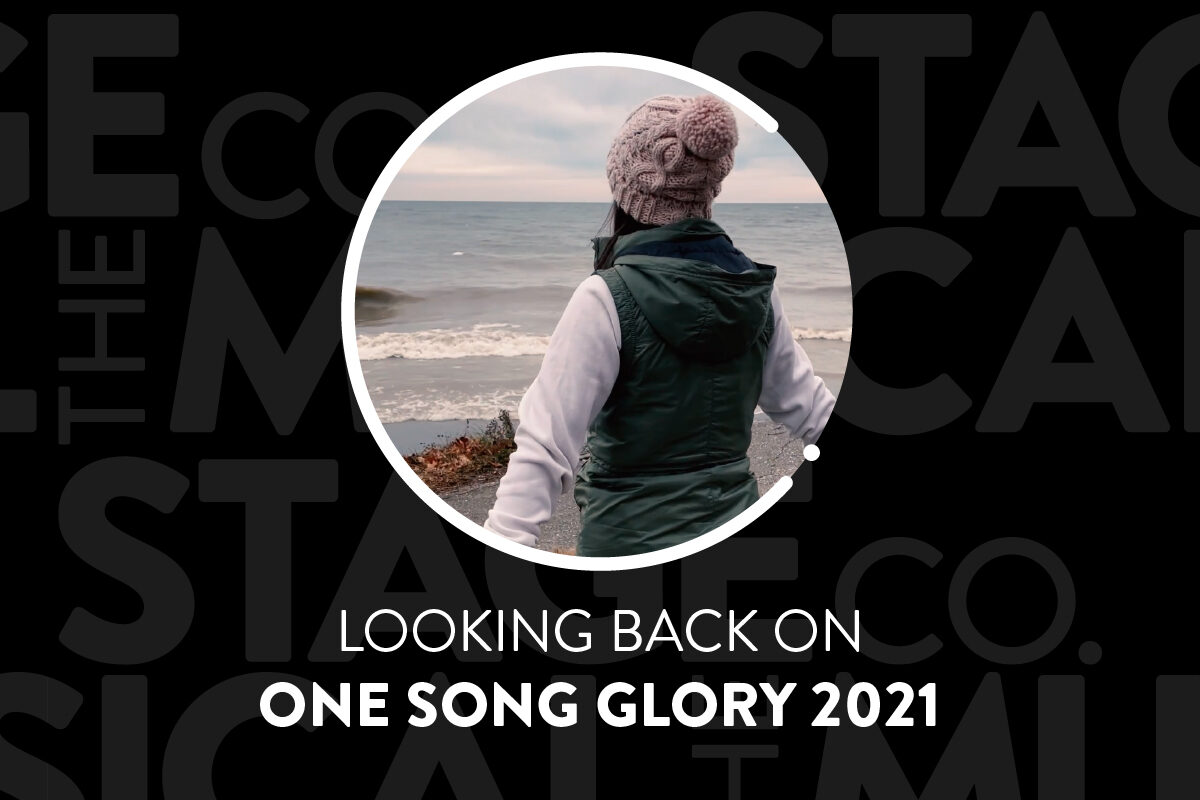 Looking Back On One Song Glory 2021
That's a wrap on One Song Glory 2021! Since its creation, this program has been held in person in Tkoronto, offering Ontario teens a place to create, perform and celebrate their shared love of musical theatre with our 6 week training intensive. In 2020 we shifted to an all-digital format and invited participation from young artists from across Turtle Island. We are so excited that we were able to offer this program digitally again and to continue to grow our national network of young artists and provide students from across the country (who reside in remote, rural, and urban communities) access to fully subsidized training.
As part of our commitment to making musical theatre more accessible to youth and students across the country, this year our incredible team developed an additional new offering of the program, the One Song Glory: In The Classroom Masterclass Series! With this new workshop, we brought the joy of musical theatre & storytelling to over 400 students in 22 different classrooms, across 3 provinces! This was made possible with the help of program manager Tahirih Vejdani, and our 8 fantastic Masterclass Series instructors; Adam Sakiyama, Andrew Prashad, Avery Jean Brennan, Jennifer Stewart, Kareem Vaude, Paul De Gurse, Sarah O'Brecht, and Sean Mayes.
---
For our 6 week training intensive, 42 youth participants from across Turtle Island worked with 37 different artistic industry leaders and immersed themselves in a world of storytelling through music with writing & song composition workshops, masterclasses on design, and more – resulting in 6 new original songs. Check out the incredible musical videos this year's participants created below!
FINALLY ME
Composer & Music Director: Alexa Belgrave
Co-Directors: Andrew Tribe & Jennifer Stewart
Video Designer & Editor: Andrew Tribe
Participants: Amy Skylar, Bridget O'Leary, Emily Hundt, Jenna De Villiers, Maya Mccobbina, Rose O'Brien, Rowghan MacHart
Click here to watch FINALLY ME
I WANNA BE A STAR
Composer & Music Director: Hilary June Hart
Co-Directors: Sadie Epstein-Fine & Taran Kim
Video Designer & Editor: Taran Kim
Choreographer: Taran Kim
Participants: Abriella Mellings, Alice Malakhov, Evangelina Strazzeri, Jasmin Stange, Natasha Ross, Reignneth Amador, Riddick MacHart, Solaya Noel
Click here to watch I WANNA BE A STAR
FALLING LEAVES
Composer & Music Director: Mateo Chavez Lewis
Director: Alaina Viau
Video Designer & Editor: Alan Cui
Participants: Elliot Gibson, Isabella Strazzeri, Joelle Bruyere, Kristen Pabello, Rose Xu, Tamika Roberts, Vera Dunlop-Vaillancourt
Click here to watch FALLING LEAVES
EVERY BLOSSOM
Composer & Music Director: alaska B
Director: Dillan Chiblow
Video Designer & Editor: Joshua Alcantara
Choreographer: Taran Kim
Participants: Bethany Hughes, Erin Squires, Iliyana Kaschor, Josh Calabio, Mana Middleton, Sara Paterson, Yra Renoblas
Click here to watch EVERY BLOSSOM
HEARTBREAK BEACH
Composer & Music Director: Camila Diaz-Varela
Director: Cameron Carver
Associate Diretor: Ryan Hooper
Video Designer & Editor: Cameron Carver
Participants: Abigail Wearne, Azka Siddiqui, Maija Buduhan, Meesh QX, Miriam Hill, Nadijya Duplak, Rosita Kruz-Doyle
Click here to watch HEARTBREAK BEACH
DISTRICT TOGETHER
Composer & Music Director: Hal Wesley Rogers
Director: Nicole Brooks
Video Designer & Editor:Katie Kerr
Participants: Christina Ho, Eloghosa Osaser-Obasuyi, Keara Tamayo, Milada Kubb, Nymph Gregoriadis, Racheal Bello
Click here to watch DISTRICT TOGETHER