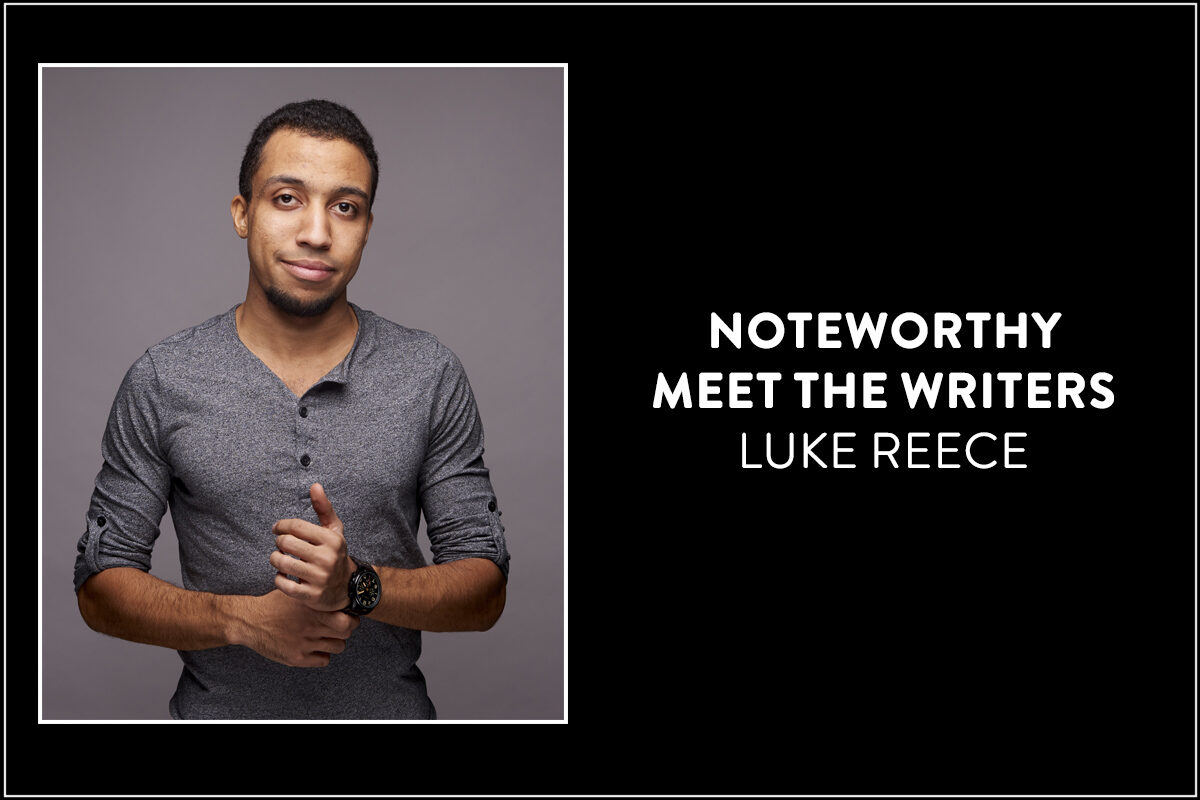 Meet the Writers: Luke Reece
Let me start off this blog with a personal apology to Victoria Barber for taking so long to write a blog post (Victoria please include this in the post). Now, I'll continue by giving a shoutout to the entire Musical Stage and Prime Mover team behind the scenes making Noteworthy happen. As a producer/administrator myself I know how much work that tends to be. Thank you all!
I know there are specific questions to answer for this…but I'm going to freestyle it. If you want to truly get to know me, I want you to get to know my voice and my flow of thoughts.
My name is Luke Reece, I'm a writer, poet, and lover of the Toronto Raptors. I'm an athlete (if I can say that), and I like to dance whether or not people are watching. Music has been a part of my life since I was in preschool choreographing performances for family dinners. Hit Mix 95 was a big part of my childhood.
I performed in my first musical in Grade 8 at Edenwood Middle School as the 'Mean Ol' Lion' in The Wiz. Nobody told me that it was the Black re-imagining of The Wizard of Oz. I honestly just thought it was a better version of the musical where all my Black friends were cast as leads along with me. There was never a space to talk about what it meant to be a "singing and dancing negro", to quote my friend and mentor Philip Akin.
I've been trying to change that with my work as a theatre artist, whether it's in poetry, performance, or producing. We need more spaces for BIPOC voices. We haven't had space for like, a really really long time. We (the entire theatre community) have got some work to do.
Currently, I'm the Associate Artistic Director at Soulpepper Theatre, and I'm here to do that work while continuing to explore the shared worlds of theatre and music. This is what 2021 is going to be for me, and it started with Noteworthy.
I've been eyeing 'Noteworthy' for a while, trying to find the right moment in my career to apply. So, the year they were accepting an all BIPOC cohort after I left my producing position at Obsidian to focus on my artistic craft felt like the right moment for sure. And my oh my was it a blast.
I met Stew!!!! Like for real, Stew Stew! The writer/composer (and original performer) of Passing Strange, which was a highlight of my time at Obsidian.
Yup, that thought gets its own paragraph. That's how great it was. We were also visited by Michael R. Jackson, the writer of A Strange Loop – another one of my FAVOURITE musicals. He did live critiques of our work and it was so refreshing to learn about musical theatre dramaturgy through an all BIPOC lens. Really, that sums up the entire program I guess. We created together, we shared together, we cried together (for real), and it was all through a BIPOC lens. Which, really, is just how we see the world. It's actually not a lens. It's just us.
So it's over now.
We've submitted our final pieces and one day in the future you'll be able to hear them – maybe even live and in-person. Until then please take my word for it when I say it's some gooooooood stuff (I wanted to curse there but I'm not sure if it's appropriate…you know what I mean).
Also – Black History Month is over too.
But I'm still writing this and sending it to Victoria because I think I answered all the questions and I'm also Black in March. I've got a poem about that somewhere…
Thanks for reading, and please continue to care about Black voices all year around.

– Luke Reece