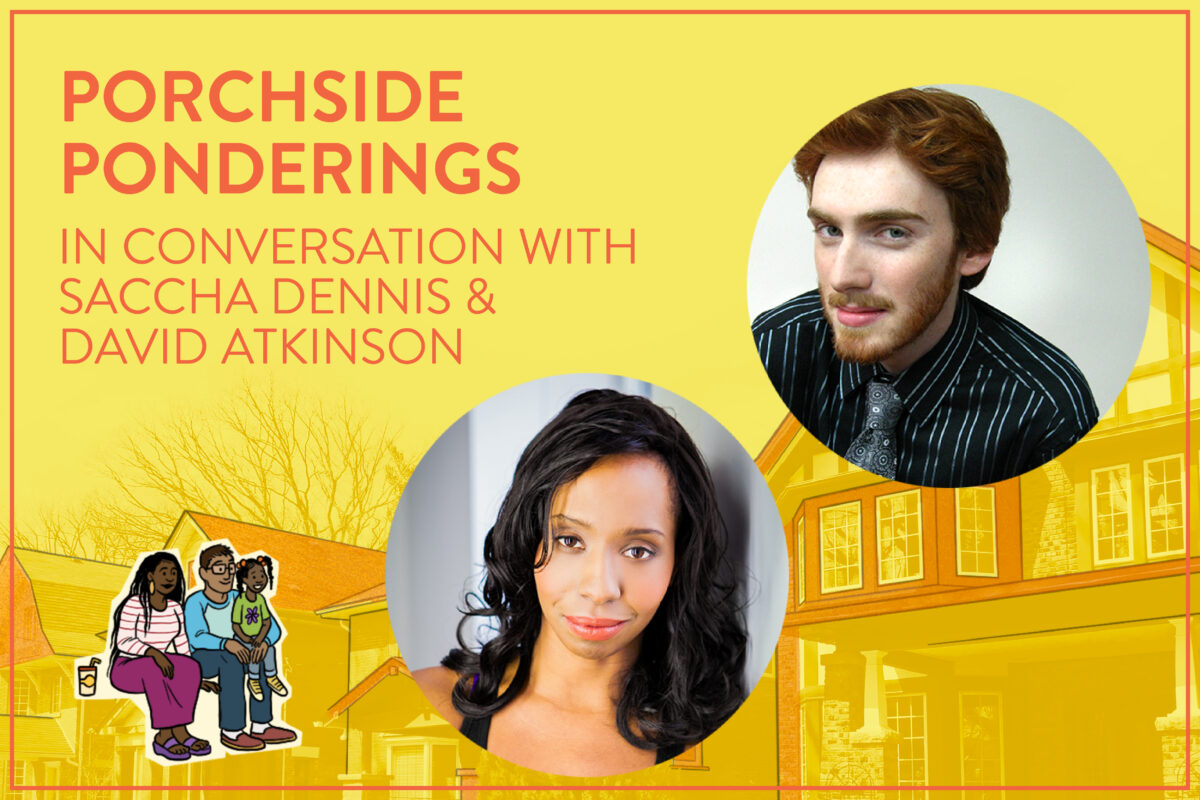 Porchside Ponderings: In Conversation with Saccha Dennis & David Atkinson
Tis the season for patio weather, music playing on the breeze, and the anticipation of catching up and pondering with friends on a warm summer day. Welcome to the fourth post in our series; 'Porchside Pondering' with the performing artists of PORCHSIDE SONGS! We learn all about their work during the ongoing pandemic, their love for music, and their hope for the future. This week, we're sitting down with the creative duo, Saccha Dennis & David Atkinson, of JUST MY RE-IMAGINATION.
What is it about PORCHSIDE SONGS you are most excited about?
The thing we are most excited about, by far, is being able to make live music together for a live audience. It has been over a year of artistic starvation for performers who thrive on having real-time interactions on stage.
How did you meet? Can you speak about your past collaborations?
We first met doing a YPT (Young Peoples Theatre) production of JAMES & THE GIANT PEACH. I (Saccha) played Spider, while David was a substitute MD/pianist. This was back in 2014 which incidentally is the year both of us got married to our respective partners.
Which artists or genres inspired your concert themes and setlist?
Our inspiration for reimagining and re-contextualizing popular songs is the work artists like Post-Modern Jukebox and Scary Pockets. Both of us feel at home in a wide range of musical traditions, ranging from rock to R&B, jazz and funk, and being able to play mix-and-match in order to find new expressions is an exciting endeavour for us.
What has the rehearsal process looked like for your concert?
After a couple months of jamming on ideas back and forth, we then spent a week-long rehearsal process journeying from living room jam sessions, where we would experiment and play with different versions, to final performance preparation, so we could get a sense of how things were playing out in the bigger picture.
If there was an entire musical you could bring to people's porches, which one would you pick? Why?
Saccha: Maybe THE MUSIC MAN – Reimagined! Not my favourite musical but there are lots of ways in reinventing the plot. Though I'd still love to see seventy-six trombones marching down a residential street!
If you could choose any musical artist to see in a PORCHSIDE SONGS concert, who would you choose? Why?
Both of us came to the same answer here: although we lost him in 2016, there is no artist that moves us with such electricity as the late Prince.
As an artist, what have you missed most during the pandemic surrounding live events and performances?
Beyond just being artists, it is difficult for anybody to be robbed of opportunities to perform their life work. While our families will always give us a source of purpose, it has been challenging to not experience the joys of sharing our music with others.
We have hope that these concerts can help bring some brightness to communities, and renew that hope for the future – what would you say your hopes are for the future of our theatre community?
This past year has given us a lot to think about in this moment of dynamic social change. While members of the theatre community all deal with a variety of individual struggles, as a community at large it is a great privilege to be able to influence what stories are told and shared with audiences. Our greatest hope is that the community, its performers, producers, presenters and teachers, are mindful of the responsibilities that come with that privilege, and we hope that we can make forward steps in being an effective and relevant voice that can impact change in our society.
---
JUST MY RE-IMAGINATION will start June 2021, as part of PORCHSIDE SONGS – taking place live and in your front yards, all across Toronto.
Learn more about the show and PORCHSIDE SONGS by clicking here.