Musical Musings: 525,600 Minutes with Kevin Wong
Hello! It's Kevin the Intern here, writing my first blog post from beautiful Gananoque.
I'm three weeks into my tenure as the 2016-17 Metcalf Foundation Intern Artistic Director at Acting Up Stage, and I couldn't be more terrified I will burn this company to the ground when Mitchell's back is turned excited!
After all, it's one thing show up to do NoteWorthy as a composer/lyricist and get to spend two weeks in a sandbox playing with a bunch of other brilliant writers. And it's humbling enough to get to see a twenty minute musical you co-wrote come to life inside the Art Gallery of Ontario within five months. But to become a part of the machinery in the theatre company that makes those things happen (plus much more) is really quite intimidating! I keep waiting for HR to tell me they made a mistake and for security to escort me out the door.
(I have been informed that HR and security personnel would just be Mitchell and Paul, and that they're too busy to fire me so I'd better just keep working. Very good then.)
So! I'm writing a series of blog posts on the highlights of my year here at Acting Up Stage, and am looking forward to sharing my myriad of expe­riences with you all.
Here are some riveting successes of mine so far:
I set the record for Fastest E-mail Set Up.
I synced my laptop to the office printer and the phone system without assistance.
I have not tripped on anything yet.
That last one was a lie.
This week has been the best kind of whirlwind. Electronic files for the beautifully orchestrated score of You Are Here have been flying in from orchestrator Chris Barillaro. We also had an incredibly well-attended Ambassador event on Monday, August 22, at the Jazz Bistro where the audience was regaled with tales and songs by the inimitable Robert Markus, Jeffery Straker, Kaylee Harwood, Reza Jacobs, and Alana Hibbert (I accompanied Kaylee and Robert on the piano).
Following that, I dashed to the lovely BackDoora Awards hosted by Jeni Walls at Statlers, where I very clumsily sang part of "Light" from Next to Normal as part of a flash-mob surprise for Jeni. It went really well and Jeni was touched, and I also just stopped singing and yelled "HOLD THE SHEET MUSIC STILL!" mid-song.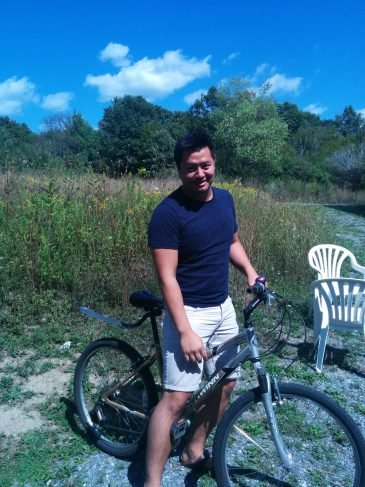 Then on Tuesday, it was time to wake up at drive out of Toronto at 8:00 AM to get to Gananoque for the meet-and-greet and beginning of rehearsals at 1 PM. And here I am! I'm sitting in a beautiful  house in Ganonoque after day two of rehearsals writing this blog post across from David Terriault, who has been double cast in the role of Music Director for You Are Here and also "Housemate to Kevin". One of these roles is harder than the other (hint: it's not being Music Director). We're also sugar crashing because the stage manager AJ baked a smorgasbord of incredible sweets to welcome us. Being a responsible, mature adult of 31 years, I only shoveled about six peanut butter cookies into my mouth instead of twenty.
You Are Here is blessed with a dream team of talent. Robert McQueen never fails to amaze me – he gives so fully of himself in any show, ensuring that he connects with the material on a visceral level, and creating a safe space in which the best idea wins. Linda Kash is a powerhouse in this one-woman show –she literally does not leave the stage, carrying the weight of ninety minutes of dense and emotionally weighty dialogue and song her back. And she does it with a fearless smile. Neil and Brian are masters of their craft – they can finesse the text of a moment so that the intention and content comes across with perfect scansion and crystal clarity. And David's music direction is sensitive, precise, and supportive of the storytelling. I can't wait to hear Chris's orchestrations come to life in the first band rehearsal.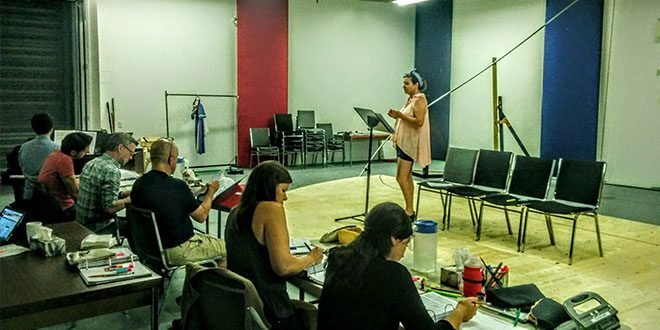 Linda Kash in rehearsal for You Are Here. Photography by Kevin Wong
 In short, it's a privilege to be a fly on the wall on this beautiful, touching show. I'm learning so much from everyone around me.
 And this is only the first of many exciting milestones ahead in my internship year!
Tune in next time for when I go on as Angelica Schuyler…in the off-off-off-Broadway-but-in-the-Acting-Up-Stage-office production of Hamilton. Erin Schachter will give me a five star review. Because I'm bribing her with pasta. Come to think of it, maybe Waitress would have been a better choice…