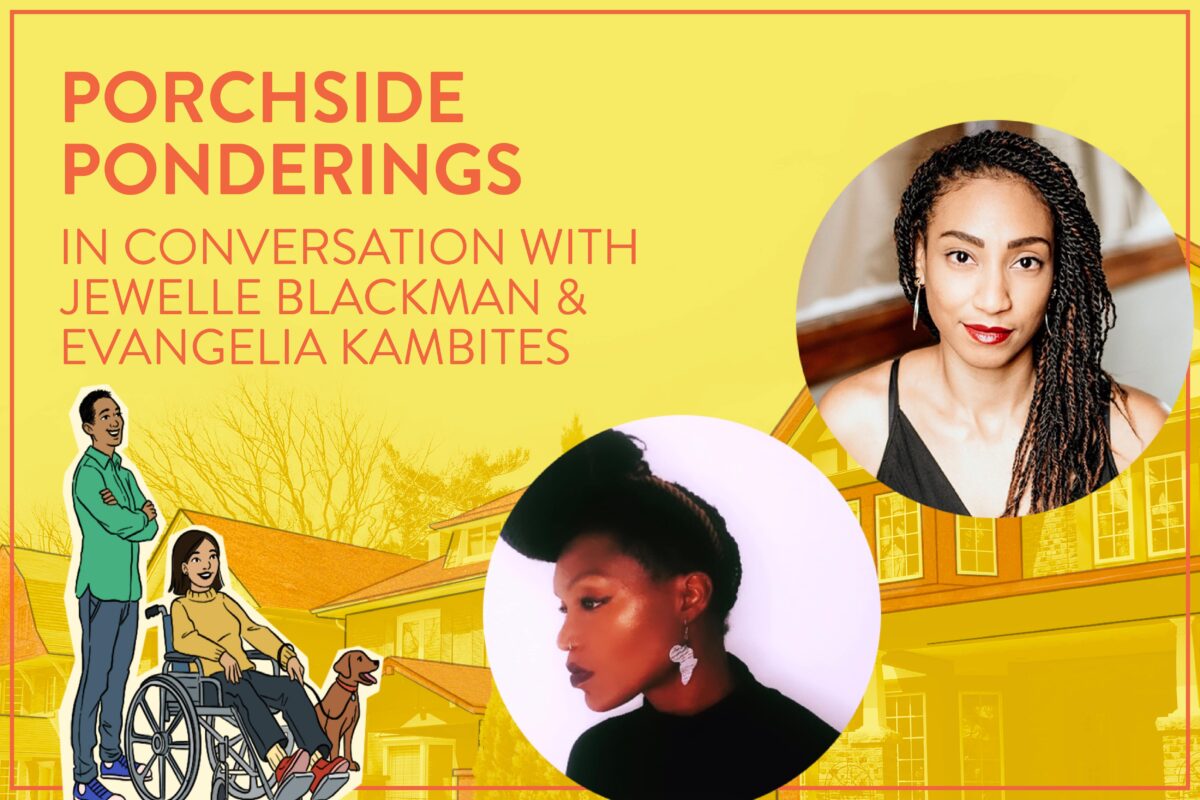 Porchside Ponderings: In Conversation with Jewelle Blackman & Evangelia Kambites
Tis the season for patio weather, music playing on the breeze, and the anticipation of catching up and pondering with friends on a warm summer day. Welcome to the second post in our series; 'Porchside Pondering' with the performing artists of PORCHSIDE SONGS! We learn all about their work during the ongoing pandemic, their love for music, and their hope for the future. This week, we're sitting down with Jewelle Blackman & Evangelia Kambites, the powerhouse performers of A CRACK IN THE WALL.
What is it about PORCHSIDE SONGS you are most excited about?
Jewelle: Performing live! It's been so long, too long since I've felt the combination of excitement, anxiety and just a longing to share and sing and the visceral response and shared exchange between myself and the audience.
Evangelia: I haven't performed live in over a year and I am most excited to share music with people, and to create music with my dear friend, Jewelle. Working with her is always such a treat.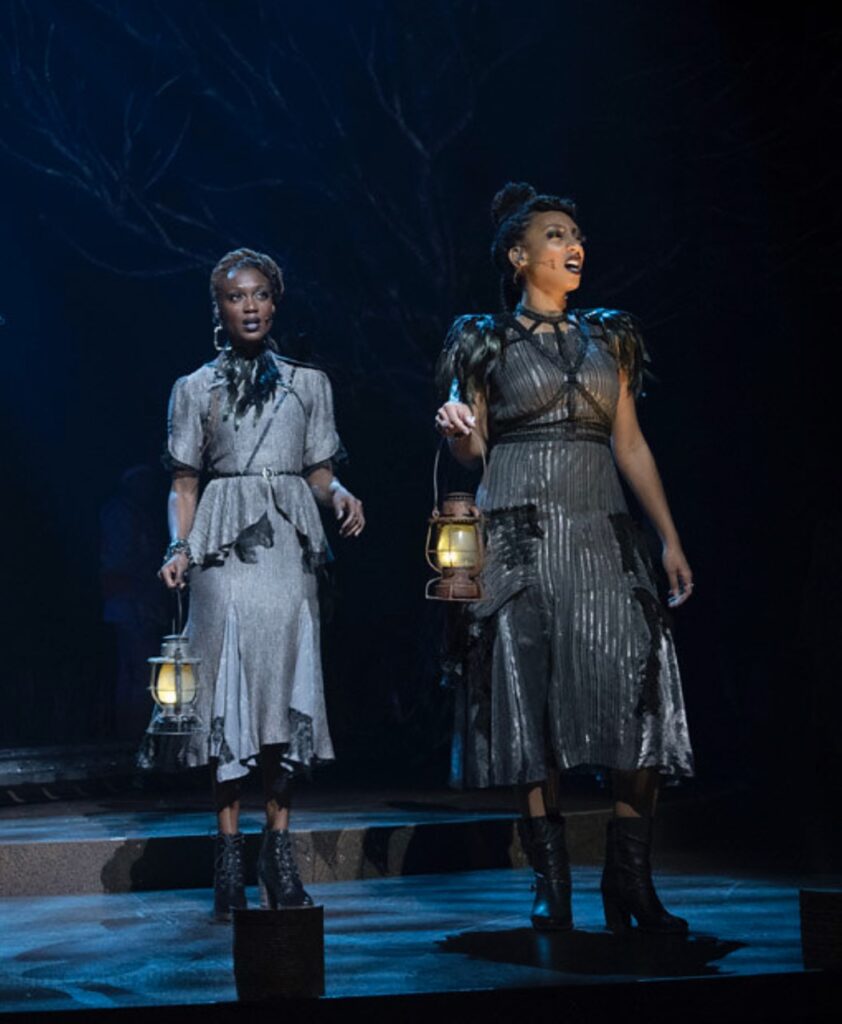 How did you meet? Can you speak about your past collaborations?
Jewelle: It's funny we actually met years ago before we shared a stage together. It was after we had both watched Meghan Swaby's VENUS' DAUGHTER. We had mutual friends and were introduced to each other. However it was during rehearsals for HADESTOWN at the Citadel in Edmonton, where we really connected and formed a sistership.
Evangelia: Jewelle and I met working on the now Broadway sensation, HADESTOWN back in 2017, when it had its Canadian premiere. We had met each other in passing through the industry, but it was the first time we got to actually work together. Since then, we've done THE 27 CLUB at Soulpepper, and then Jewelle went off to become a rightful Broadway star with HADESTOWN in 2019! I'm so thrilled to get a chance to work with her again!
Which artists or genres inspired your concert themes and setlist?
Jewelle: Well we both have vast knowledge and experience from an eclectic array of genres from blues, to musical theatre to country to alternative…so there is literally something for everyone. Rather than staying in one style we perform an assortment. "Life is like a box of chocolates, you never know which one you're gonna get". A CRACK IN THE WALL is a glimpse into our lives this past year, and each song specifically dives into a memory and serves that moment.
What has the rehearsal process looked like for your concert?
Evangelia: In the early stages, we have had phone calls to discuss rep, and the feel of arrangements. We've had one in person rehearsal where we worked out most of the kinks, and we're excited to share this show.
If there was an entire musical you could bring to people's porches, which one would you pick? Why?
Jewelle: AIN'T MISBEHAVIN' – it is one of my favourites. Stylistically it's little vignettes so the format would lend itself well to PORCHSIDE SONGS. The score is poignant and powerful and what's better than 5 voices singing in harmony with little to no instrumentation.
Evangelia: Honestly, I would do HADESTOWN! Especially with the state the world is in right now. For me personally, it's a show that gives hope, and reminds you of the possibilities in life.
If you could choose any musical artist to see in a PORCHSIDE SONGS concert, who would you choose? Why?
Jewelle: Nina Simone….because Nina Simone. I am also very intrigued by Cynthia Erivo. Her vocal talent mystifies me, so to be able to see her up close and personal like that would be be an experience.
Evangelia: Oh man, that's a tough one…probably Aretha, or Billie Holiday. Not only are they incredible artists, but I bet they'd have the most spell binding stories.
As an artist, what have you missed most during the pandemic surrounding live events and performances?
Jewelle: That energy exchange between myself and the audience. A camera lens can never replace that.
Evangelia: The community that comes with preparing a show or a concert. There's something so magical about the rehearsal hall and discovering work together, it's not really attainable through zoom. I miss the people.
We have hope that these concerts can help bring some brightness to communities, and renew that hope for the future – what would you say your hopes are for the future of our theatre community?
Jewelle: Varied stories, varied storytellers, a pause on producing any revivals… there's enough new stuff out there. A theatre where no one voice has a monopoly on what gets produced, who produces it and who in turn receives it. There needs to be a changing of the guard if any change is to happen. Otherwise we will be asking the same questions with little results in 10 years.
Evangelia: I sincerely hope that after the last year, and the collective trauma we as a society have endured, not just with regard to COVID, but also the social battles we have been fighting, that we come out the other side willing to be brave in the work we create. I hope we embrace untold stories, and stand up for racial equality and equity in our industry. I hope we use the momentum, and we don't let things return to the status quo, because if the last year has shown us anything, it's that the status quo has never been good enough.
---
A CRACK IN THE WALL will start June 2021, as part of PORCHSIDE SONGS – taking place live and in your front yards, all across Toronto.
Learn more about the show and PORCHSIDE SONGS by clicking here.