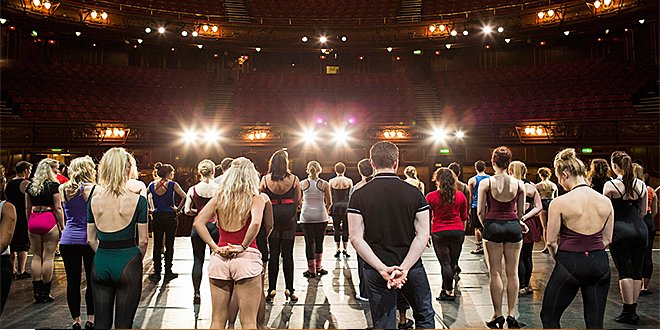 Hey, Mr. Producer, I'm talking to you, Sir!
This morning I sat down at my computer around 7:00am and devoted the morning to reviewing headshots and resumes. We have two shows that we are casting in December and we start booking people into auditions tomorrow for one of the projects.
During the several times per year that we do a call-for-submissions for various musicals, I am always struck by the same thing – there are so many great people wanting to work! The quantity of people who are interested in submitting for a project and the quality of the candidates' experience never ceases to astound.
Two years ago, when we were casting The Wild Party, I wrote this blog which touched on choosing people for auditions (read it here).
But at the risk of being redundant, my morning of sorting through so many hopeful submissions inspired some math which I wanted to share:
The project we are currently casting received 482 submissions for 6 roles – an average of 80 people for each role in the show.
We are going to be spending three days auditioning for this project. With breaks built in, giving each artist 15 minutes in the room, and leaving a few slots open in case we need to call someone in a second time, we can see 65 people.
Statistically, that means that if you submitted for this project, you have a 13% chance of making it to the audition room.
It took just shy of 3-hours to review 482 submissions. So each submission received approximately 20 seconds of attention in consideration for the selected 13% cohort.
After the auditions are complete, we will cast 6 people, giving an actor a 1.2% chance of booking the show if they were submitted for the project, and a 9% chance of booking the show if they actually audition.
So basically, when you submit for a show, you have the same chance of booking the gig as you do of winning at least $20 on a LottoMAX ticket. Depressing, right?
Ultimately though, it's important to know that every submission truly does get consideration. 20 seconds may not seem like a long time, but it's enough to look at a photo and review a resume and try to imagine – based on that very limited information – that candidate in the most appropriate role. And while I know it must sting every time an actor is not selected for an audition, there are countless reasons that sometimes someone isn't selected that are far beyond their control. Perhaps there is someone cast already and we need to match (or avoid matching) their look, age or height. Perhaps the writer loves your work, but knows their characters intimately and doesn't feel you are a fit. Perhaps the composer needs a particular vocal quality that is different than yours. The possibilities are endless.
While these decisions are difficult, I do want to say – sincerely – thank you to everyone who has submit a headshot and resume to us recently. I wish we had infinite days to see each and every person who wants 15-minutes to show why they would be a good fit for the project, but busy schedules and limited resources just don't allow that to happen. Truly though, it's a real privilege to know that there is so much interest in the work we are doing and – while the headshot and resume method of consideration has its limitations – it's a joy to be able to spend a bit of time with each of the 482 submissions in order to imagine and dream who we might have the honour of working with to bring the project to life.