Reza Jacobs | An Ode To UNCOVERED
This week on the blog, The Musical Stage Company sat down with an artist who has been the creative force behind UnCovered for the past 16 years – Reza Jacobs. Get an inside look on his favourite UnCovered memories, what he is going to miss most about his time with UnCovered, and his excitement to hit the stage of Koerner Hall next week.
---
What is your favourite UnCovered memory?
There are so many memories to draw from after 16 years, but I have lots of favourite memories of UnCovered, but the first one that jumps to mind is the knowing look that [The Musical Stage Company founder] Mitchell Marcus and I would exchange when an arrangement or an approach to a song felt like it was working well. The excitement was always palpable between the two of us, and we could always tell when something had heat.
Looking back on some of the numbers that we have done, "Space Oddity" from the UNCOVERED: QUEEN & BOWIE concert was really special. I have such strong memories of the rehearsals and the performance of that, and the instrumentation of that whole show was so good.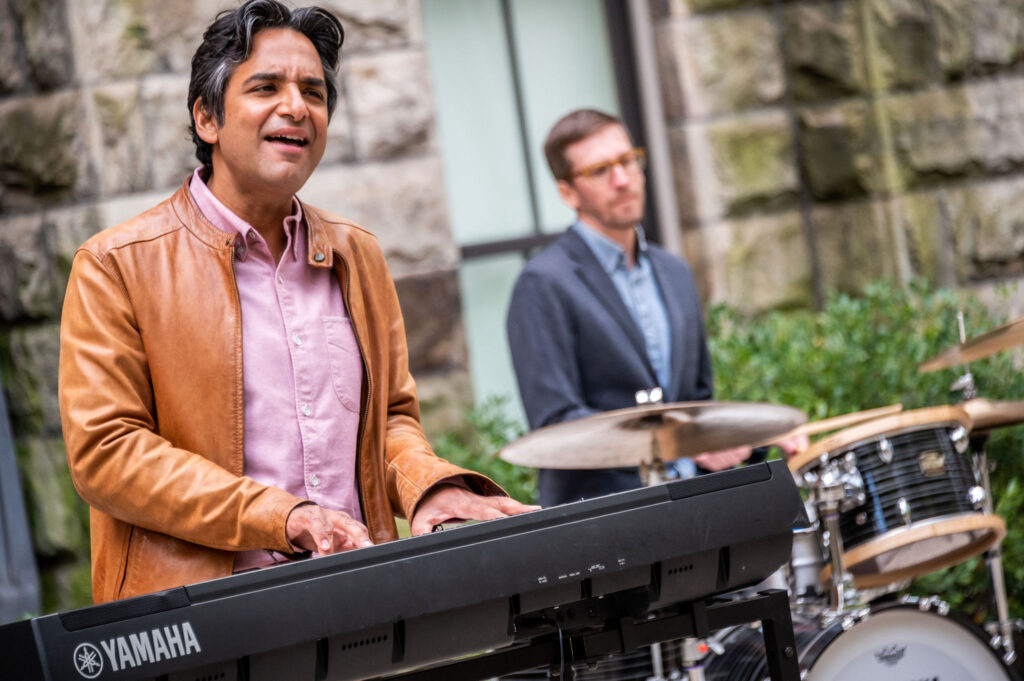 Do you have a favourite concert from the past 16 years?
The one that comes to mind, even though it wasn't at Koerner Hall—it was the last one we did before moving to Koerner Hall, at the old Bathurst Street Theatre—it was Joni Mitchell & Leonard Cohen. And a lot of the ways that we do UnCovered evolved so beautifully after that year! But there was something so special about that show in my heart. I love the combination of the words of Leonard Cohen and the words of Joni Mitchell. Another favourite show was our UnCovered in 2018 which was all women–Joni Mitchell and Carole King. Joni again! So maybe that's a common element. The camaraderie and caring on that show was really lovely. There was something extra warm and vulnerable and open-hearted on that show, because that music gets into your chest, behind your ribs, and opens you right up. You can't be closed while singing that music.
What's something that no one knows about the UnCovered process?
I get a lot of credit up front for these arrangements, but what people may not know is just how collaborative UnCovered is! The artists who work on the show know how collaborative it is, but the audience might not know how democratically equal the input from every artist is. Every artist's creative voice is present in their song, in the backup vocals, in the instrumentation…and speaking of instrumentation, the band always comes up with some of the best bits in every UnCovered! For example, Jamie Drake does all of his own percussion arranging. I sometimes just feel like an usher for UNCOVERED, saying to the artists I work with "hey, why don't we try sitting in this seat and see what happens here?" But the work – the imagining, the dreaming, the creating – is really done by everybody.
Is there any artist or band you'd like to see UnCovered in the future that we haven't yet explored?
I think Fleetwood Mac would be a great UnCovered concert. I'd also love to see an UnCovered featuring the work of Canadian women, so that you can spotlight people like Alanis Morissette and Sarah McLachlan.
What are you going to miss the most about UnCovered?
I'm definitely going to miss being on stage and doing the show. The first show is always a little nerve-wracking, but by the second or third show, it feels pretty amazing to be onstage at Koerner Hall performing those songs to an incredibly excited house that feels really intimate
---
UNCOVERED: THE MUSIC OF ABBA is on stage November 8 – 10, 2022 at Koerner Hall, featuring electrifying performances of ABBA classics. Tickets start at $35. For more information, click the button below!