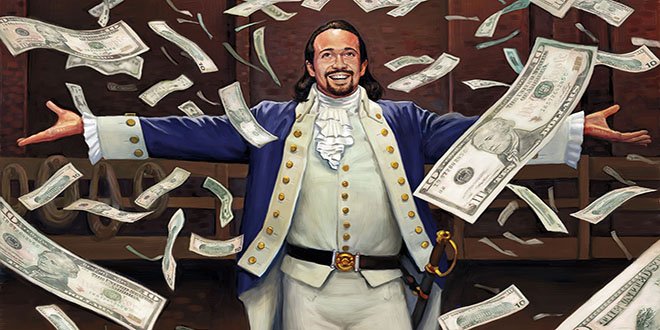 We're In The Money
There is a famous saying in our industry:
You can't make a living in the theatre, but you can make a killing.
According to a recent article in The Hollywood Reporter, anyone lucky enough to be involved in Hamilton is now making a killing.
To oversimplify commercial producing, musicals get to Broadway thanks to generous investors who invest in theatre in much the same way that you would invest in the stock market. Once the show recoups (the capital costs of mounting the musical up to opening have been covered off out of the surplus at the box office above the running expenses), the investors get back their money and start turning a profit on any additional net revenue. But in order to recoup, a show has to be a hit. Generally only 20-25% of Broadway productions recoup. Sometimes a theatre is only full enough to cover the weekly running costs (theatre rental, actor fees, marketing expenses, etc.) and an investor loses their entire investment. Most investments would start at minimum of $25,000. And anyone who you actually see onstage at the Tony Awards or who are listed as a producer in the show's billing, have generally invested $250,000 and up.
While most commercial producers invest as a lifestyle choice – a chance to be part of the action on Broadway – a few get very, very lucky. Like anyone who was smart enough to invest in Hamilton, the hip-hop musical about founding father Alexander Hamilton which is the hottest ticket in years in New York
This excellent article breaks down where the profits are going: 
But the highlights that make my jaw drop to the floor are:
* Hamilton is profiting $900,000 per week (after weekly running costs are paid)
* The Public Theater – who produced the show off-Broadway – get 1% of the adjusted box-office gross. Which means they get a weekly cheque for about $15,000US.
* Lin-Manuel Miranda stars as Hamilton and probably gets a nice weekly salary. But as the show's writer, he gets 7% of box office meaning about $105,000 per week (though he pays the underlying rights holder of the biography it is based on) from that salary.
* Around $600,000 per week gets divvied up amongst the investors.
* Once the show recoups (which insiders say it already has), the creative team and the Public Theater's percentage of net profits go up.
Wow.
I'm thinking we should do a Celtic musical about the life of John A. Macdonald. If any investors want to get on the ground floor of the next Hamilton, you know where to find me.