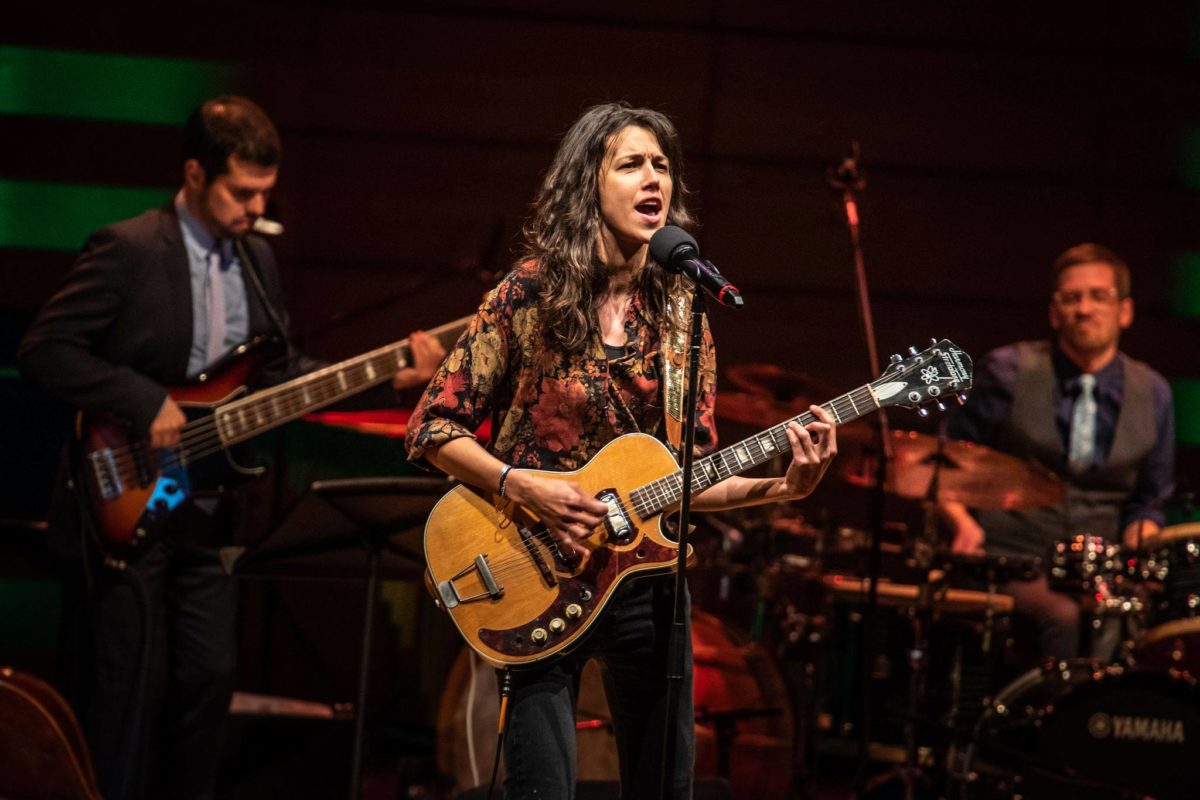 Triple Threat: Aimee Bessada
Get to know some of our favourite artists! Triple Threat is an annual feature that reveals which musicals and musical experiences left lasting impressions on the performers involved in The Musical Stage Company's UNCOVERED Concert series. Next up is singer-songwriter and UnCovered alumna Aimee Bessada!
What is your first memory of performing on stage?
There's a few Christmas pageants that all blur together. One year we did a production of the Rudolph the Red-Nosed Reindeer. It was between me and one of the other top singers in my grade, and we drew straws to see who would play Rudolph. I "won," and got to play the front half of Rudolph, and the other girl had to play the back half…Come to think of it, I don't think either of us actually sang!
How do you prepare for a performance? Do you have any pre-show musts?
Once I sound-check, I don't really like to leave the venue. Usually, I'll hang out side-stage to watch the performance and the crowd. That way, when I get on stage, I'm already in the world. 
What was the first record you remember owning? How did it influence your passion for music and performance?
The very first record I remember owning was Disney's The Lion King, which I think I got as a Christmas gift. The Disney soundtracks from the mid-'90s are all burned in my brain at this point. Aladdin, Little Mermaid, Beauty and the Beast, Pocahontas! If I ever get to meet Alan Menken, I'd like to thank him for giving my childhood a beautiful soundtrack.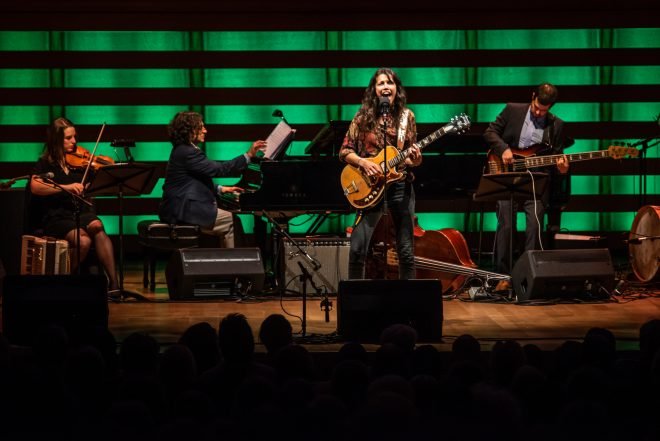 *Aimee Bessada in UnCovered: Joni Mitchell & Carole King. Photo by: Dahlia Katz 
What musical score is most memorable to you and why? 
I saw WICKED when it first came to Toronto and I remember it felt like being in a dream. Before that, the only musical production I'd seen done live was ANYTHING GOES by the high school students in the small town I grew up in. I think they did a good job. But y'know, WICKED kind of blew them out of the water.
Audiences last saw you on the UNCOVERED stage uncovering the catalogues of Joni Mitchell & Carole King. What is your favourite memory from that experience?
Easy: The first rehearsal with everyone together, where we went through and got to "see" the entire show. Up until that point, I'd seen bits and pieces of what we were all doing, but when we ran the show that first time I had a feeling of "whoa, I'm really part of something beautiful." I still can't believe I was included in that line-up of women!
As a songwriter yourself, what have you taken away from being part of the UNCOVERED rehearsal and development process so far?
The development process is super safe and open. Reza [Jacobs, Director of Music] is such a warm and adaptable musician to work with. He's very fluid in his process, and nothing feels goal-oriented, which is a great atmosphere to be creative in. Ideas can just float freely. When something feels right, we pursue it and once it has some sturdy footing, we nail down the structure. It's the sort of environment I work best in. 
What artists, alive or dead, do you dream about sharing a stage with?
I feel like I'm such a fan of the artists who I really love and respect that I don't often think about sharing a stage with them. However, it would be pretty cool to sing a song with Sheryl Crow…As long as she'd be okay with me just yelling her lyrics at the top of my lungs.
What made you want to come back to the UnCovered stage to tackle the music of legendary pop Icons Stevie Wonder & Prince?
I had such a great time in UNCOVERED: JONI MITCHELL & CAROLE KING last year that I was already asking to come back this year before we had even finished the first performance. So I didn't give Mitchell [Marcus] and Reza a choice! I love the challenge of this year's concert: I have never dared to sing a Prince song, and Stevie Wonder is also an artist I don't often try to sing. I'm excited to see what happens to the songs when all of the performers come together!
---
*Aimee Bessada in UnCovered: Joni Mitchell & Carole King. Photo by: Dahlia Katz 
Don't miss Aimee alongside an all-star Canadian cast in UNCOVERED: STEVIE WONDER & PRINCE, on stage November 4 – 9, 2019 at two of Toronto's most breathtaking venues. Tickets on sale now!