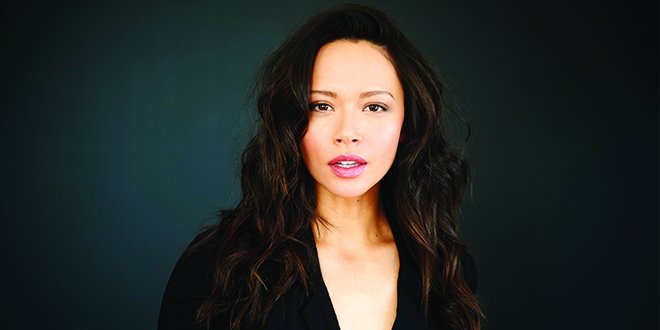 Triple Threat: Melissa O'Neil
Get to know some of our favourite artists! Triple Threat is a regular feature that reveals which musicals and musical experiences left indelible impressions on the performers, musicians, and actors involved in Acting Up Stage productions.
Up next, Melissa O'Neil!
Melissa O'Neil first performed with Acting Up Stage in UnCovered: Simon & Garfunkel and we are thrilled to have her back in UnCovered: Queen & Bowie!
With her career starting in theatre, she's performed on Broadway in both Les Miserables, and Jesus Christ Superstar. Canadian theatrical career highlights include: Les Miserables (Mirvish Productions), Dirty Dancing (Mirvish Productions), and the Stratford Festival of Canada. In 2015, Melissa continued her career to screen as the lead role in 2 seasons of the Sci-Fi series Dark Matter. At 16 years old, Melissa was the youngest, and first female winner of Canadian Idol. She is a platinum selling recording artist, a Juno Nominee, and a Dora Mavor Moore award winner. She begins shooting Season 3 of Dark Matter at the end of November.
1.  What musical score will you always remember?
I grew up with the musical theatre legend: Les Miserables. My mom had a cassette tape that we would play on our boombox in the basement. I have a vivid memory of working on a science project for school while my mom was sewing clothes (if it wasn't new gear for me, she was making costumes for the school play; I remember a particularly impressive period coat for the play 'Scarlet Letter'). We loved to sing and be total knobs to 'Master of the House'.
2.  What performance will you always remember?
I have so many, but in the spirit of giving a shout-out to a dear friend who's talent is immeasurable…
When we were doing Jesus Christ Superstar at The Stratford Shakespeare Festival, we were in the Avon Theatre.  In that space, there was enough room in the stage right wing to house one of the large risers that we used in the show.  It happened more times than I can remember, but I'll never forget how so many of us, on so many different occasions, (a few of us die-hards showed up all the time) would sit on the risers and with our perfect elevated view, watch Mr. Paul Nolan as the man Jesus Christ in the song 'Gethsemane'.  In it, Jesus is essentially having a conversation with his Father – God –  about his journey, questioning his purpose, asking to be spared and, in the absence of an answer, finally surrendering to God's will.
This performance was worth its weight in gold and the price of entry didn't even begin to cover it.
3. What were some of the roles you played in High School?
My high school put on a musical once a year. In grade 10, I understudied one of the graduating seniors who was playing Maria in West Side Story. There were three performances and I got to go on for one of them. My mom made my Maria dress. I felt pretty.
4. When was the first time you performed? 
As for my first performance, the earliest piece of evidence I have of 'performing' is a photo of me at what I think is the last day of kindergarten.  I remember teaching two of my friends the song "Frere Jacques". I'm not sure how I knew it! I do not speak french.
Anyways, we did it in canon. I don't remember the 'performance' but when I think about it, I remember the three of us nervously huddled together and giggling until we started to sing, all of us either looking at the ground or at each other. I'm the one with a bow in my hair.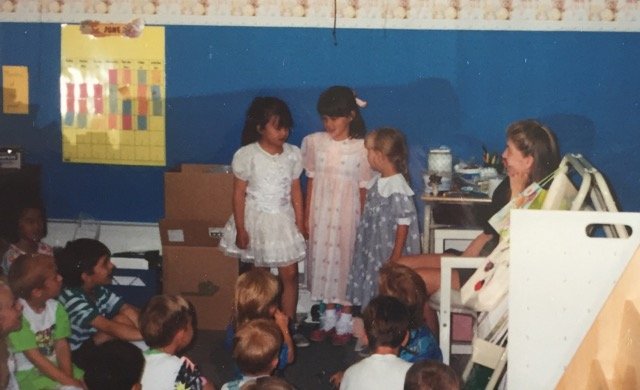 5.  What is your favourite memory from a performance or concert?
Oh dear. I'd like to make an attempt at being brief. 
During the pre-broadway Toronto sit down of Les Miserables, we did a special performance with the legendary Colm Wilkinson. For those who do not know, Colm is famous worldwide for originating the role of Jean Valjean. Sharing space with him, for any Les Mis fan or musical theatre nerd is pretty up there as far as hanging' with a legend goes. (As an aside, he's also a super cool musician and down to earth, fellah.)
Circling back to the story in Toronto, I was realizing a childhood dream by inhabiting the story of Eponine and singing 'On My Own' every night. So, the night we had THE Colm Wilkinson featured as The Bishop, after singing On My Own, I exit stage right and there in the wing is Colm, smiling at me. He hugs me tight, then holds me at arms length and looks me in the eye, "That was beautiful." If I didn't have to run back on stage to my imminent death, I'd have been running circles backstage. My 14 year old self was fan-girling pretty intensely in that moment. Praise from Caesar.
I really have so many 'favourite' memories though! It was hard to pick. I don't know what happened in my past lives to allow me to rock out with the hand I've been dealt but I am a very lucky girl. 
6. What is your dream role that you'll (probably) never get to play?
There are a few roles that I feel I'm a bit too old to play now but this is a good place to lay down a plug so I'm going to flip the script and turn this into 'a dream role you'd really LOVE to play'. 
I'll probably never be able to play Lafayette/Thomas Jefferson (Act I/Act II) in HAMILTON because try as I may, my rap flow needs a few years of work before I'll get to that level of swagger. But, Good Golly Miss Molly, I would love to do that show at some point in my life.  
Any of the Schuyler sisters would be incredible, a female Aaron Burr could be really cool, too.  
I love you Hamilton: An American Musical. 
Seriously, when was the last time you listened to a record over and over and over so you could get the flow *just* right? [I don't care that it's on everybody's lips. I'll never get tired of it.]
7. What's your guiltiest pleasure musical?
I don't have a deep knowledge of the musical theatre world. Ask me for B-sides and I get a little lost. So, as far 'guilty pleasures' go, I feel like the guiltiest part is that they're all so well known, it doesn't feel guilty at all. 
HAMILTON. Guilty because I can hardly enjoy it on its own without wanting so badly to be a part of it (amiright ya'll?)  But, seriously, HAMILTON because I love it so so so much that it's almost embarrassing.
8. What movie or book would you love to see musicalized?
This answer came without a blink of thought. It's not a movie or a book, it's an album. The Electric Lady: Janelle Monae. 
This shit is not a joke. Get the album, sit down, and listen to it top to bottom.
Don't play it in the background as a soundtrack to your chores. 
Get yourself comfortable, get a beverage, and bless yourself!
9. What band or singer would you love to tackle in an UnCovered concert?
I'd like to see UnCovered tackle some old school Funk/Soul/RnB. Let's turn it out for a few nights and put some modern, story-telling, sexy spins on some solid grooves. I'm talking Marvin Gaye, Roberta Flack, Sly & The Family Stone, Al Green, Stevie Wonder, The Isley Brothers, Gladys Knight, Parliament, Curtis Mayfield, Aretha Franklin, Smokey Robinson, The O'Jays…
I could go on, but I'd rather UnCovered go there. 
10. What musical do you want to see revived?
Selfishly, for my own pleasure, I would like to see Side Show revived in Toronto with the roles of Daisy and Violet being played by Kristen Peace and Kelly Holiff. Mainly because I would love to hear them sing, "I will never leave you". 
11. You're on a desert island and can only bring one cast recording/album with you. What do you choose?
Don't be a fool now. We've come this far. You know exactly what I would take with me and why. 
Thanks for having me Acting Up Stage and thank YOU for reading, new friends! 
If you're interested – you can find me and follow along with ramblings and random job updates on twitter @MeL13oneiL and Instagram @missoneil