Triple Threat: Thom Allison
Get to know some of our favourite artists! Triple Threat is an annual feature that reveals which musicals and musical experiences left lasting impressions on the performers involved in The Musical Stage Company's UNCOVERED Concert series. Up first is Broadway's Thom Allison!
What is your first memory of performing on stage?
I was in grade 5 or 6 and I convinced the teacher to give me a feature in the Christmas pageant, "Twas the Night Before Christmas".  Santa and the kids had already been cast, so I wrote myself a part. Apparently I felt it was perfectly acceptable for Daffy Duck to make an appearance in the age-old yuletide story. To my teacher's credit, she never flinched at any step of the way.  It was a hit!
What musical score is the most memorable for you and why?
Stephen Sondheim's A LITTLE NIGHT MUSIC had me enthralled from the moment I first heard it.  It was then that I realized that musicals weren't just fun (which they are) but that they could have such beauty of composition, telling a story with amazing, gut-wrenching lyrics.  It is one of his most perfect scores, and for Sondheim, that is saying a lot.
Do you have any pre-performance rituals?
Just breathing. If I can find a place to just lie down and breath, let my back release and open, then hum and "ah" a bit, I'm good.  Once my breath is alive, I'm ready to go.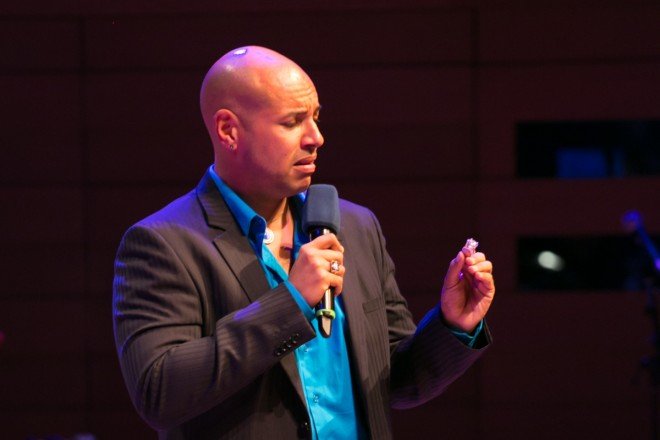 *Thom Allison in UnCovered: Sting & The Police (2013)
What band or singer would you love to tackle in an UnCovered concert?
I'll give you both a band and a singer. I have to say, I'm constantly astonished by the power, honesty and depth of Pink's material.  She's an amazing force and has lots to say and it's all pretty great. And as for a band, QUEEN!  So theatrical, so diverse, so exciting, so poetic.
Audiences last saw you on the UnCovered stage uncovering the songs of Sting and The Police. What is your favourite memory from that experience, and what excites you most about returning for this year's concert?
I remember going on a wild ride in the song "Mad About You". It had this metaphysical, universe-travelling feeling. I remember really looking forward to sharing it with people. What excites me most about returning is working with [Director of Music] Reza Jacobs again. He is one of the most extraordinarily talented musician/magicians in this country and also the sweetest man.
What movie or book would you love to see made into a musical, and why?
I think someone is making this into a musical right now, but… the movie LABYRINTH.  Ever since I first saw it, I thought it had such a theatricality, especially since the movie stars David Bowie!  It was calling out to be a musical. 
What artist, alive or dead do you dream of sharing the stage with one day? 
Christine Ebersole.  She seems like a great person, and her work is always so detailed, thoughtful and has a certain magic in it. I think I would learn a lot watching her.
What excites you most about taking on the music of Stevie Wonder and Prince in this year's concert?
Stevie Wonder. Period. End of statement. I have not known as much about Prince's canon, but I've been surprised to realize Prince had written so many songs I didn't know were his. So I feel like I'm being introduced to him now, and I can't wait for the audiences to hear what we are coming up with.
---
Don't miss Thom alongside an all-star Canadian cast in UNCOVERED: STEVIE WONDER & PRINCE, on stage November 4 – 9, 2019 at two of Toronto's most breathtaking venues. Tickets on sale now!