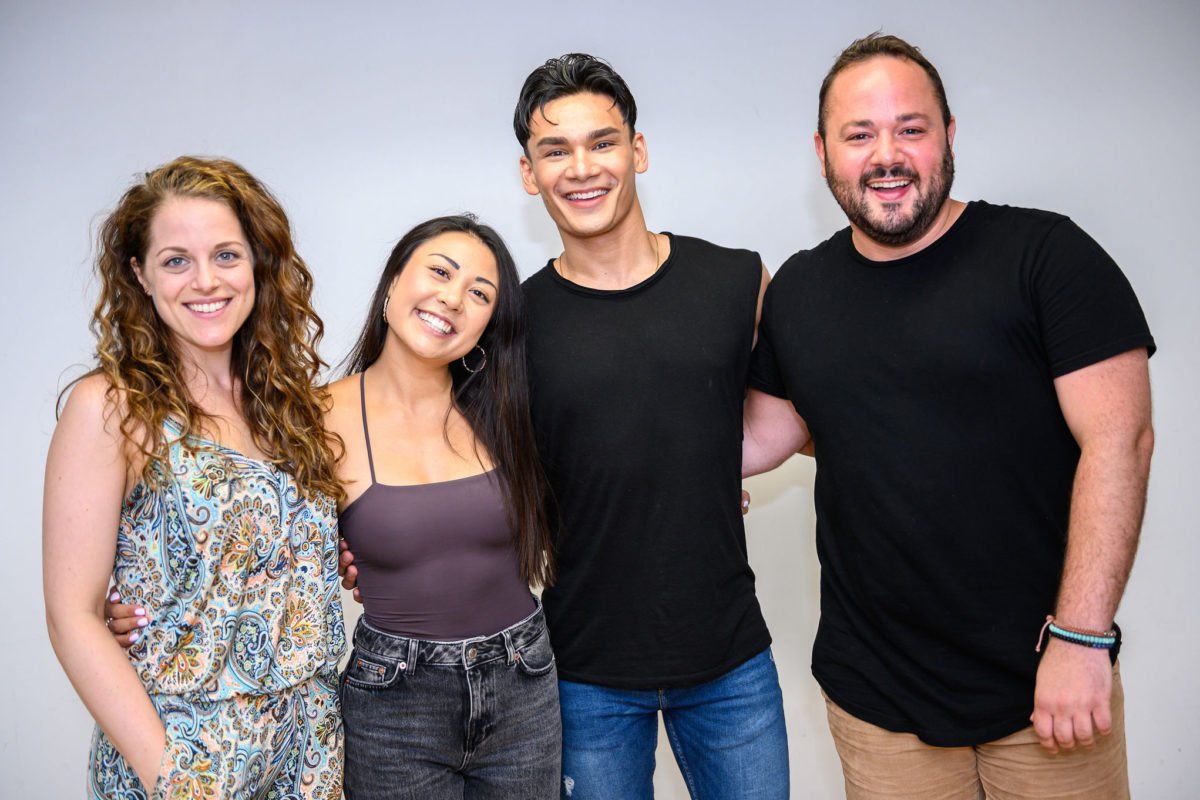 An Interview with the Cast of REPRINT
The actors of REPRINT, Brandon Antonio, Kelsey Verzotti, Kaylee Harwood and Michael De Rose open up about the rehearsal process and provide an inside look into what it really takes to bring  3 new in-development musicals to life!
REPRINT, 3 world-premiere musicals inspired by the archives at The Globe and Mail, is on stage this month, from August 19 – 22 at The Globe and Mail Centre. 
BRANDON ANTONIO – Last seen as Gabe in The Musical Stage Company's production of NEXT TO NORMAL
How do you prepare to play three very different roles and tell three separate stories all on the same night?
When I approach a new role or script, the most helpful thing for me to do is finding a personal connection to the material. It doesn't mean I have to directly relate to a character or their circumstances, but there is always a way to find a little bit of yourself in the work, which then opens the doors for exploration. So to prepare for the performances of REPRINT, it will be important for me to channel my personal relationships, which will then help me get in the headspace of three unique characters. On a physical level, deep breaths and literally shaking my body out between shows will help as well!
What part of the workshop process do you consider to have been the most valuable for you as an artist and why?
Working with three teams made up of some of the biggest names in Canadian musical theatre has been the most valuable experience. Each room has a totally different vibe, and as actors workshopping these pieces, it's our responsibility to roll with the punches and be open to trying new things. It's also been our job to switch gears between shows every two days, which has been a rewarding challenge in and of itself.
KELSEY VERZOTTI – Last seen in The Musical Stage Company's production of LIFE AFTER 
What part of this whole process surprised you the most?
I was surprised by how unique each piece is. All three shows have their own distinct styles in terms of music, book, and especially content. I was so nervous and excited for the first day of rehearsal because I had no idea what to expect. It's not often you start a rehearsal process not knowing literally anything about the show you're going to be in, and to find out I'd be playing both a YouTube vlogger AND a freestyle frisbee athlete–does it GET ANY BETTER THAN THAT?
After having been a part of the cast of LIFE AFTER, what excited you most about coming back to work with The Musical Stage Company and Yonge Street Theatricals on this project?
Being able to work for The Musical Stage Company and Yonge Street Theatricals again is honestly a dream. Not to get sappy, but LIFE AFTER was a highlight of my career. A ginormous part of what made that experience so special was the incredible people who work for Musical Stage. This company is a front runner in Canadian musical theatre, and they are helping to pave the way for writers and actors alike. They take big risks in this industry. I can imagine that a production like REPRINT would be daunting for any company. Can you even imagine the scheduling?! However, during this entire process I've felt supported and heard, all while having a blast with some super talented people!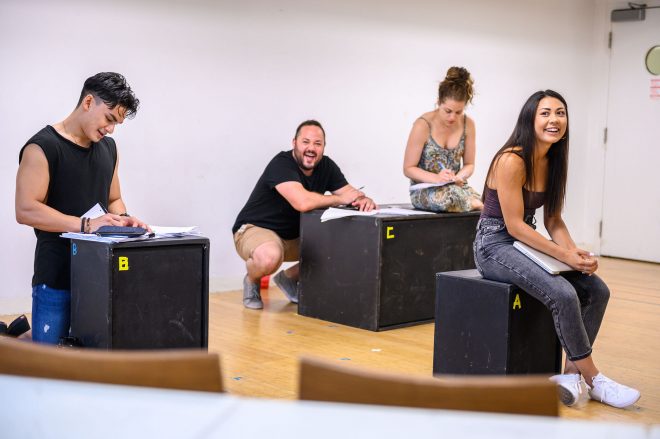 *The Cast of REPRINT in Rehearsals. Photo by: Dahlia Katz 
KAYLEE HARWOOD – Last seen in The Musical Stage Company's production of REFRAMED 
What is it like working with three different creative teams who are each developing separate pieces as part of the same presentation?
I really enjoy getting to work with separate teams and seeing how they vibe with each other and with the cast. It's special to witness the shorthand that the writers have developed with each other and with their respective director and musical director for each piece. Even though I'm very much involved in rehearsal, I feel a bit like a fly on the wall of some great work that's being put together by these rigorous, talented folks.
Which one of the characters that you play in REPRINT differs most from you personally, and what thrills you most about getting to share their story?
Wendy in FANGIRL is the most different from me, if only in age and experience. As Wendy, I'm struggling to nurture and discipline my internet-addicted granddaughter, who has moved in due to sad circumstances with her mother (my daughter). Knowing that with each offer, she could be rejected, she still yearns for connection with her granddaughter and keeps treading lightly to bridge the gap. I'm not a parent, let alone a grandparent – I don't even have a pet – but I understand family dynamics and the tenuous threads that connect us.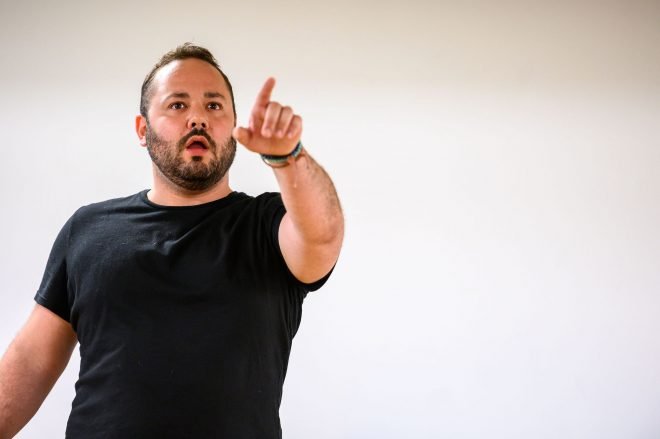 *Michael De Rose in Rehearsals for REPRINT. Photo by: Dahlia Katz 
MICHAEL DE ROSE – Making his Musical Stage Company debut in REPRINT 
What do you find to be the most rewarding part about working collaboratively with each writing team as they develop these new works?
It's hard to pick just one thing that is the most rewarding. It's rare in Canada that we get to have a workshop process like we have experienced with Launch Pad leading up to REPRINT, so working with writers in the room developing new, contemporary work is truly a gift. As an actor, I'm used to exploring the same storyline 8 times a week, so to come in every day to work on new, evolving, and transformative work every day is a reward in and of itself. Being able to give voice and life to characters who previously only existed in the minds of the writers is very exciting. You get to show the writers their vision living and breathing in front of them, which is an unparalleled thrill. This process demands a spirit of invention, which requires the actor to be very instinctive, as often we're reading pieces and incorporating changes on the fly. Adapting my craft to suit the writer's voice is truly the greatest acting challenge I've ever participated in. The adage that 'it takes a village' is true both of raising a child, and of giving birth to a new work. Getting to be a member of this village is one of a long list of rewards that has come from this collaboration. 
How do you think the use of The Globe and Mail Centre as a performance venue will inform the way you share these stories?
All of the pieces we are developing were inspired by an article or a photo from the news archives at The Globe and Mail. In opposition to the 24-hour news cycle we live in, we now have an opportunity to revisit these stories and images and resurrect these ghosts of Toronto past. Staging this at The Globe and Mail Centre, with the skyline of the city of Toronto surrounding us, reminds us all of the humanity behind the headlines. The setting gives an immediacy, an authenticity, and a sense of place to the stories we are telling. This will be a unique experience for audiences: we are transporting them back into their own city, but they'll be looking at it from a different angle, or looking at a story from an alternate way of thinking. I think performing these pieces in this space will not only offer perspective to the audience, but also to us as actors, who will be able to see the skyline and give voice to these stories that originated right outside the window where we are performing.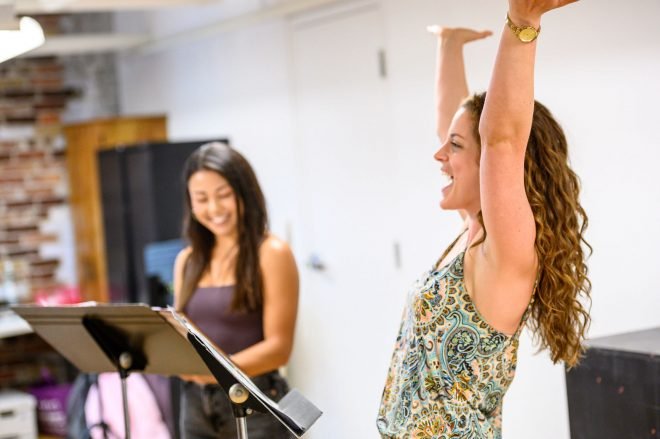 *Kelsey Verzotti & Kaylee Harwood in Rehearsals for REPRINT. Photo by: Dahlia Katz
---
REPRINT : 3 world-premiere musicals inspired by the archives at The Globe and Mail.
August 19 – 22 at The Globe and Mail Centre,  tickets on sale now! 
*A Musical Stage Company and Yonge Street Theatricals Production, 
in association with The Globe and Mail.