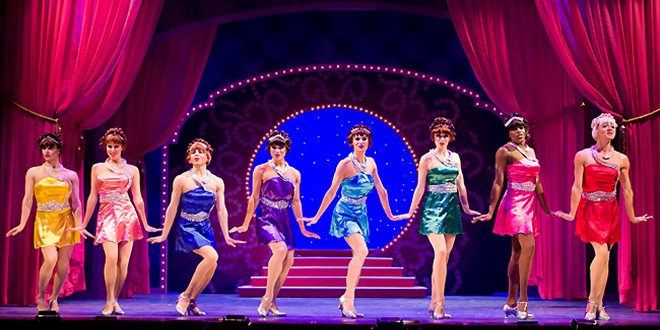 Video Roundup: Happy Pride!
This past week has seen a lot of great moments for the LGBTQ community and their allies – the U.S. legalized gay marriage country-wide, Toronto saw its own Pride festivities reach all-new heights of fun and celebration (not to mention a mayor that actually stuck around for it!). Then, Canada Day let us celebrate this great country that allowed gay marriage nationwide a whopping ten years ago.
But celebrating tolerance and human rights shouldn't be relegated for only one week every year, or for rare law changes – play these musical showtunes every day, and be your best, truest self all the time!
"Raise You Up" – Kinky Boots 
It's also fitting that the Mirvish Productions version of this Tony-winning hit also opened on Pride weekend, to rave reviews (including a former Banks Prize winner Graham Scott Fleming!).
"Steal Your Rock 'n' Roll" – Memphis
"Hockadoo!" is a perfectly acceptable expression to tell at parties of any kind.
"We Are What We Are" and "I Am What I Am" – La Cage aux Folles
From 1983 to 2015, this song still packs a punch.
"Freak Flag" – Shrek The Musical
Sing it, Gingerbread Man!
"I Know Where I've Been" – Hairspray
Hairspray deals with racial segregation and civil rights, but this is an anthem for any social change.
"You Can't Stop the Beat" – Hairspray
Because you can't stop Tracy's dancing feet, and you can't stop love!
"I'll Cover You" – Rent
Collins + Angel = 4eva
My Mother's Lesbian Jewish Wiccan Wedding
Blame Canada? Yay Canada!