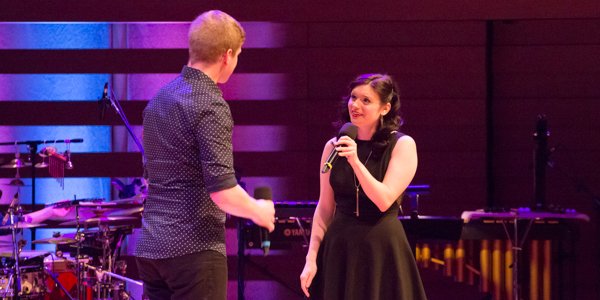 Why I'm excited for the 2015 Banks Prize
I spent the weekend at Penn State University, attending the "Bel Canto/Can Belto" voice pedagogy workshop hosted by their vocal faculty, attended mostly by voice teachers interested in singing for the contemporary musical theatre, and committed to continued development as teachers. My six-hour drive home through the hills of Pennsylvania, proved a great opportunity to reflect on the various ways we were engaged: in lectures, performing in master classes, observing other singers' lessons, one-on-one voice lessons for each of us, and connecting with new colleagues. Through a sharing of information, observation of experts at work, and an opportunity to practice and explore, I came away with new ideas and great excitement for returning to the studio this fall.In the home stretch on the QEW, my mind wandered to the work that was waiting on my desk Monday morning (including a deadline for a blog entry…), and I found myself considering how my experience as a participant at the workshop related to my role as Associate Artistic Director at Acting Up Stage. With the deadline for the 2015 Syd and Shirley Banks Prize submissions looming at the end of the week, I realized how my variety of experiences at the workshop aligned with the goals for our emerging artists this season. Through a number of individualized experiences, performers will be be engaged with mentors and new colleagues, observe established artists at work, and explore their own artistry.
One of the first opportunities for the Banks Prize winners will be to participate in the annual Uncovered concert. As well as creating their own take on a classic Simon & Garfunkel tune with musical director Reza Jacobs, they will be in the middle of the action with some of Canada's finest musical theatre artists. Alessia Lupiano, one of last year's winners, spoke of the thrill of heading onstage at Koerner Hall after Brent Carver. She had listened to him singing on one of her favourite cast recordings the day of her Banks Prize audition, and now she was up close, watching from the wings as Carver sang "Rocket Man."
In creating the Banks Prize cabaret, the performers can develop their individual voices as artists, exploring repertoire and thestories they want to tell. With Alessia and Graham last year, we spent a lot of (really fun) time considering favourite songs,brainstorming new material, and discovering fresh interpretations for what they wanted to say. In our rehearsals, we could play together to see what worked, and find songs that were a great "fit."
These are just two of the highlights of a busy season. Our Banks Prize winners will also get master classes; a behind-the-scenes look at rehearsals for our musical; and meet regularly with an RBC Apprentice director, musical director and stage manager. Engagement with community, opportunities to watch experts in action, and the space to play and explore. I trust that we will all emerge from the experience with new ideas, and excitement for the future!