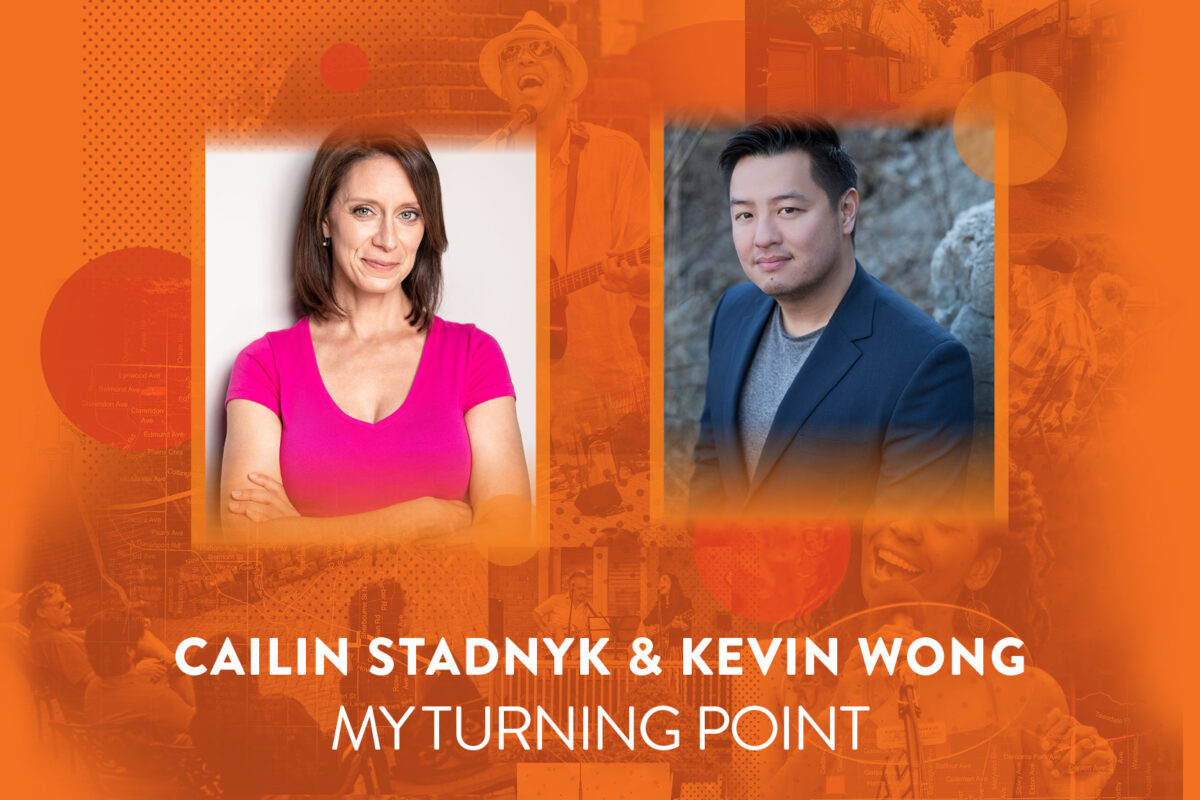 Cailin Stadnyk & Kevin Wong on My Turning Point
We can't think of a better way to welcome the sunshine and warmer weather this weekend, than with outdoor music with loved ones in our neighbourhood communities! We're kicking off the weekend with our MARQUEE Festival's #MyTurningPoint blog series – featuring our second PORCHSIDE SONGS players duo; Cailin Stadnyk & Kevin Wong! Learn more about their concert and their hope for more turning points throughout the industry below!
---
This year, our MARQUEE Festival's programming follows the theme of 'Turning Points' – highlighting more personal artistic discoveries & journeys. How do you define what the phrase, 'Turning Points' means to you?
Cailin: To me, the phrase 'Turning Point,' means that a significant change has occurred in the course of my life, whether it be on a personal level, or professional level. A 'turning point' can be something tangible like a move or job change – but oftentimes it is more abstract and takes place on a mental, emotional or even spiritual level. Those types of 'turning points' are often the most intense and altering.
Kevin: Coming out of year 2 of a global pandemic that ravaged our industry, I've been forced to reckon with a lot of how I balance my life. Before the pandemic, a lot of my time was invested in the traditional practice of;
Write musical theatre
Workshop it endlessly
Wait patiently for maybe a production to happen
See if it changed my career and made it livable
If not, rinse and repeat
That went up in smoke for 2 years, and even as things have 'reopened', we've seen how fragile productions and the theatrical industry can be. In the last year, I've really had to decide what I want my life to look like in the present – what makes me happy; what feels livable and balanced now, versus waiting for some magical threshold of success in the future that may never come.
A lot of what I've done in the past year – starting to music stream, writing commercial music, teaching more, finding alternative ways of creating musical theatre – are all the result of my own 'turning points'!
Is there a particular turning point in your life that you feel set you on the path toward musical theatre?
Cailin: Yes – in fact I know the exact turning point that altered my path toward musical theatre. When I was young, I wanted to be a rock star; I idolized the rock band Heart and wanted to sing just like Anne Wilson.
However, while in Vancouver for Expo'86, my mom took me to see my first musical – AIN'T MISBEHAVIN' at the Arts Club Theatre. There was quite a bit of audience participation in that show and I was lucky enough to be brought on stage. My mom remembers vividly that I rushed back to my seat, sat down and turned to her and said, "that's what I'm going to do!"
I never looked back. I was 9 at the time, and I even went on to work with the exact cast member that brought me up on stage – Alvin Sanders – about 20 years later!
Kevin: Seeing Rebecca Caine in the Toronto production of THE PHANTOM OF THE OPERA (1990). She was (and still is) so good – jeez, what a voice! I was 6 years old and my mother covered my eyes & ears for all of the more adult content (and the scary pyrotechnics!) – but the show and its sweeping theatricality stayed with me.
I'm told I used to bombard my kindergarten teachers with one-person re-enactments of the entire first act of PHANTOM, from prologue to the chandelier crash! Since then I have always been fairly theatrical.
What are some of your favourite Turning Points or memories outside of music & theatre that have helped shape who you are now?
Cailin: I would say the most important 'turning points' that have shaped me have included my moves; leaving home for the first time to go to theatre school in Edmonton, moving to Vancouver, and moving to Toronto – as well as specific relationships I either got into or out of, over the course of my life. I would say that I have had a few very significant relationships that have changed me.
Kevin: I used to be a practicing lawyer from 2010 to 2013. I burned out hard doing it because it's such left-brained work, and I much prefer a more creative means of functioning. But it also introduced me to different people, perspectives, analytical ways of thinking, and facets of life that continue to inform my life, writing, and approach to people to this day.
Your PORCHSIDE concert is titled 'Big Songs', can you expand more on the inspiration behind your setlist and the stories you wanted to share through the music?
Kevin: I wanted to take an audience through some big musical milestones in both my journey as a musician & writer, and Cailin's journey as a singer & actor. What made us the artists we are today? Where are we now and where are we going forward? How does Mariah Carey's absolute banger, 'Fantasy', play into that?
Also, being outside and at the mercy of the elements, passing traffic, and the occasional angry territorial bird during mating season – I want the journey to feel satisfying in scale; like it can hold the attention of the audience – and soothe the tempers of any cranky birds.
In the last few years, the musical theatre industry has undergone several Turning Points of our own – how do you feel about how the industry has adapted and progressed?
Cailin: Honestly, I'm not sure how I feel about all of the 'turning points' in the industry. It is still in such a tender place. The Covid shutdowns hurt all of us so much and I think we'll be recovering and adapting for quite a long time to come. As for issues like representation, equality, and more – I think we've made some great headway, but I think we have a long way to go before we are truly functioning in the best way possible. I have hope though.
Kevin: I think the pandemic gave us an opportunity to really look at what wasn't working for us about the industry. Some great questions were asked, and some great discourse was had about what needed to change. Now, we're in a phase where a lot of companies are ready to come roaring back to activity, which is exciting and fantastic.
But it's also the harder work – all those statements of meaning, all those commitments to "Bring Back Better" – how does that actually work now in practice? How will you do that? Not just in symbolic ways – but in hiring practices; in rehearsal scheduling; in training & access for creative teams as well as performers; in giving a voice to those who have traditionally been voiceless at all levels (creation, administration, procedural, recourse, and more)?
I think it's interesting to see which companies are committed to growth and change, and how they're going to make their way forward.
What do you hope your concerts can bring to audiences this summer season? Is there any message or feeling you want to inspire?
Cailin: Honestly I just want our audience to have fun and really relish live performances again! I think everyone is ready to see live theatre, music, and art again and it's so important we remind everyone of how important the arts are.
Kevin: Music is the great abstract unifier – it has the capacity to bring a roomful of people together and give them access to a shared emotional space, in the span of a few seconds. I just want people to feel good, hopeful, and excited to be alive. If someone starts their day off feeling like they're at a 7/10 and the concert brings them even up by 1/2 a point – then I think we're doing something worthwhile.
As the future continues to change and the theatre community continues to change with it – what kind of change do you envision or hope to see for artists and performers?
Cailin: When thinking about our industry lately, I think of it in two ways; from the outside perspective and the inside one. I will always long for the day when more people truly understand how important the arts are and give all working artists the respect they deserve.
From an outside view, this needs to come not only from the general population, but also in how the government sees and supports the arts.
From the inside, the 'old ways' are due for a change – there needs to be a better life/work balance within our industry and generally more support for artists; that can only come from the producers and people 'in charge'. I hope that I see significant change in those areas throughout the next couple of years.
Kevin: Less gatekeeping; more access and education and support and funding. I've historically been a kind of traditional-style musical theatre writer, but I love musicals that don't sound or look like any musical you've ever seen or heard before. I love surprise, whimsy, surrealism, and specificity of experience in a story.
I hope musical theatre keeps looking forward and trying to make new things possible, rather than looking backward and trying to reproduce the successes of the past.
Catch Cailin Stadnyk & Kevin Wong's, 'Big Songs' (PORCHSIDE SONGS concert) this summer! On-stage June 14 – July 13, concerts are on sale now.
---
To learn more about our exciting MARQUEE Festival and its theme 'Turning Points', click here to read Artistic Director Ray Hogg's, introduction blog. Stay tuned to read in-depth & personal definitions of our different MARQUEE artists, as part the #MyTurningPoint blog series.
We want to hear from you – how would you define #MyTurningPoint? Share your stories and/or photos with #MyTurningPoint and tag us (@MusicalStageCo on Facebook, Instagram & Twitter) or fill out the form below to win a MARQUEE MUSICAL PASS, which includes a ticket to both DIXON ROAD & TAKE THE MOMENT! #MyTurningPoint contest runs March 9th – May 23rd, with the winner announced May 27th.