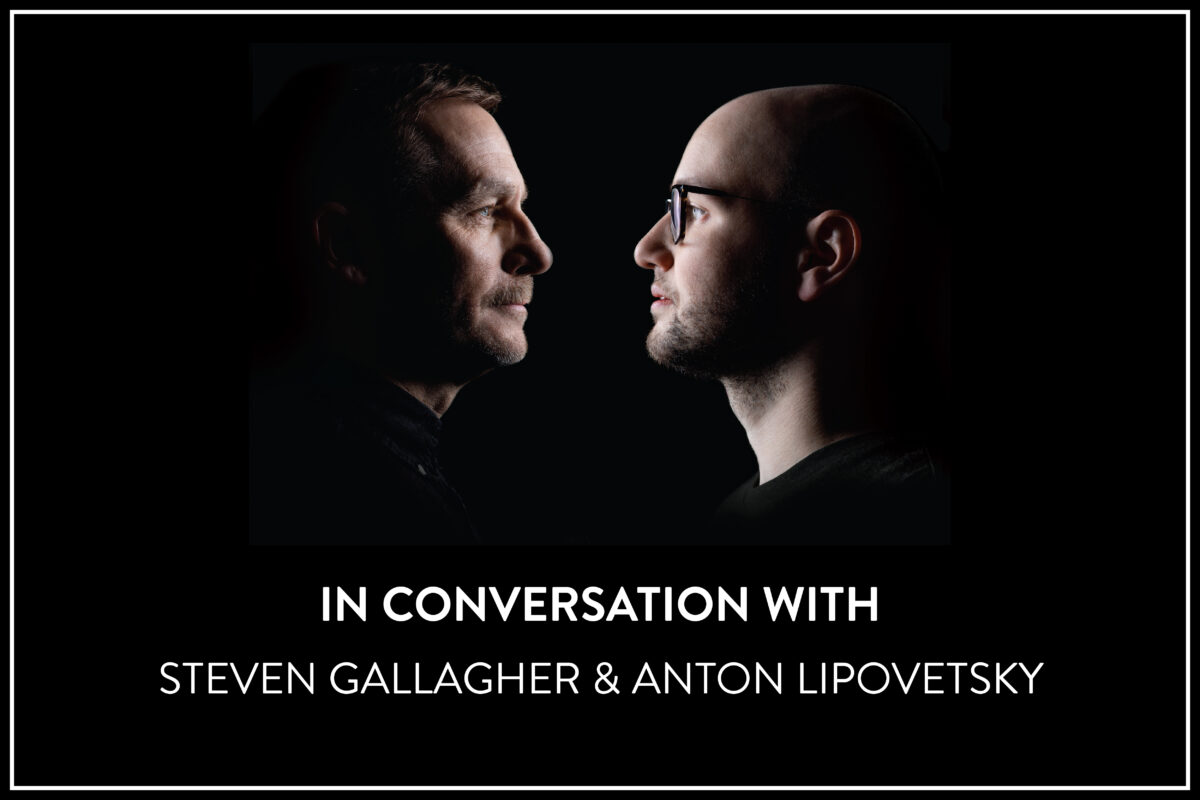 In Conversation with Anton Lipovetsky & Steven Gallagher
This week we sat down with BLACKOUT creators Anton Lipovetsky (Crescendo Artist) and Steven Gallagher to learn more about their experiences developing and workshopping this new Canadian musical, and how they've pivoted their process in the wake of the ongoing pandemic.
How similar is BLACKOUT to the 2019 presentation of CYGUS that took place as part of our LaunchPad development initiative?
Anton: We have written another hour of material–two more self contained stories to go with Cygnus. The first story starts just before sundown, the second in the middle of the night and the final one (Cygnus) is set just before dawn.
Steven: When we were approached by The Musical Stage Company to develop Cygnus into a full-length musical, we had long discussions about what this would look like. Early on we decided that we didn't feel that expanding the Cygnus story was the right way to go. We liked that a complete story took place in just over half an hour, and we didn't want to "overstuff" it. We came upon the idea of a trilogy, using the timeframe of the blackout from beginning to end. So each story takes place in chronological order, as the blackout proceeds from the afternoon of August 14th to the morning of the 15th. We also used the idea of Greek Myths to tie the pieces together. Each story is a loosely based modern version of a myth.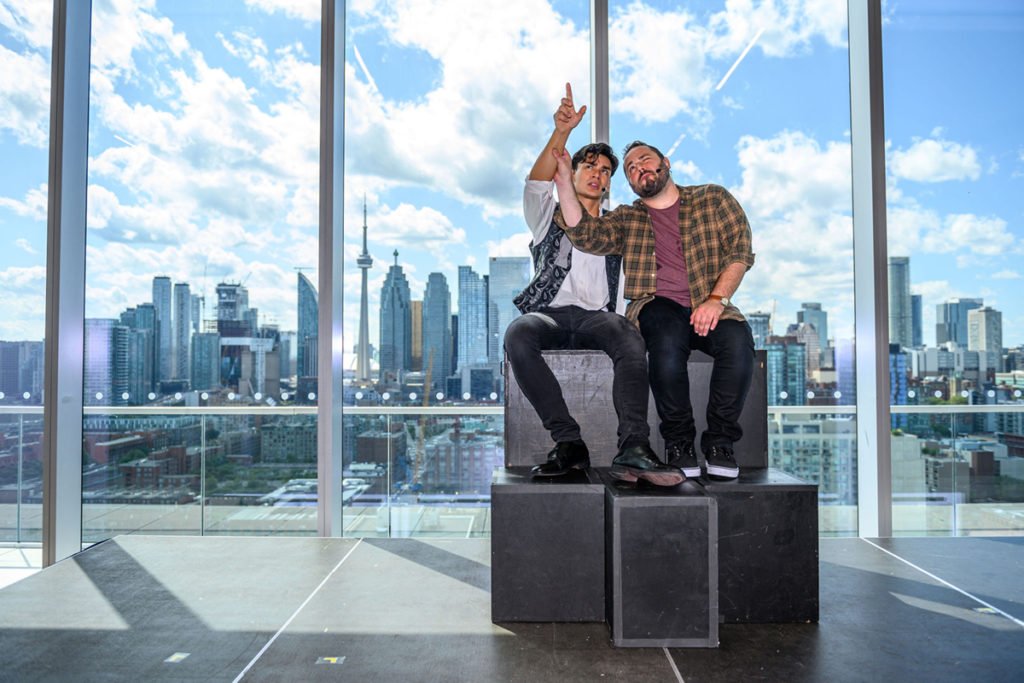 The Blackout of 2003 and the current pandemic share similar shared experiences of loneliness and both losing and finding community. Has the piece changed since the beginning of COVID-19?
Anton: Steven and I have definitely been using our experience in the COVID-19 pandemic to inform what the characters are going through. The realization that the world could get shut down so quickly and the fear and uncertainty that comes with that feels really resonant now.
I've noticed for a lot of people, the regular world being put on pause created an opportunity to ask whether things were really working well before–that seemed like a good question for the characters in BLACKOUT to tackle.
Steven: I think the first story that BLACKOUT explores titled 'Gemini', has been most influenced by the pandemic. It was written after we were all asked to stay home, and the feelings of isolation, and what we were all experiencing really seemed to be reflected in the characters we were writing.
What are you most looking forward to, in presenting this piece in High Park this Summer?
Anton: Oh, I can't wait to see everyone in person.
Steven: I'm most looking forward to being in a room with all my amazing collaborators! Working with this team has been life changing, and I can't wait to actually be in a room again, seeing this show come to life.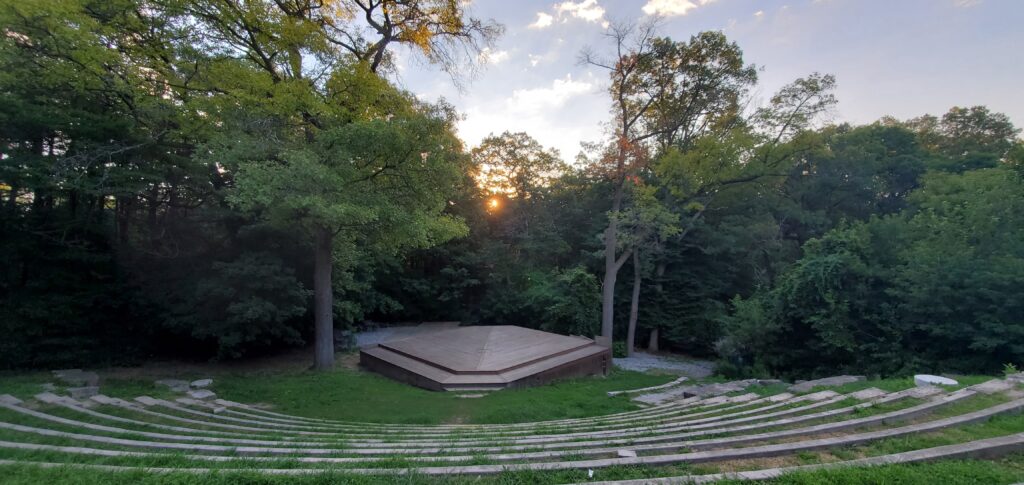 BLACKOUT has been developing for the past year digitally over Zoom, how would you describe digital collaboration when it comes to writing and working on a new musical?
Anton: I would describe it as challenging, but with a few silver linings.
Steven: Anton and I were prepared for the digital collaboration in a way that many teams might not be, as that is how we have worked since we were first paired together in 2018. Because we live in different cities, we have always used email, text, and Skype to share ideas and work. So the leap wasn't as difficult for us, we are used to not being in the same room. The rest of the team pivoted very easily, and we found a groove very early on. One of the ways I think that we discovered, is that it's not only Zoom. You can share information over email, text with voice memos. I look forward to seeing everyone's faces soon, but I feel like we all managed to overcome this hurdle really well as a team.
What are the biggest hurdles to overcome with digital collaboration?
Anton: Internet lag and trying to communicate without the aid of your three dimensional body and energy.
Steven: I would say just being able to really feel the energy on the other side of the screen sometimes. And the internet lag can be frustrating.
Are there any advantages to developing a new piece over Zoom?
Anton: People all over the country can be involved in a workshop so easily! In the last year I've gotten to work with some extremely talented people I probably would not have had the chance to in other years.
Steven: It was great to be able to have a much more broad range of actors involved in the process. Folks who we might never be able work with because of where they are not located in Toronto. That was a great asset to working online.
I would also say that a big advantage for me as the book writer is that I was able to make changes and share them with the actors right away. No need for printing, I could send them a link to a google doc, and they have the changes immediately. If you are able to get the amazingly talented actors that we had, the book writer can tell if changes are working almost immediately. And I don't have to kill a forest to do it.
Zoom is a difficult platform to work musically. How have you been able to hear your music during readings during this time?
Anton: I've been so impressed with what music supervisor Wayne Gwillim, copyist Jonathan Corkal, and each of our performers have been able to achieve musically over Zoom. The process generally goes like this: the actors get taught their music over Zoom, they record it themselves on their phones, they send the files over and they all get mixed together–then Wayne streams the recordings during our Zoom read throughs.
What writing practice have you learned during COVID-19 that you will continue in a post-Covid world?
Anton: All this time at home has made me much better at home recording.
Steven: I will probably continue to write on google docs in a workshop situation. I used to write exclusively with Final Draft, but I was unable to share those changes quickly. I would also probably ask the actors to use computers or tablets for workshops, at least for the first few days, while we are doing table work. This way I can make changes before anything is printed and they can have them immediately.
---
BLACKOUT will launch Summer 2021 in High Park, in Association with Canadian Stage as part of Dream In High Park.
Learn more about the show and Dream in High Park by clicking here.