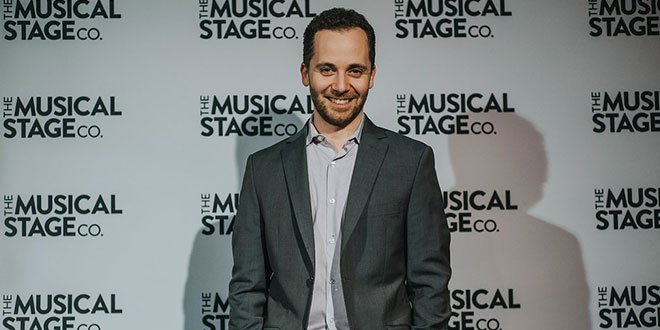 Unforgettable Acting Up Stage Moments
"But if life were only moments,
then you'd never know you had one"
I am a terrible secret keeper. I love secrets so much, but I find it SO hard not to share. So, you can imagine my relief to have FINALLY announced The Musical Stage Company, our vision, and our upcoming programming after so many months of secrecy.
While The Musical Stage Company is just the expanded version of Acting Up Stage Company, it still feels like a momentous end of a wonderful chapter and the beginning of a really exciting new one. When Kelly Nestruck was at our office interviewing me for his Globe and Mail article, he asked how long I had been planning this expansion. Without having ever considered it before, my gut response was: "Thirteen years!" It truly does feel like we have been working towards this bigger plan for musical theatre in Toronto since the day the company began and I have felt nostalgic, thinking back to all of the moments along the way where that dream felt possible. Here are the top ones that come to mind from a list of many, many worthy moments:
2005 – When we got the rights to tick, tick…BOOM!
When I was 22, I did what every kid out of theatre school does and started a theatre company (Acting Up Stage). We wanted to do the Canadian premiere of tick, tick…BOOM! by the late Jonathan Larson but it seemed unlikely that a scrappy, youthful start-up would land the rights. I remember that day in August 2004 when I got the call saying that the rights were coming through. I'll always be grateful to William Craver – Larson's agent – in New York for taking a chance on us.
2007 – When Elegies: A Song Cycle was a runaway hit

Honestly, I thought that doing a song cycle filled with death songs would be the end of us. But magically – and particularly due to the gorgeous direction of Lezlie Wade, the sensitive musical direction of Wayne Gwillim and the glorious performances by Thom Allison, Barbara Barsky, Steven Gallagher, Eliza-Jane Scott and Michael Strathmore – it was a hit. Audiences loved these moving stories, told by exceptional performers, in an intimate space. And that realization shaped our aesthetic for the decade that followed.
2009 – When we received our first multi-year grant
from the Metcalf Foundation
In 2009 – after 5 seasons – I thought I might throw in the towel. I didn't see how the company could go from being an "evenings and weekends" hobby to an actual job. We applied to the Metcalf Foundation for $35,000 per year for three years for a strategic initiative which – as part of the funding – created one full-time position. We got the funding and I quit my amazing full-time job at Luminato in 2010. If it wasn't for the Metcalf Foundation believing in our potential at that critical moment, we wouldn't be here.
2010 – When we produced the Canadian premiere of
The Light In The Piazza
Like Elegies, The Light In The Piazza reinforced the possibilities for sophisticated, emotionally-rich musicals in Toronto. It exceeded all of our previous box office targets and was seen by over 4000 people. It introduced me to Robert McQueen who has helped to shape our artistic aesthetic through our many collaborations and his work as our Director of New Musical Development. It brought Nu-Trend Construction – our presenting season sponsor – on board because the owners were very excited by the Italian influences in the show. It was the first show we produced that was a fully-fledged Broadway musical and not a niche off-Broadway piece. It paved the way for what was to come.
2012 – When Caroline, or Change won
the Dora Award for Outstanding Musical
On June 13, 2012 my twins were born, 5.5 weeks early. On June 25 – completely sleep deprived and basically living in the NICU in Mississauga – I threw on a suit and went to the Dora Awards where we won five awards, including Outstanding Musical for Caroline, or Change. It was a surreal night and – undoubtedly – one of the moments where it felt like contemporary, thought-provoking musical theatre could not only sustain itself in Toronto, but could be a leading part of the cultural fabric.
2012 – When we did our first UnCovered
concert at Koerner Hall
After one year at the (now defunct) Diesel Playhouse and three years at the Bathurst Street Theatre, we took a huge gamble to try an UnCovered concert at Koerner Hall. That room is intimidating – it's very large, with glorious acoustics – and, as we prepared for that concert paying tribute to John Lennon and Paul McCartney, we hoped we wouldn't look foolish. We didn't. The show sold out and the energy in that magical hall was electric. It turned UnCovered into a signature annual event that now plays three nights at Koerner and it demonstrated our ability to effectively produce work on a larger scale.
2014 – Watching our production of Do You Want What I Have Got? A Craigslist Cantata in Calgary
After a wonderful run in Toronto in co-production with Factory Theatre in 2013, we took Bill Richardson, Veda Hille and Amiel Gladstone's Do You Want What I Have Got? A Craigslist Cantata on the road. I flew to Calgary for the closing night performance, presented by Alberta Theatre Projects & High Performance Rodeo, and took my seat in the 400-seat Martha Cohen Theatre. It was the first time I had seen one of our shows without knowing a soul in the audience. The Calgary attendees were boisterous and ate it up. I felt giddy in an unfamiliar city, surrounded by unfamiliar people, watching them love this very familiar show that I was so proud of.
2016 – When we premiered Reframed
The first world premiere musicals we brought to life from start to finish were the Reframed triptych short musicals. Commissioning three musicals inspired by paintings in the permanent collection at the AGO was a homegrown concept and the result was thrilling. Not only did Sara Farb, Britta Johnson, Kevin Wong, Julie Tepperman, Erin Shields and Bryce Kulak create stunning new musical pieces, but the collaboration with the Art Gallery of Ontario demonstrated the relevance of using music to bring stories to life in new and exciting ways. It proved that the writers we had been working with in our NoteWorthy program were ready to create theatre for Toronto audiences that rivalled anything coming out of New York. And it helped us to think outside the box about ways musical theatre can live outside the proscenium while making meaningful civic impact.
I have cherished these (and many other similar) moments; moments where it felt like our vision could be as far reaching as our dreams, and that we could genuinely make an impact in the lives of people locally, nationally and internationally through a commitment to musical theatre.
Looking ahead at the next twelve months, I see so many possibilities for the next great moment. Will it be watching Onegin on the mainstage at the National Arts Centre? Will it be getting to work so closely with Britta Johnson through The Crescendo Series (and specifically on Life After this coming year) as she brings new musicals to life? Will it be getting to work on one of my dream musicals (Fun Home) in a dream collaboration (presented by David Mirvish)? Will it be seeing what musical gems emerge through the Aubrey & Marla Dan Fund for New Musicals? Will it be watching the faces of the young people at the Regent Park School of Music and in our One Song Glory program as we offer more regular and more profound free musical theatre experiences? Will it be reaching our $1 million Creative Capital Campaign goal, knowing that we are able to put that money towards more extraordinary artists and extraordinary projects?
Time will tell. But I am incredibly excited for the moments that lie ahead.
—
Cover Photo: Mitchell Marcus. Photography by Sam Gaetz