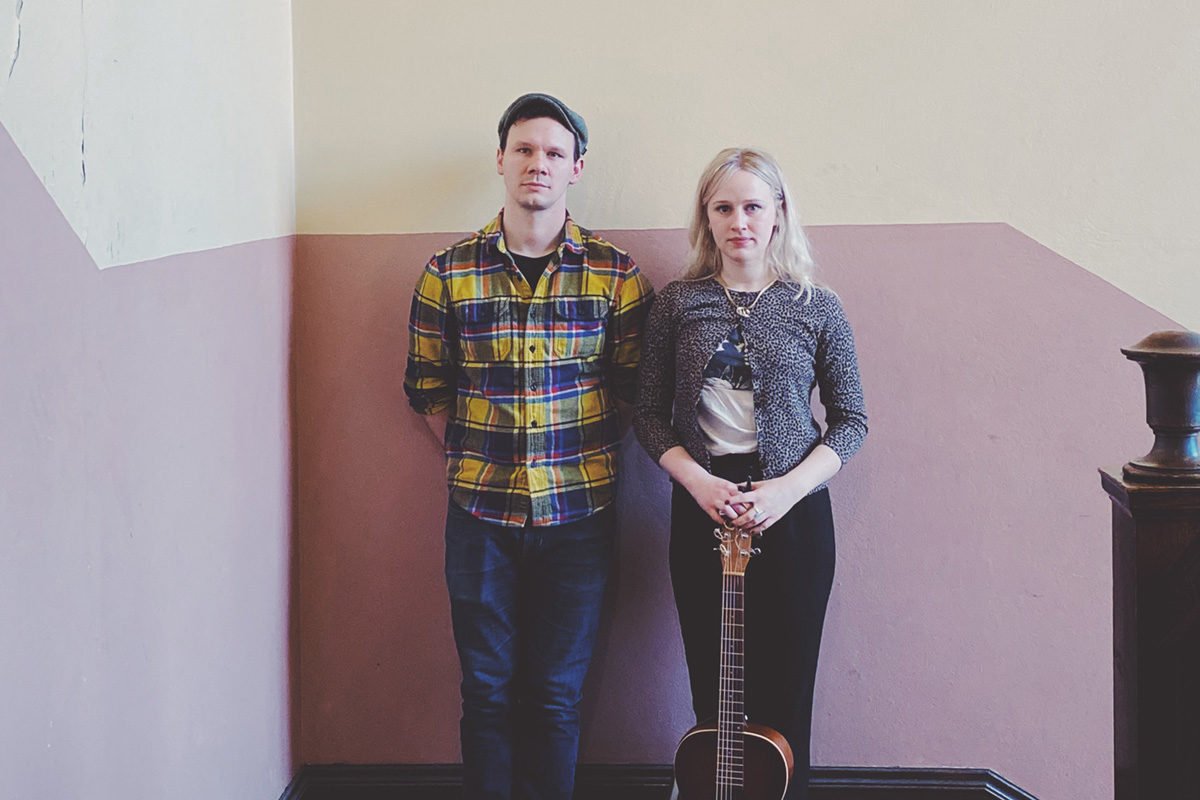 In-Conversation: Eva Foote & Kale Penny on Their Banks Prize Caberet
This week we sit down with our 2019-20 Banks Prize winners, Eva Foote and Kale Penny who share the inside-scoop of their creative process, offer some advice to future Banks Prize applicants and share what audiences can expect from their cabaret!
Don't miss the 2020 Banks Prize Cabaret, 'THE WORLD IS FOLKED', on stage at Jazz Bistro March 1 & 2, 2020.
What is your first memory of performing on stage?
KALE
First-year of high school in Victoria, myself and four of my friends were cast as Gendarmes in the school's production of Can-Can. The roles were created for us!
EVA
I sang in choirs as a kid, but I believe my first time in a play was playing "Tree #3" in Jacob Two-Two And The Hooded Fang in middle school.
What is your favourite musical?
KALE
Jesus Christ Superstar
EVA
To be completely honest, before this project I probably couldn't list the title of more than five musicals. The world of musical theatre is definitely new to me, so my favourite musicals have been changing rapidly the more I've learned working on this show. I was lucky enough to perform in the musical Once last year and I could probably listen to that score on repeat for the rest of my life. I am super drawn to musical theatre that plays between musical genres. I am currently getting obsessed with the musical Hadestown by one of my favourite songwriters Anais Mitchell. I mean Ani DiFranco played Persephone – what more could you want?
Where do you find the most similarities between folk and musical theatre and what inspired you to draw this connection?
KALE
At the heart of both of them is storytelling. The timeless musical theatre tactic of singing it when you don't have the words to say it exists in folk music as well.
EVA
It may sound cliché but I do really think theatre and songwriting are flowers from the same seed. Storytelling, and impacting an audience enough to care, are both huge parts of the theatre and music I am drawn to. And, I mean, if you look at a lot of old traditional folk ballads they have a FULL cast of characters, given circumstances, often a political/social message, and a riveting plot (often involving murder/heartbreak). I think there is a huge common ground stemming from a desire to communicate beyond what words can do alone.
What was your audition process like for The Syd & Shirley Banks Prize for Emerging Musical Theatre Artists?
KALE
One of the best auditions I've ever had. It was very casual and inviting, and I left feeling like no matter what happened, I just had the greatest general audition for a superb company. Eva and I also briefly exchanged words because she went in after me and we had no idea we'd go on this journey together!
EVA
Well…. for my callback, I went to the wrong theatre… showed up late, sweating, apologetic… Fortunately, Kale had arrived early and was able to take my audition slot so they didn't have to wait for me. Looking back on that makes me chuckle, it was the first of many times he has been just the best teammate and totally had my back.
Other than that – it was extremely positive, playful even. I think I knew I wasn't really coming in with a straight musical theatre sound/skillset, so that freed me up a little bit more to play what I felt best represented me in the audition.
How would you describe your collaborative process?
KALE
I always feel like I work better with others than alone. I need someone to bounce ideas off, and someone who will honestly tell me when something doesn't work.
EVA
Okay – that's a big question. Here are the words that come to mind when I think about the months Kale and I rehearsed on our own: PLAY. Laugh. Impulse and then, consideration. Try harmonies on EVERYTHING. Improvise. Rewrite. Try not to be precious. Jam- like really let loose and sing and stomp and dance around the rehearsal hall. We both come from backgrounds of playing in bands and jamming with our families, so I think that primed us to really jump in on each other's music and offer ideas. We had a lot of conversations early on about the responsibility that comes along with the privilege of this showcase, which became a foundational theme in our work.
What has surprised you most from this experience?
KALE
The vast amount of support that The Musical Stage Company has provided from all angles of this event has been overwhelming. One incredible artist after another. It's been really special.
EVA
Well, frankly, that I can sing musical theatre and no one's ears will bleed! I am trying to be more courageous about singing and performing in musical styles that challenge me. Things that maybe aren't as innately intuitive to me, but rather require more specificity and vigour. Working with Paul Moody has been such a massive gift. He has such a good ear and had such a gentle and positive way of urging me towards singing in other styles to explore my voice. I had some big "Eureka!" moments. Also there have been a few moments listening to Kale sing that have really surprised me to the point where I said to myself "A person can sing like that in real life?" You'll know what I mean after you see him sing. It's pretty astounding.
What advice would you offer to future applicants to The Syd & Shirley Banks Prize for Emerging Musical Theatre Artists?
KALE
Trust that the version of yourself you love is the one they want to see.
EVA
Maybe the same advice I am giving myself right now leading up to the show: Caring deeply and being super vulnerable and honest takes precedence over being "good" or "right". Does that sound preachy? I really am saying that to myself these days. I have struggled with getting caught up in "sounding pretty" or this pressure I feel to "sing right". At the end of the day, a million people can sing circles around me, but no one can say my truth the way I can. So, if music is your way to being honest, and being your most courageous, brightest self, then that is really worth something, and The Banks Prize team/The Musical Stage Company is super supportive and receptive of that. Is that even advice? OH BOY.
How has this experience informed you as a performer and overall artist?
KALE
It has challenged me to be vulnerable in a different way than performing a polished musical.
EVA
It has certainly made me more curious and excited about musical theatre proper! I have learned so much from watching Kale sing – his drive, his uber-focus, his ability to laugh at himself. I have learned from Ali, her razor-sharp attention to detail, her amazing mental network that connects stories and themes in this amazing beautiful artistic synthesis. I have learned from Paul, how meaning what you say and telling the truth is more moving and profound than being "technically perfect". The list goes on and on for a long time. I have also learned about myself; that being a performer means being brave, and being brave means maybe being a little scared and doing it anyway. Not to mention the many profound and beautiful lessons the songs we've chosen have taught us. I think I will be a more thoughtful artist after this experience. More considerate of what I have to offer that is already inside me, and a bigger and better understanding of what there is still to learn (it is a lot).
What can audiences expect from 'THE WORLD IS FOLKED'?
KALE
They can expect some laughs, some stories, lots of music, a chance to reconnect with themselves and with others, and a chance to recharge their emotional batteries.
EVA
I think some laughs, a few nostalgic songs, a few songs that will be new to your ears.
It is pretty full of folk music, original and otherwise. You can also expect to see a pink-cheeked young folk singer try her darndest to sing musical theatre – which will be entertaining at the very least! And maybe a little peek into 2 young performers' excitement/anxiety/fear/hope about the future – both personal and… global. But… laughs too.