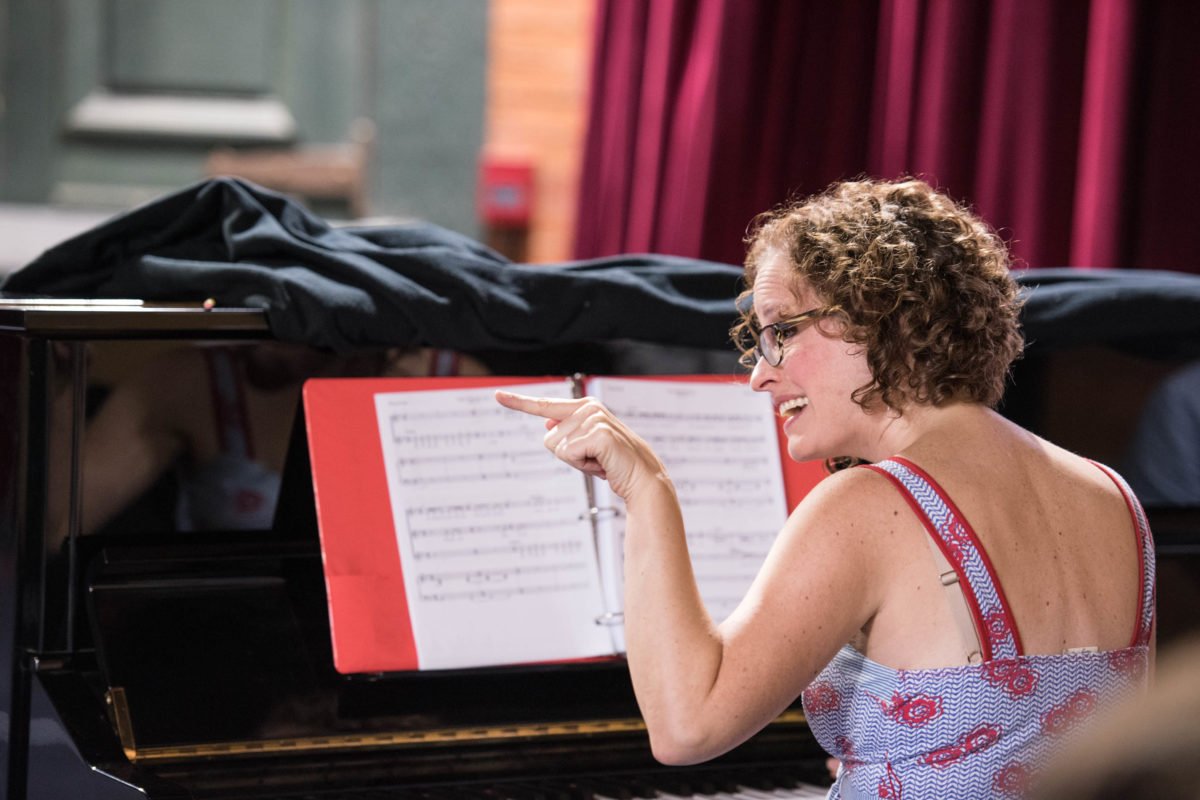 Spotlight on: Lynne Shankel and the Music Directors of REPRINT
New York City-based orchestrator and musical arranger, Lynne Shankel speaks about her role as Co-Program Director for REPRINT and why she loves coming back to Toronto to be part of this ground-breaking initiative. Read below to learn more about REPRINT and each unique musical from Lynne and our three incredible music directors.
Don't miss REPRINT, 3 world-premiere musicals inspired by the archives at The Globe and Mail, on stage from August 19 – 22 at The Globe and Mail Centre. 
PROGRAM DIRECTOR – LYNNE SHANKEL 
What is your role as one of the Program Directors for REPRINT?
My role as a program director involves overseeing the musical aspect of things. Early on, [co-program director] Robert McQueen and I met with the directors and music directors for each piece to discuss process and devise the structure for REPRINT. We discussed how to go about giving feedback to the composers and how to successfully run a music department through a new musical's developmental stages. Next, I began receiving drafts for the three pieces from the writers. I have given musical and dramaturgical feedback to the writers and creative team on each draft of each piece. Now I'm looking forward to coming to Toronto to help mentor the teams through their final developmental stage and into performances. It's going to be so exciting!
What has been the most interesting part about working on REPRINT, a project that involves a 10 month developmental period where these three brand new musicals are shepherded from conception to production?
I think the diversity of the pieces is what is most interesting. They are stylistically completely different both in dramatic context and in musical style. I love that.
As an award-winning orchestrator and music director who works primarily in New York, what is it like for you to come to Toronto to work on this project and what do you consider to be the most integral part of this process? 
I LOVE coming to Toronto! It's such a beautiful city, and I had such a wonderful time there when I was working with The Musical Stage Company a couple of years ago on LIFE AFTER. I really enjoy mentoring up–and-coming writers, so it is a real treat for me to be involved. I think the most integral part of this process is the time spent in development. In the States, we spend years developing new pieces, because once you open in New York, it's done. Your shot is over. So we really try to not rush things and go through the stages necessary for proper development of a new piece. It takes time. And that is what we are doing here- giving these pieces proper time and space to develop so that we can have the best possible showings in August.
What do you consider to be the greatest learning experience of your career thus far, and how does that inform your work on new musicals?
Wow, that's a hard question! It's hard to pick one thing. I think I would have to say the greatest learning experiences have come from being in the room with artists who have had much more experience than I did at the time. When you can listen to dramaturgical notes from a director who has helmed dozens of Broadway shows, you learn. When you can receive conducting tips from an amazing conductor, you learn. When you are able to see a great orchestrator or arranger at work, you learn. And now I sound like Alanis Morissette! But these are my favorite moments.
Music Director & Supervisor – Adam Sakiyama (FANGIRL)
A new musical by Anika Johnson, Barbra Johnston and Nick Green.
What has been the most interesting part about working on FANGIRL?
As a musical theatre writer myself, I always relish the opportunity to be in the room as new works are being developed. It gives me the chance to learn about other writers processes, and to be part of the excitement of discoveries as they happen. It's remarkable to watch a piece evolve over time, and it's a process that few people understand or even know about.
How has your cast informed the musical narrative of this piece?
Workshop actors are part of the front line of proofing new material. Their instincts, questions, and willingness to dive into uncharted waters are integral to taking the first draft of a show to a presentation. From character choices to melodic ranges, hearing material aloud is part of the collaboration in creating a new musical.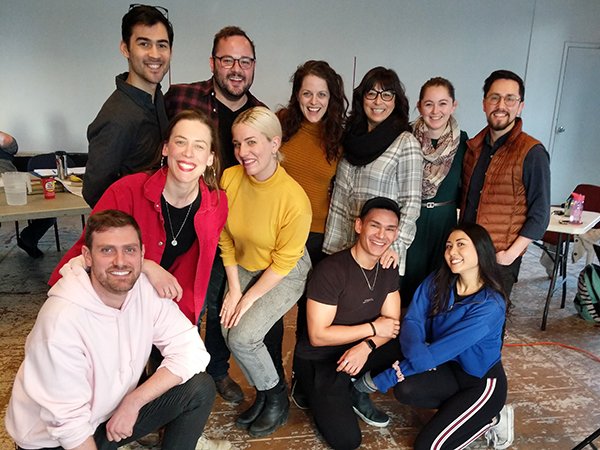 *Adam Sakiyama and the team behind FANGIRL
Music Director & Supervisor – Shelley Hanson (WHAT GOES UP)
A new musical by Colleen Dauncey, Akiva Romer-Segal and Ellen Denny.
How do you work with the composers of WHAT GOES UP leading up to the public performances?
My preference is always to work in person with the writers, especially during the tender, early stages of development. When new material comes from the writing team, I make a priority of going "offline" in order to devote multiple read-throughs of the script and score without distraction or outside input. At some point along the way, the director & I will talk about the shape of the piece.
What interests me most is being witness to the synergy among the three writers—in the case of WHAT GOES UP the combination of an established lyricist/composer team with an emerging book writer—and hopefully adding to the process of excavating the essence of this piece from the music table perspective.
How would you describe the musical journey of WHAT GOES UP?
It was clear from the beginning that the writing team was keen to envelop the score in an 80s-infused style. That choice has remained consistent throughout the development process. Even though the book has lived through some exuberant and rather significant growth spurts, some of the kernels of the music and lyric through-lines have shape-shifted along with the book in an extremely organic way.
Music Director & Supervisor – Wayne Gwillim (CYGNUS)
A new musical by Anton Lipovetski and Steven Gallagher. 
What have been your highlights from the REPRINT process so far?
Due to the number of workshops we've had for REPRINT over the course of the year, our writers have had opportunities to analyze, edit, and in some cases, replace scenes and songs. Rewrites can occur during the workshop, but usually, the more lengthy ones occur in the months and weeks between the workshops.
For CYGNUS, it's been fascinating to encourage and witness the prolific abilities of Steven Gallagher (book writer) and Anton Lipovetsky (composer and lyricist), who are capable of doing huge rewrites and handing the director team new material in a very short amount of time. Coming to the rehearsal space and witnessing a revision that clearly took effort, hubris, and a massive amount of skill feels like a reciprocal gift. Their effort to clarify the work encourages me to be clearer in what I say, in how much I challenge myself to ask bigger questions, and how to inspire them to continue their work.
How did your prompt materials inform the music in CYGNUS?
The prompt for CYGNUS was an article and a photo of the 2003 blackout. I'd say the musical score contains pop rock/punk elements from the early 2000s. There is a mix of freneticism from songs relating to urban/modern life, paired with a calm, expansive feel to songs relating to the blackout itself, which presented a moment for millions of people to sit back, look up, and take stock of what really matters in life.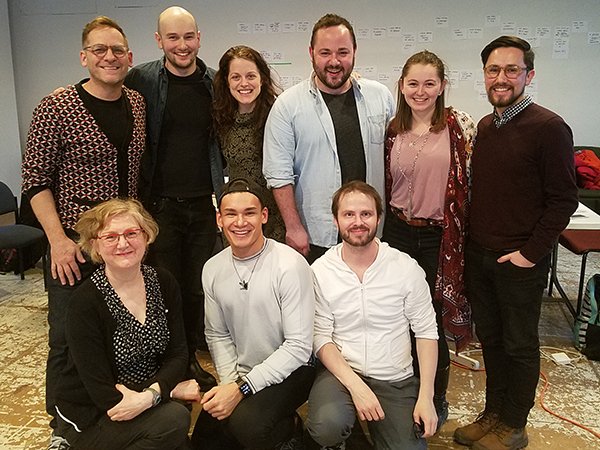 *Wayne Gwillim and the team behind CYGNUS 
Photography by: Dahlia Katz 
---
REPRINT : 3 world-premiere musicals inspired by the archives at The Globe and Mail.
August 19 – 22 at The Globe and Mail Centre,  tickets on sale now! 
A Musical Stage Company and Yonge Street Theatricals Production, 
in association with The Globe and Mail.