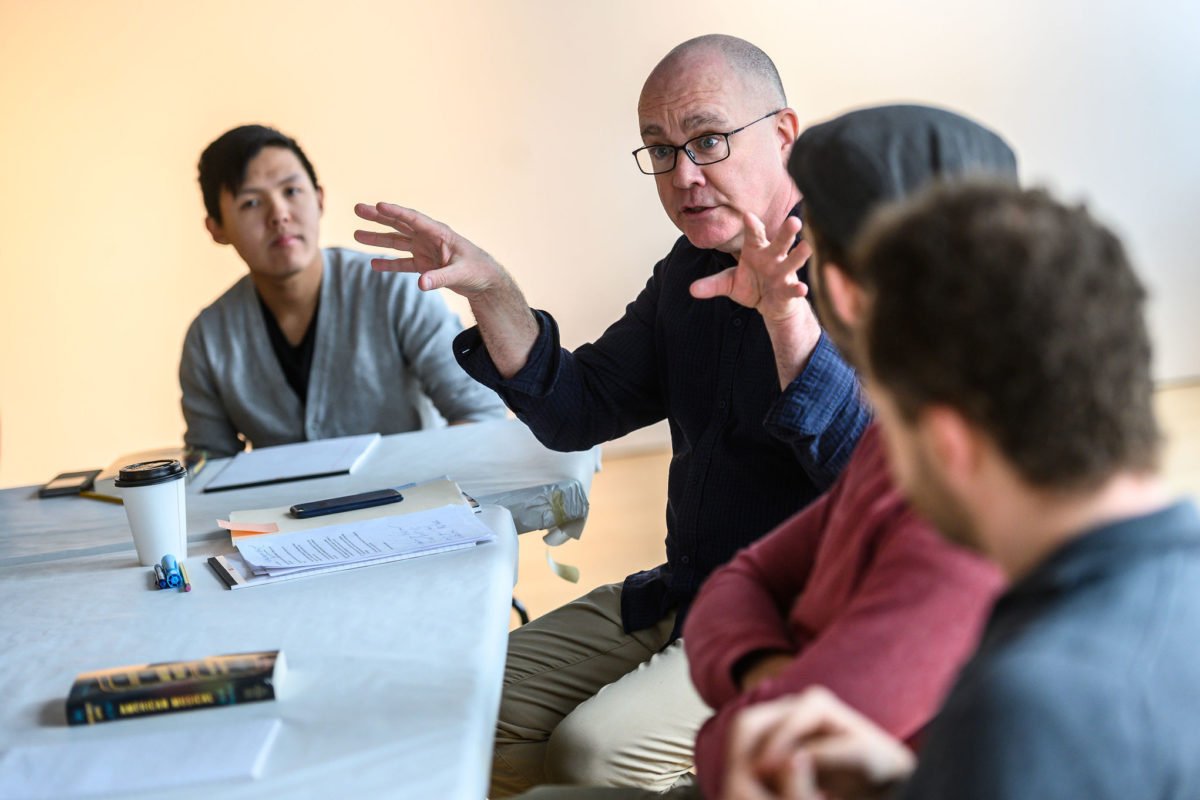 In Conversation with Robert McQueen and the Directors of REPRINT
Program Director, Robert McQueen along with the directors of REPRINT share insight about the development of each of their new works and what they've taken away from this ground-breaking musical development residency. 
Don't miss REPRINT, 3 world-premiere musicals inspired by the archives at The Globe and Mail, on stage from August 19 – 22 at The Globe and Mail Centre. 
PROGRAM DIRECTOR – ROBERT MCQUEEN 
How would you describe your role as "Program Director" for REPRINT?
As Program Directors for REPRINT, Lynne Shankel and I engage with the writers and creative teams throughout the development process of each of their new works. The directors and music directors attached to each piece all come to the project with profound knowledge and a great range of experience in the development of new musicals, so for both Lynne and I our roles are more about providing collegial support than mentoring. Early in the process, we invited the directors and music directors to several round table discussions, giving all of us a chance to share our individual experiences working on new material. Directors and music directors rarely have the opportunity to engage directly with each other, so these meetings proved to be a very exciting opportunity to speak openly, ask questions and offer each other ideas about the work.
After having directed REFRAMED in 2016, what thrills you the most about coming back to work with The Musical Stage Company on this project.
Any time a new musical is born, it is thrilling to be a part of it. As with most projects that have a foundation of meaning, and substance our idea to create new musicals based on prompts that are specific to the context of a location emerged very organically. During a NoteWorthy session I was leading several years ago, I gave the writers a series of paintings as prompts for one of their assignments. The work that emerged out of this assignment was incredibly exciting, and very quickly lead us to producing REFRAMED in the Art Gallery of Ontario, with the idea of creating three new pieces based on paintings in the gallery's Paris Salon.
I dream that use of space and story as prompts will long serve The Musical Stage Company in the creation of new musical works.
What do you hope audiences take away after being the first to witness these new original works?
I hope that each audience member will take away meaning, depth, engagement and a couple of good laughs from this performance; along with the great and wildly needed opportunity–at least for a moment– to put their phones away and be fully present for story, music and language. That sounds like heaven to me.
What are some of the challenges that arise when staging a musical reading in a non-conventional theatre space and what have you found are the best ways to overcome these?
Non-conventional performance space is both a challenge and an opportunity. Perhaps it is not something to overcome, but instead something to engage with, with full imagination, as a source of inspiration to create a live experience that has no synonym.
 Any place that holds stories that can serve as prompts for the writer's imaginations and offers a physical space that will give context to the source material where performances can be hosted is a place where remarkable new musical theatre works can be created. 
In your opinion, how are initiatives such as Launch Pad helping Canadian music theatre creators reach new heights?
It's like the old joke about the guy asking someone on the street in New York, "How do I get to Carnegie Hall?" The opportunity to practice and practice is the only way for Canadian musical theatre creators to continue to reach new heights. The initiative of Launch Pad is one such opportunity. Hopefully with Launch Pad and our other initiatives for musical theatre writers like NoteWorthy, The Musical Stage Company is providing a generous and rigorous environment for writers and creative teams to come together to do their work and grow in the mastery of their craft.
TRACEY FLYE,  DIRECTOR OF FANGIRL
A new musical by Anika Johnson, Barbra Johnston and Nick Green. Inspired by the article "NOISY SATISFACTION" published on June 29, 1967. 
What can audiences expect from FANGIRL?
The phenomenon of fandom has existed for decades: the experience of people young and old who find, follow, emulate, and yes, even worship, personalities who speak to directly to our emotional hearts as individuals. I think that FANGIRL offers a present day insight into that very phenomenon. It is a timely snapshot of our current relationship, and sometimes obsession, with the internet and the personalities that dominate the vlogging craze. FANGIRL takes us on the emotional journey of our young heroine, Makayla, the difficult decision she must make when she comes face to face with her internet idol, and the consequences of her decision to be part of that culture.
What were the highlights of the rehearsal process? What was it like sharing a cast with two other creative teams all working on the same project?
As always, working on a new piece from its inception is thrilling. So is working with a new writing team. The collaboration is one of my personal highlights. To be able to observe and be part of the growing pains of a new piece, and to develop a trust and strong working relationship with these artists that I respect and admire is truly a privilege. That, of course, also includes our cast of wonderful actors. During our two workshops, they have had to learn and assimilate a tremendous amount of material in an incredibly short period of time and deal with all the changes that have been thrown at them. And they have done that brilliantly.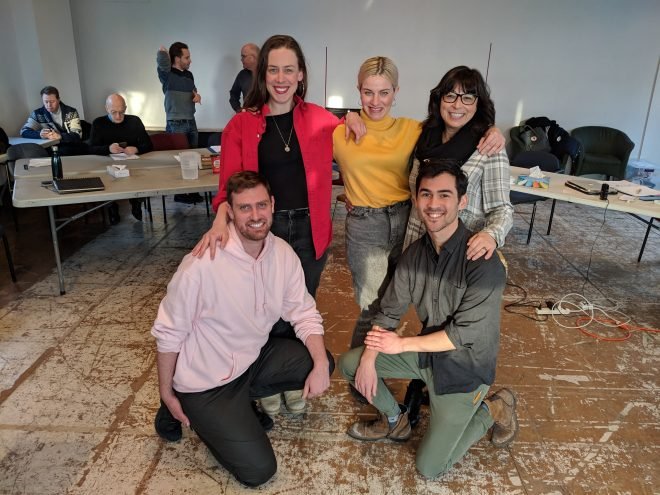 *Tracey Flye and the team behind FANGIRL 
LEZLIE WADE – DIRECTOR – WHAT GOES UP  
A new musical by Colleen Dauncey, Akiva Romer-Segal and Ellen Denny.  Inspired by the article "A MAN AND HIS SHADOW" published on August 9, 1985. 
What can audiences expect from WHAT GOES UP?
WHAT GOES UP is a funny and sometimes heart-felt look at the summer of 1980. It's a glimpse into one woman's struggle to fit into corporate life and another woman's desire to be taken seriously in the male-dominated sport of freestyle frisbee.
As a director, what is the most exciting part of getting to work on a brand new musical and be so involved throughout its conception and development?
I'm a huge fan of Colleen Dauncey and Akiva Romer-Segal's and have admired Ellen Denny's work as an actor for some time now. So, selfishly I was thrilled to have the opportunity to work with them. It's incredibly fulfilling to be a part of the shaping of any new musical and to watch it grow and develop. It's particularly gratifying when the team is as devoted and talented as these three.
Any director will tell you that their job is to tell the story as well as possible. To have the writers present through the incarnation of development is that much more satisfying.
I'm thrilled to have been a part of this and look forward to watching the piece's continued growth.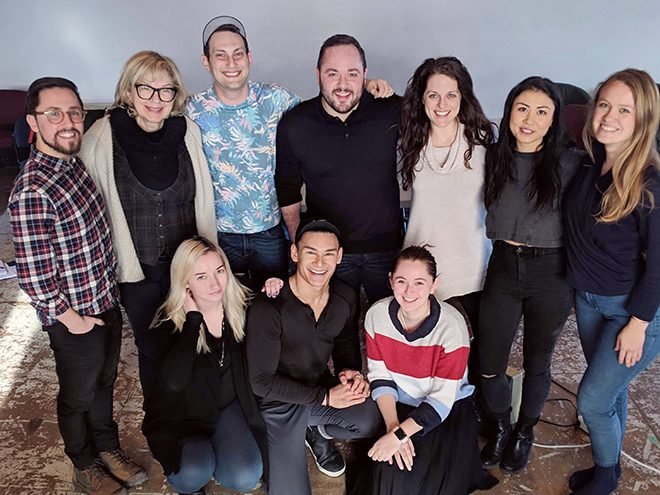 *The team behind WHAT GOES UP 
ANN HODGES – DIRECTOR – CYGNUS
A new musical by Anton Lipovetski and Steven Gallagher. Inspired by the headline "In the Hot, Muggy Heat of the Blackout, Millions Were Left to Count the Minutes" published on August 16, 2003.  
What can audiences expect from CYGNUS?
CYGNUS is set on the night of the blackout of 2003, when the entire city of Toronto was cast into darkness, with only the light of the constellations above.  Ironically, it is during this dark night that two strangers are able to honestly look at their lives and their loves, and clearly see what choices they could make when the lights come back on.
What do you hope resonates with audiences the most about this specific piece?
I think audiences will recognize that sense of feeling alone in a city, even if you're surrounded by millions of people.  I hope audiences also connect to the idea that sometimes it's a chance meeting with a stranger that can set you on a new course.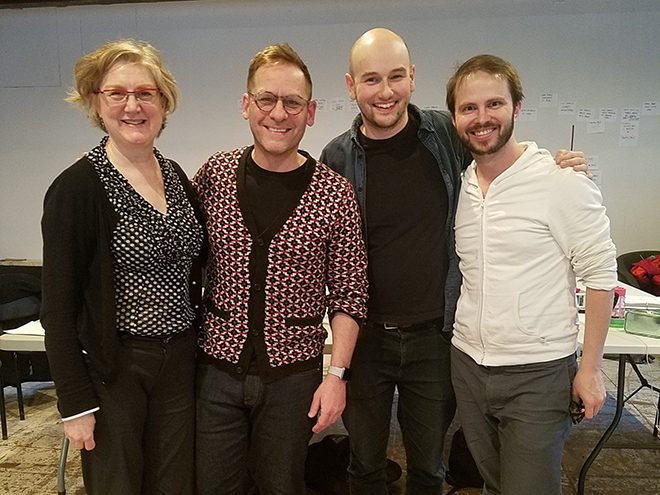 *Ann Hodges and the team behind CYGNUS
---
REPRINT : 3 world-premiere musicals inspired by the archives at The Globe and Mail.
August 19 – 22 at The Globe and Mail Centre,  tickets on sale now! 
A Musical Stage Company and Yonge Street Theatricals Production, 
in association with The Globe and Mail.