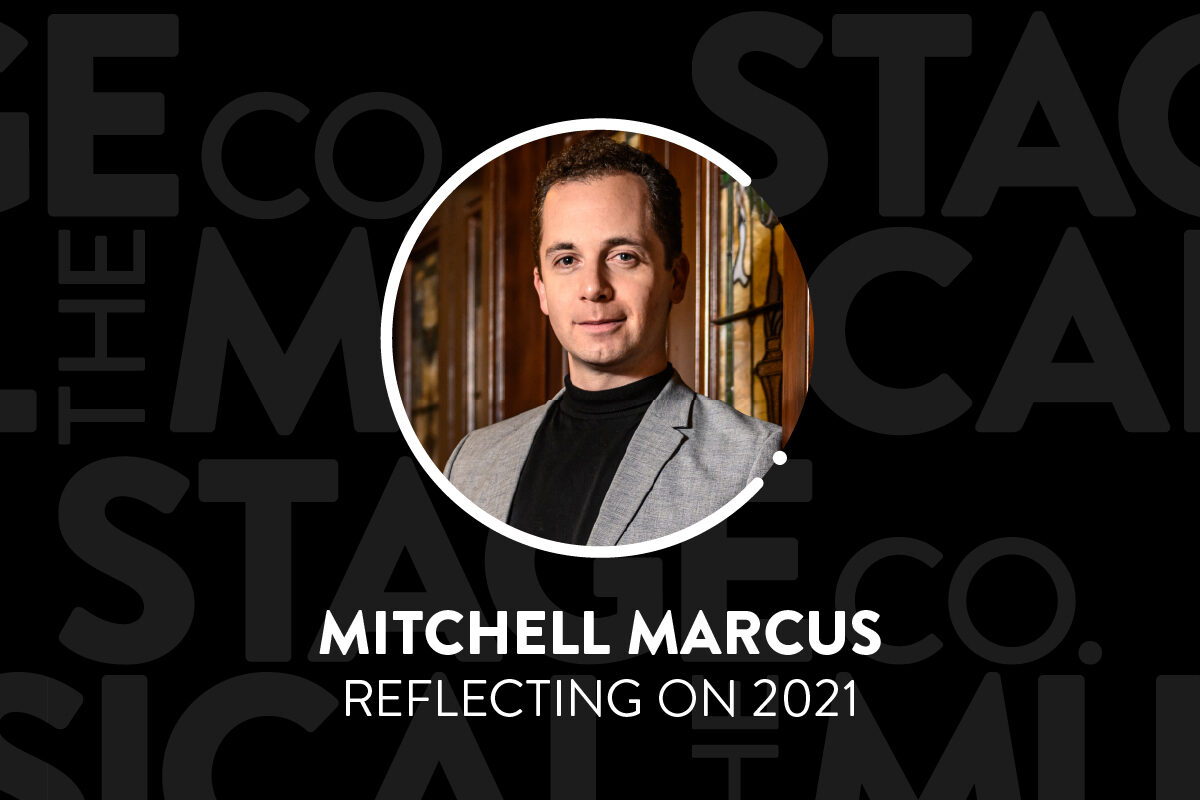 Mitchell Marcus Reflects on 2021
It feels almost fool-hearted to celebrate 2021. Reflecting on the last 12 months brings about memories of pivoting, delayed plans, lost work and uncertainty – definitely not the stuff that "End of Year" blog posts are generally made of.
But when I dig below the surface, there are so many things that happened in 2021 at The Musical Stage Company which fill me with tremendous gratitude. It was one of the most difficult years in our history and also – in many ways – one of the most rewarding; as music and storytelling triumphed against the odds and brought joy into people's lives at the most needed of times.
Here is what I am grateful to 2021 for:
1. Connections unbound by geography
Last Winter and Spring, we traveled the world digitally with our audience to watch new musicals together. But the highlight of The Musical Theatre Passport, was the chance to meet with internationally renowned creative teams pre-show & bringing talent from around the world together to our audience. Only during COVID, could we enjoy pre-show conversations with Tony Award-winners, Canadian superstars spread out across the country, and up-and-coming talent an ocean away (of particular note, it was a once-in-a-lifetime opportunity to interview Andy Blankenbuehler).
The Musical Theatre Passport was a masterclass in 'process vs. outcome' from artists around the world who are making a huge impact in contemporary musical theatre. The cherry on top was the chance to dissect the musicals with our audience after the show; unpacking how the results reflected the intent (or not). There are many, many negatives to working on Zoom, but the ease of gathering people together enriched the theatre-going process in new ways.
2. The magic of in-person togetherness
Undoubtedly, the highlight of the year was seeing live audiences again after a long hiatus. I was filled with joy as people emerged from their homes to join us in High Park for BLACKOUT and watching a Toronto story in an iconic Toronto location – learning how to be an audience together again.
Additionally, the acoustics of Koerner Hall never sounded better than when it amplified the raw energy and emotion of the live audience at UnCovered: The Music of Dolly Parton. I will never, ever, forget what it felt like to witness people celebrating the return of theatre and music with such gratitude.
3. The creativity and resilience of our artists
Under the most challenging of circumstances, the artists we worked with thrived through creativity. New musicals in development kept getting better and better even though they could only be workshopped on Zoom. The BLACKOUT and UNCOVERED casts and creative teams navigated outdoor rehearsal spaces, rapid testing, and masking without compromising their work. Four PORCHSIDE SONGS concerts were created that each brought me to tears.
When given the opportunity to create work for our Musical Moments program, artists brought music and storytelling into long-term care residences, parks, alleyways and forgotten gardens. We were not able to create theatre in the way we previously had, but a group of resilient, adaptable and imaginative artists proved the versatile power of musical storytelling with their own MUSICAL MOMENTS.
4. The care of the community that surrounds us
Every day this year, I felt grateful for the community of supporters who believe in The Musical Stage Company. Your trust over the last 12 months fuelled our engines, kept our doors open, and our programs running. You have said "yes" to continuing in your support even though our methods of working changed. As a result, we were able to bring music to thousands of people, engage hundreds of artists, and create new staff positions instead of downsizing. Moreover, I'm grateful to our remarkable staff who never lost the will to create impact while being the most wonderful people to collaborate with every step along the way.
5. A bright future
More than anything else, 2021 reminded me how bright the future is going to be. From the exceptional 24 artists in NoteWorthy, to the creations of First Drafts, to the artists working on commissions of new musicals; I had the privilege in 2021 to meet extraordinary new talent, new songs and new characters.
One of the benefits of being on the ground floor of new musical development is that our team gets a sneak peek (years before the public), of what is to come. And let me tell you – it's remarkable. There are so many great stories in the works and so many exceptional voices that will burst onto the scene.
2021 birthed new projects that will ignite the world that awaits us.
---
To everyone in our Musical Stage community: I hope that you have a happy and healthy holiday season, and I hope that your 2022 is filled with lots of joy, togetherness and – of course – beautiful music.