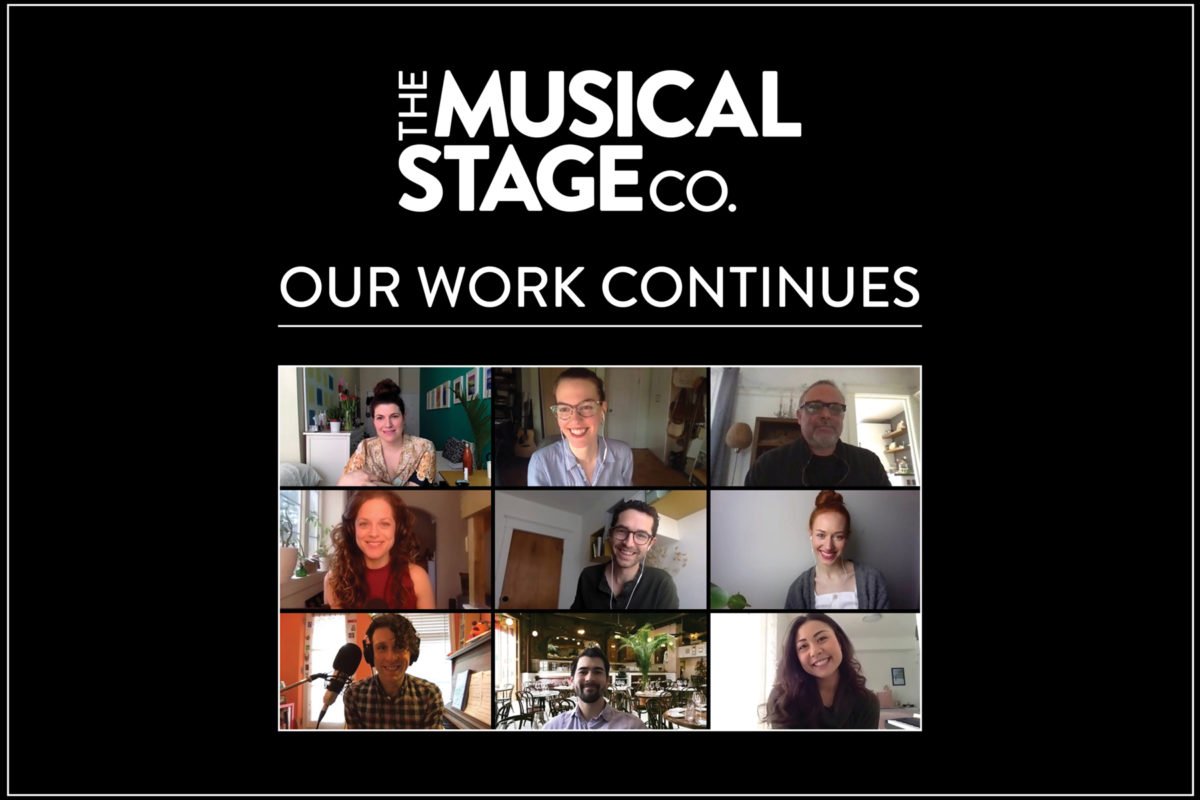 OUR WORK CONTINUES
With so many theatre productions postponed or canceled all over the city and across the country, there's a palpable sadness for the loss of so much work, some of which may never get a chance to be seen on stage.
At The Musical Stage Company, we were set to premiere KELLY v. KELLY – a new musical by Sara Farb and Britta Johnson, which would have started rehearsals earlier this month. That production, which has been in development for the last few years, has been postponed – but our commitment to produce it remains unchanged. Even though it's near-impossible to say anything concrete about the future right now, we can promise this: audiences will definitely see KELLY v. KELLY on a Toronto stage one day.
The Musical Stage Company is devoted to supporting the development of new musicals, and we are so grateful and fortunate to be able to uphold our commitments to the projects we have in development and continue providing work for artists in the time of COVID-19. We'd like to share with you the current status of several of our ongoing projects that we hope you'll come and join us for, once it's safe to gather in the theatre once again.
SHOW A
Book & lyrics by Fatuma Adar, music & lyrics by Daniel Abrahamson
Director/dramaturge: Tamara Bernier Evans
Music supervisor/director: Joseph Tritt
SHOW B
Book by Rose Napoli, music & lyrics by Suzy Wilde
Director/dramaturge: Mary Francis Moore
Music supervisor/director: Nicky Phillips
SHOW C
Book by Kat Sandler, music & lyrics by Adam Sakiyama
Director/dramaturge: Richard Greenblatt
Music supervisor/director: Chris Barillaro
For the time being, Launch Pad is the one development project that we're able to move forward with almost unscathed by the pandemic – save for the fact that the entire workshop process is now taking place over Zoom! Our first "Zoom Workshop" concluded on Tuesday, and we were pleasantly surprised by how well the quality of these three new musicals shone through over a digital platform, and at such an early stage of development. The artists are trailblazing as they figure out along with us how to work in this new medium, and it's inspiring and encouraging.
These three still-untitled musicals are inspired by the stories of celebrated Canadian writer Mavis Gallant. Her short story cycles 'Linnet Muir', 'The Carrette Sisters', and 'Édouard, Juliette', Lena' have provided the inspiration for each of these new 30-minute musicals. Our venue partner, the Toronto Public Library, remains enthusiastic about these pieces, which are intended to premiere at the historic Toronto Reference Library in September.
Book by Nick Green, music & lyrics by Kevin Wong
Slated to have its first workshop production with 4th year students at Sheridan College this spring, IN REAL LIFE made a nimble switchover to a two-week digital workshop over Zoom. Director Ann Hodges, working with a remarkable team of artists, including music supervisor Chris Barillaro, Projection & Video designer Nick Bottomley, and choreographer Janie Pinard continued to push forward with the development of the script. They dug into Nick's latest draft, explored music that Kevin had either newly composed or revised in the past few months, and finally created an astonishing music video using Zoom as a performance "venue" of the piece's opening number "A Million", which Sheridan plans to release publicly in the coming weeks. The Musical Stage Company was thrilled to see the work they accomplished, thanks to the quick pivot that Michael Rubinoff and the whole Sheridan team facilitated. IN REAL LIFE continued to get richer and deeper, and the students and professional artists had a profound and rewarding creative experience that helped quell some of the inevitable disappointment at not being able to perform the piece on stage.
Book, music & lyrics by Fatuma Adar
Arrangements & musical supervision by Adam Sakiyama
Dramaturgy by Kimberly Colburn
Elements of the latest draft in development were going to be presented as part of Myseum Toronto's Intersections festival this month. The festival has been postponed, but in the meantime, Myseum is working to facilitate a digital sharing of some of the work that had been programmed. Part of what our creative team intended was to test-drive new music at this festival, so Fatuma and Adam are currently looking at which songs might give us a sneak peek at the next version of DIXON ROAD, to be released in the next few months.
Book by Josh Epstein & Kyle Rideout
Music and lyrics by Ben Elliott & Anton Lipovetsky
Director/dramaturge: Meg Roe
This team of Vancouver-based artists have adapted Suzette Mayr's 2011 novel into a funny, quirky, and touching piece. It's had a series of workshops over the last few months and the last draft we read has us very excited about where it's currently at. We're looking forward to possible partnerships for workshop productions in the future as it continues its development. Read more

THE AUBREY AND MARLA DAN FUND FOR NEW MUSICALS
The Aubrey and Marla Dan Fund for New Musicals continues on schedule, and we are thrilled to have received just over 40 applications.

The Aubrey & Marla Dan Fund for New Musicals is the first ever fund exclusively for the commissioning of new Canadian musical works. This opportunity is managed by The Musical Stage Company, with funding from The Aubrey & Marla Dan Foundation. The fund offers financial and dramaturgical support to creators in creating and developing a first draft of a new musical.

The Dan Fund continues to be one of the best ways The Musical Stage Company is introduced to new work from writers and composers across the country, and we're looking forward to going through the material later this month, and scheduling interviews with select artists at the end of May.
This is a first for The Musical Stage Company – the company has never held general auditions before. It's something we've wanted to do for some time now, and one of the strange gifts of the pandemic is that we've now only been given the time to do it. Because all the submissions are on video, we're able to see more people and get to know them better than we might have, had we booked a rehearsal hall for a week. We've had upwards of 100 submissions, with more still coming in, and we're excited to meet new people and hear new voices. Read more
It's a strange mental space to be in, to be thinking deeply about the development of new work when suddenly the timeline for putting it out into the world has been exploded by COVID-19. Having a deadline to share new work is one of the guaranteed motivating factors in getting it all done.

But if we're compelled to remove the pressure of a production timeline from the work, perhaps there's a hidden gift here. The gift of time that can allow artists to drill even further down into understanding why the stories they want to tell must be told right now.

And perhaps even more importantly, for us all to ask what these stories will mean, and what stories we need to hear in a post-pandemic world.
*Photo of Launch Pad virtual rehearsal.